LONDON ― A structured animal-assisted intervention (AAI) program may improve social behaviors in elderly patients with dementia, new research suggests.
The pilot study, conducted in Germany, showed that nursing home residents with dementia who attended weekly therapy sessions that included dog visits for 6 months had significantly longer periods of verbal communication, physical contact, and attentiveness than when they participated in a similar program with the same conditions and frequency but without the dogs.
"These positive effects were seen in all investigation points," lead author Sandra Wesenberg, research associate at the Faculty of Education at Technische Universitat Dresden in Germany, who will be graduating with a PhD degree next month, told Medscape Medical News.
"I would recommend this to other clinicians, but only if they use a good, verified program that is good for both patients and for the dogs," added Wesenberg.
The results were presented here at the International Congress of the Royal College of Psychiatrists (RCPsych) 2014.
Little Past Research
The investigators note that although AAI programs have been around for years and have become more common recently within nursing home settings, there has been very little research on their benefits.
"For a long time, research on the potentially beneficial bio-psycho-social effects of [these] interventions on people with dementia was limited to individual case reports, practical reports, and field studies with very small sample sizes," they write.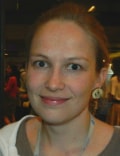 The researchers enrolled 17 nursing home residents into their small, preliminary pilot study. Of these, 77% were women; the overall mean age was 85.7 years.
All participants spent the first 6 months of the study attending 45-minute, weekly dog-assisted therapy sessions with up to 4 other people. The standardized program, known as Pet Encounters, was established in 2008 and uses dogs and owners specially trained to be around patients with dementia.
The nursing home participants then went through a similar intervention program that did not include dog visits.
"Sessions in the first, third, and sixth month were video recorded and behavior-coded," explain the investigators. Observed social behavior and durations of emotional expression were also recorded and compared between the 2 programs.
Results showed significantly longer durations between baseline and the 3-month point and between baseline and the 6-month point for the visiting dog intervention vs the no-dog intervention for verbal communication, attentiveness, physical contact, and overall positive changes (P < .05 for all).
Although there were also overall positive changes over time during the no-dog intervention, the effect was much less than during the dog visits.
"The positive effects in the AAI program occurred faster and on a broader scale than in the comparable intervention program," write the investigators.
"The findings suggest that an AAI program could have particularly beneficial effects on the well-being of people diagnosed with dementia," they add.
Wesenberg reported that they are now hoping for more funding to continue this program with these patients and to conduct a larger study.
More Research Needed
Timothy O'Grady, FRCPsych, consultant general psychiatrist in Lincoln, England, told Medscape Medical News that this was an interesting study but that he would like to know more about how the dogs affected the outcomes.
"Did verbal communication improve because the dog was a conversation piece? Or did it just help the patients to open up a little? There's not much evidence on the role of pets in mental health," said Dr. O'Grady, who was not involved with this research.
"Many people say yes to pets and that they're very nice for companionship and focus. But another perspective is that it can lead to chaos. People who can't cope very well are taking on this expense and responsibility, and it's not really that great for the animals."
Overall, he noted that this idea might be a bit romanticized and definitely needs to be researched further.
"There have been studies about using horses or different things like golf, and I think people say, 'This worked great for me and some of my patients. Let's see how it does with others.' But I'm not sure this is what these patients really need," he said.
The study authors have disclosed no relevant financial relationships.
International Congress of the Royal College of Psychiatrists (RCPsych) 2014. Poster 40. Presented June 25, 2014.
Medscape Medical News © 2014 WebMD, LLC

Send comments and news tips to news@medscape.net.
Cite this: 'Dogs for Dementia' Program Improves Social Behavior - Medscape - Jun 26, 2014.