SAN FRANCISCO — Pancreatic islet-cell transplants eliminated the need for insulin treatment in more than half of a specific subgroup of type 1 diabetes patients — those who experience frequent severe hypoglycemia — in a federal -funded phase 3 study.
Preliminary data from the National Institutes of Health's Clinical Islet Transplant (CIT) Consortium prospective single-arm, multicenter trial were presented here at the American Diabetes Association (ADA) 2014 Scientific Sessions by Bernhard J. Hering, MD, professor of surgery and medicine and director of the islet-cell-transplantation program at the University of Minnesota, Minneapolis.
The primary end point, developed with the US Food and Drug Administration (FDA), was the proportion of subjects with HbA1c less than 7% at day 365 and free of severe hypoglycemic events from day 28 to day 365 inclusive following the first islet transplant.
Dr. Hering didn't report that, because the manuscript has been submitted for publication. However, he did report other efficacy and safety parameters that suggest a high degree of success at the Presidents' Oral Session that closed the meeting here yesterday.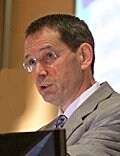 He told Medscape Medical News, "I think it's therapy that should be considered in patients in whom type 1 diabetes remains complicated by severe hypoglycemia. We have other treatment options available to those patients, but not all benefit. Each technology has a success and a failure rate. I think it would be reasonable to discuss transplant options with patients if every single intervention has failed to improve the situation. For a small subgroup of patients, I think islet transplantation can provide very fine results."
Session moderator Elizabeth R. Seaquist, MD, president, medicine and science, of the American Diabetes Association, told Medscape Medical News that although a definitive assessment can't be made without the primary end point, the data thus far suggest that the procedure "does offer promise for people who have hypoglycemic unawareness to the point where they are unable to function in their lives that there may be another therapy that can help them."
Focus on Severe Hypoglycemia Patients Is Key
She noted that restriction of the study to patients with severe hypoglycemia is important in shifting the benefit/risk equation more favorably than has been seen in other islet-transplantation trials.
"What's different is the indication. It identifies a group that may have a particular risk with standard therapy [and] in whom it may be justified to expose them to the potential side effects of the transplant," she told Medscape Medical News.
Dr. Seaquist added, "I think the other really exciting piece from this particular study is that it was a multisite project, and they had to do islet isolation at each site under standardized conditions, which is new….If we're ever going to bring islet-cell transplants forward as a therapy and have it approved by FDA, there needs to be tremendous standardization in how they're harvested and prepared for use, and the fact that they were able to do that is very exciting."
Despite the availability of interventions such as structured education and real-time continuous glucose monitoring, studies have found that a significant proportion of type 1 diabetes patients still experience at least 1 episode of severe hypoglycemia requiring assistance — 35% in a recent survey, Dr. Hering said in his presentation.
"The results obtained in registry and observational studies suggest that the real-world frequency of severe hypoglycemia is much higher than suggested by clinical-trial data and remains alarmingly high," he added.
Procedure Results in Functioning Islets
The NIH CIT's phase 3 clinical trial enrolled a total 48 adult subjects at 8 North American centers. The protocol involved transplantation of up to 3 intraportal infusions of a standardized purified allogeneic human pancreatic islet product (PHPI) within 8 months. Induction immunotherapy included antithymocyte globulin and etanercept (Enbrel, Amgen), and maintenance immunosuppression comprised sirolimus and tacrolimus.
The patients were aged 18 to 65 with a duration of type 1 diabetes of at least 5 years, documented reduced awareness of hypoglycemia and/or severe glycemic lability, and at least 1 episode of severe hypoglycemia in the prior year.
All of the subjects have reached the 1-year primary-end-point evaluation. Among the 48 patients, 26 received a second transplant and 1 received 3 transplants. At day 365, 94% had evidence of islet graft function, as determined by a basal or stimulated C-peptide level greater than 0.3 ng/mL ( P < .0016).
Over 50% were insulin-independent at 1 year following the first infusion. Exogenous insulin use dropped from a median at baseline of 0.49 U/kg/day to a median of 0.00 U/kg/day (range, 0.00–0.43) at day 365.
Serum glucose response to a mixed-meal tolerance test decreased over time, as did the glycemic lability index and mean amplitude of glycemic excursions.
And the Clarke score — a measure of the patient's awareness of hypoglycemia — and the Ryan hypoglycemia score, which assesses a patient's ability to diagnose and self-treat hypoglycemia, both improved significantly.
Safety: Nothing Required Expedited Reporting to FDA
The introduction of immunosuppression overall produced a small but significant reduction in kidney function, with a drop in glomerular filtration rate of 8.1 mL/min (P < .0001) but remained stable at days 75 and 365.
The 48 subjects experienced 19 study-related serious adverse events, including 5 with bleeding following percutaneous cannulation of the portal vein, 13 related to immunosuppression (eg, transient neutropenia, cytokine release, or elevated liver-function tests), and hypoglycemia in 1 patient who still required some insulin.
None of these adverse events resulted in death, disability, or permanent problems, and none required expedited reporting to the FDA, Dr. Hering said.
Other adverse events included reactive antibodies in 6 patients (only 1 with a donor antibody) and 1 with acute kidney injury of unclear etiology .
Next Steps to Making Islet Cell Transplants Available
Dr. Hering told Medscape Medical News that once the final results are published the consortium will submit a licensing application to the FDA. If approved, the procedure will become available at centers nationwide. But that process will work very differently from a drug-approval situation, in which a pharmaceutical company markets a proprietary product.
"This is currently being discussed. In contrast to many other interventions developed by corporate business, this is a group of academic investigators. It's a new challenge for all of us to organize. We have regular meetings and conference calls, and we are working with consultants to develop a strategy for making this therapy available to patients," he said.
He envisions that the process will be collaborative rather than competitive. "It would be unreasonable to compete in this," he said, adding that that researchers should work together to make this therapy available. "I think the more people look at this, the more they recognize that a collaborative approach is the most successful. This is clearly the emerging consensus."
Dr. Hering has consulting agreements with Novartis, Sanofi, Janssen, and Otsuka Pharmaceutical Factory, developing encapsulated islets. Dr. Seaquist has reported no relevant financial relationships.
American Diabetes Association 2014 Scientific Sessions; June 17, 2014. Abstract 388-OR
Medscape Medical News © 2014 WebMD, LLC

Send comments and news tips to news@medscape.net.
Cite this: Islet-Cell Transplants Successful in Type 1 Diabetes - Medscape - Jun 18, 2014.