Alice Brandfonbrener, MD, a pioneer in treating the unique medical issues of musicians and other performing artists, died May 31 at her Chicago home at age 83.
The internist founded the Medical Program for Performing Artists in 1985 at Northwestern University School of Medicine in Chicago. The program moved to the Rehabilitation Institute of Chicago in 1990.
The program was one of the first clinics to limit its practice to diagnosing and treating arts-related occupational disorders and injuries. Its staff included specialists in internal medicine, orthopedics, neurology, dentistry, and psychiatry.
Dr. Brandfonbrener founded and was the chief editor of the group's flagship publication, Medical Problems of Performing Artists, cowrote the first "Performing Arts Medicine" textbook and was one of the founders and the first president of the Performing Arts Medicine Association.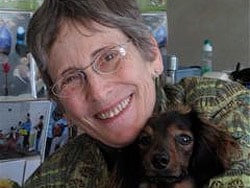 Among her more famous patients were cellist Yo Yo Ma and actors Steve Martin and Lily Tomlin.
A "Unique Role"
"She was one of the first physicians to recognize that musicians, dancers, and performance artists have special medical needs," John Chong, MD, president of the Performing Arts Medical Association and assistant professor in the department of family medicine at McMaster University in Hamilton, Canada, told Medscape Medical News.
"She was the mentor to all of us who work in this field," he said. "She came to it as a concerned mother watching her own children who are all wonderful musicians. She saw how stressed many musicians are, how poor their diets and lifestyles were.
"External factors often make artists perform beyond their physical capabilities," Dr. Chong said. "Their problems are a combination of circuitry of the mind, movement, metabolism, and psycho-physiology. There is an astounding injury rate and musicians often work when they are hurt. She was a true pioneer in this field."
Panjaporn Supanwanid-Henrich, MD, was a medical student when she first met Dr. Brandfonbrener 15 years ago and worked with her at the Rehabilitation Institute. "She is considered the grandmother of the field of performing arts medicine and her work influenced musicians, dancers, physicians, and rehabilitation specialists," she told Medscape Medical News.
"I was so impressed with how she dealt with patients," Dr. Supanwanid-Henrich said. "One young man was a street performer. She didn't focus only on his physical ailment but questioned him about social factors and stressors that may be contributing to his injury. She took the time to give him advice about lifestyle issues and how to cope with his challenging occupation."
Performing arts patients at the Rehabilitation Institute receive a typical medical assessment along with an evaluation of the performer's technique, physical conditioning, repertoire, instrument, and emotional state in relation to their current medical problem.
Dr. Brandfonbrener "served a unique role in the music world, helping everyone from high-profile rock and classical artists, singers and dancers, to music students with playing-related strain," violinist Rachel Barton Pine told the Chicago Tribune.
Dr. Brandfonbrener told the newspaper in a 1988 interview that repetitive-use injuries are common among musicians. "In general, music attracts people who are somewhat obsessive by nature, and that's appropriate in that it requires tremendous discipline to be good. But some musicians overdo this obsessiveness to try to perfect a technique. Pianists are the worst abusers. They will lock themselves in a practice room 6 to 8 hours a day and then wonder why they hurt."
A memorial service is being planned for the fall.
Medscape Medical News © 2014 WebMD, LLC

Send comments and news tips to news@medscape.net.
Cite this: Alice Brandfonbrener, MD, Medical Pioneer, Dies at 83 - Medscape - Jun 17, 2014.