CHICAGO ― The data are preliminary, but the results are striking, demonstrating that an immunotherapy approach using adoptive T-cell therapy may have a role in the treatment of advanced cervical cancer.
A single infusion of the T-cell therapy induced a complete and durable remission in 2 patients with advanced metastatic cervical cancer. In addition, a third patient achieved a partial response of 3 months' duration, with a 39% reduction in tumor volume.
"This study shows that complete and durable tumor regression can occur following a single infusion of HPV [human papillomavirus]–targeted tumor-infiltrating T cells," said lead study author Christian Hinrichs, MD, an assistant clinical investigator at the National Cancer Institute.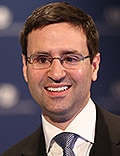 As of last week, he noted, the 2 patients remain in complete remission and are now at 15 and 22 months after treatment.
Speaking at a press briefing during the 2014 Annual Meeting of the American Society of Clinical Oncology, Dr. Hinrichs explained that new therapies are needed for metastatic cervical cancer, because chemotherapy is not curative and rarely provides durable palliation.
"Cervical cancer harbors attractive targets for immunotherapy for the HPV E6 and E7 oncoproteins, but clinical trials in immunotherapy for this disease have been disappointing at this time," he said.
Adoptive T-cell therapy is an emerging and promising immunotherapy platform, Dr. Hinrichs explained, but its study in epithelial cancers has really been limited, and it has not been studied in cervical therapy.
Objective and Durable Responses
Dr. Hinrichs and colleagues evaluated the use of adoptive T-cell therapy in carcinoma of the uterine cervix, a virally induced malignancy that constitutively expresses the HPV E6 and E7 oncoproteins. They conducted a small trial that included 9 patients with metastatic HPV-positive cancers, and treated them with tumor-infiltrating lymphocytes (TIL) selected for HPV-E6 and -E7 reactivity (HPV-TIL).
All patients received a median of 81 x 109 T cells (range, 33 to 159 x 109) as a single infusion, and the infused cells possessed reactivity against high-risk HPV E6 and/or E7 in 6 of 8 patients. There were 2 patients with no HPV reactivity, and they did not respond to treatment.
Treatment with HPV-TIL infusion was preceded by nonmyeloablative conditioning and was followed by high-dose bolus aldesleukin (Proleukin, Chiron Corporation), an interleukin-2-like product.
Of the 6 patients with HPV reactivity, 3 experienced objective tumor responses by RECIST, 1 partial response and 2 complete responses.
One patient with a complete response was a 36-year-old woman with chemotherapy-refractory HPV-16+ squamous cell carcinoma. "She had been treated with 3 different cytotoxic chemotherapy regimens and had multiple tumor sites, and had a complete response and no evidence of disease at 18 months, and her scans at 22 months look the same," said Dr. Hinrichs.
The other patient who achieved a complete response was also 36 years old and had chemoradiation-refractory HPV-18+ adenocarcinoma. "Her primary tumor was very aggressive, and at the time of surgery, it was found to have spread to the pelvis and distant sites," he explained. "She had a complete regression, for 15 months now."
Both patients also demonstrated prolonged repopulation with HPV-reactive T cells following their treatment, and increased frequencies of HPV-specific T cells were detectable after 13 months in 1 patient and 6 months in the other. Conversely, 2 patients with HPV-reactive TIL that did not respond to treatment did not display repopulation with HPV-reactive T cells.
The most common adverse events were hematologic, and the other most common toxicity was related to infection, Dr. Hinrichs pointed out, with about half of patients experiencing febrile neutropenia. None of the patients had infusion reactions, and all of the hematologic events were completely reversible.
"This study offers proof of principle that immunotherapy can induce regression of cervical cancer and that adoptive T-cell therapy can mediate regression of epithelial cancer," Dr. Hinrichs concluded. "Continued investigation of HPV-TIL for metastatic cervical cancer is warranted."
He added that they plan to expand the trial to 35 patients and that there is a separate cohort for noncervical HPV-related cancers.
Exciting Despite Small Numbers
Two experts have expressed enthusiasm over these results.
"This is a very hard group to treat, and if the disease recurs, they essentially have zero survival," commented David O'Malley, MD, gynecologic oncologist and assistant professor, Ohio State University Comprehensive Cancer Center, the Arthur G. James Cancer Hospital, and the Richard J. Solove Research Institute, Columbus. "So anything that offers the possibility of a complete response is very exciting."
However, these results have to be taken in the context of a very small trial as well as a fairly toxic regimen that is very expensive to initiate, he told Medscape Medical News. "But if these responses are found to be durable, then this is an exciting new avenue to pursue for these women with little to no choices."
Michael Birrer, MD, PhD, director of medical gynecologic oncology, Gynecologic Oncology Research Program, Massachusetts General Hospital in Boston, agreed that these results were exciting, despite the limited number of patients.
"For metastatic cervical cancer, the prognosis is amazingly dim, with what used to be about a 3.7-month survival now has been extended to about 6 months with bevacizumab [Avastin, Genentech, Inc]," he said. "But it is uniformly fatal. Still, we don't see complete remissions, and we certainly don't see prolonged remissions. So despite the small numbers, this is quite provocative and quite interesting.
"On top of that, this is an immune therapy intervention which has been around a long time, but there is a renewed interest in it because of the PD-1 drugs," Dr. Birrer continued. "But because this is a viral propagated disease with HPV as the target, it all makes sense. Even though the numbers are small, I think a lot of us are quite excited about it."
This study was supported by the National Cancer Institute, National Institutes of Health. The authors have disclosed no relevant financial relationships.
2014 Annual Meeting of the American Society of Clinical Oncology: Abstract LBA3008. Presented June 3, 2014.
Medscape Medical News © 2014 WebMD, LLC

Send comments and news tips to news@medscape.net.
Cite this: Striking Results With T-Cell Immunotherapy in Cervical Cancer - Medscape - Jun 02, 2014.