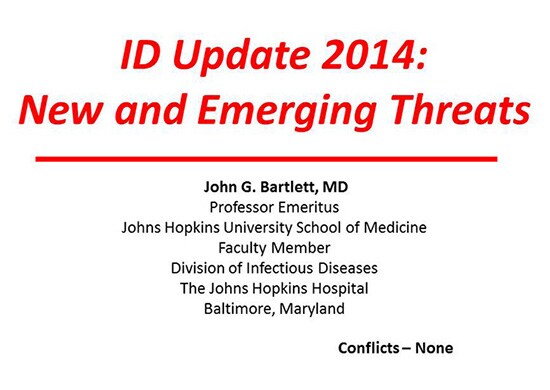 Hi, everyone. I am John Bartlett, at the American College of Physicians Internal Medicine 2014 meeting in Orlando, Florida, giving an update on infectious diseases.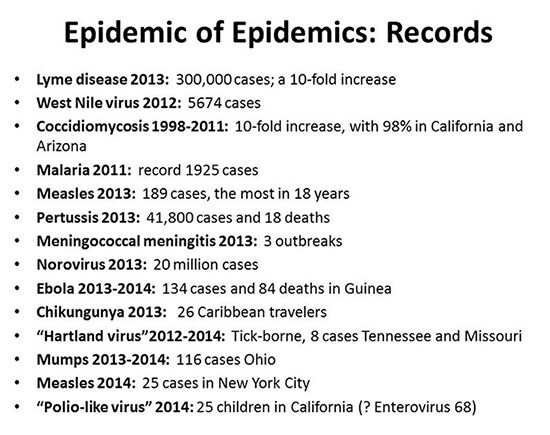 I am going to move to the topic of our epidemic of epidemics. We have broken a lot of records lately.
We had a record number of Lyme disease cases. It was not necessarily a big increase in Lyme disease because the Centers for Disease Control and Prevention (CDC) used a different method to find cases and it went up 10-fold.[1] But it is pretty amazing: 300,000 cases in 2013.
For West Nile virus, 61% of the 5600 cases were neuroinvasive cases, with a bill of almost $1 billion to take care of those patients.[2] That is a big one.
The rates of coccidioidomycosis have gone up by 10-fold in 10 years.[3] Some of that is probably due to an increase in reporting. If you have a patient from California or Arizona or someone who has traveled there, this becomes a diagnostic possibility that you have to think about.
We set a record for malaria in 2011.[4] They were mostly caused by Plasmodium falciparum -- 61% of the cases.
Measles outbreaks are all over the place. Measles and pertussis are a little bit different. Measles reflects the absence of vaccination, and pertussis generally reflects an inadequate vaccination as a result of changes in the pertussis vaccine strategies or recommendations.
We had 3 outbreaks of meningococcal meningitis in 2013 and another one in 2014. Two of these epidemics were in Los Angeles and New York,[5] in gay men, and there were 2 college outbreaks.[6] Norovirus had 20 million cases.
Ebola virus had a lot this year. These are recent but not updated data.
Chikungunya is very interesting. There was a big epidemic in the Caribbean and in travelers to that area.[7] Perhaps more important, we expect chikungunya and dengue fever to be endemic in the United States, certainly in Florida and some of the border states of Mexico, and that is worrisome for the future. Neither one of those are pretty diseases. Chikungunya is a mosquito-borne disease and it can cause arthralgia and arthritis that last for a very long time.
More recent is the tick-borne "Heartland virus" in Tennessee and Missouri. I didn't know anything about this until I read about it.
Mumps and measles had recent cases in Ohio and New York City.
A polio-like virus, which I think is probably enterovirus 68, seems to have quelled a bit in recent months, but there were 25 cases in kids who look like they are disabled.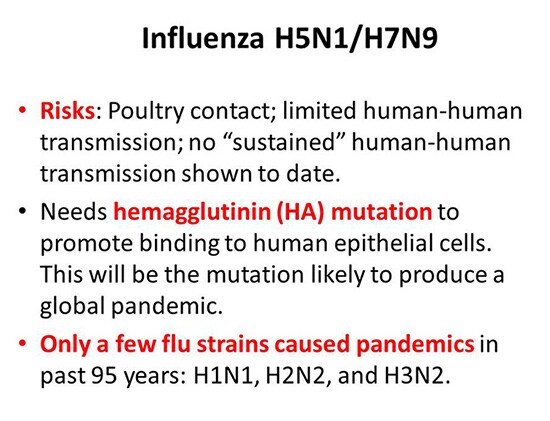 Of course, the big one is influenza. H5N1 and H7N9 are ready to explode. What they need is the hemagglutination mutation that will promote pathogenicity in human epithelial cells, and if that takes place, we are in real trouble. Don't forget the previous histories of influenza and what it can do. Remember that oseltamivir is a good drug. It is certainly not a great drug, and we had a huge problem of resistance in 2006. It doesn't take much to develop oseltamivir resistance.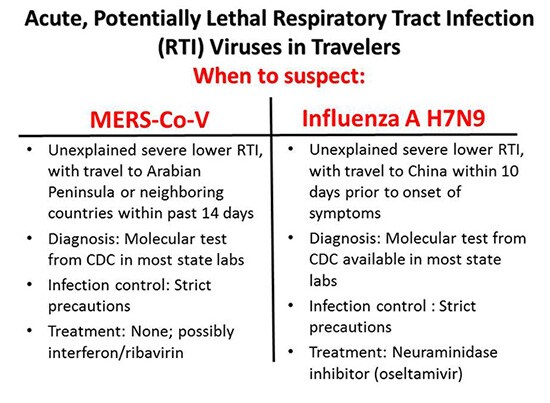 A warning about Middle East respiratory syndrome coronavirus (MERS-CoV) and influenza H7N9: If you have a patient who has a serious lower respiratory tract infection and has traveled to the Arabian peninsula or neighboring countries in the past 14 days, think about MERS-CoV. The molecular diagnostic test for it is available in most state laboratories. No treatment is available at present, but interferon/ribavirin is possible. It is highly lethal. The same can be said to some extent for influenza A H7N9, which is in China. Travelers to China within the past 10 days who have a serious unexplained respiratory illness should be suspected to have H7N9 and have a respiratory molecular test done. This virus is sensitive to oseltamivir. I can't tell you how good it is, but it is sensitive.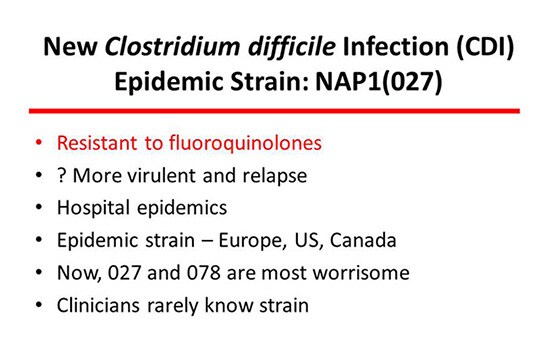 Clostridium difficile is a pet of mine. It got legs in the early 2000s as a result of the epidemic of the NAP1 strain.[8] Its epidemiologic explosion was probably a result of resistance to fluoroquinolones (and how we fed it with our use of those drugs) rather than its virulence. Nevertheless, that epidemic traveled across Europe and North America and accounted for much of what we have seen.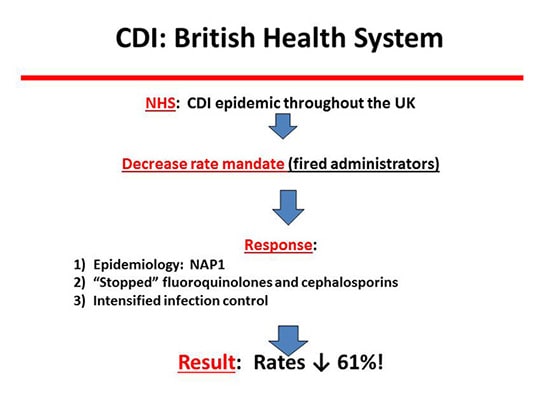 More recently, there have been some very interesting epidemiology studies in the UK, in part because the country demanded a reduction in cases. They have managed to reduce C difficile infection (CDI) by 61%, and they claim that most of this is the result of restricting the use of fluoroquinolones and, to some extent, cephalosporins.[9] They also showed that our epidemiologic concepts of how you get CDI are quite different from traditional teaching. They showed this with molecular sequencing, which has shown that patient-to-patient transmission is not common. In fact, it was found in only 23% of cases. Most of the patients who have this disease come into the hospital already colonized with it.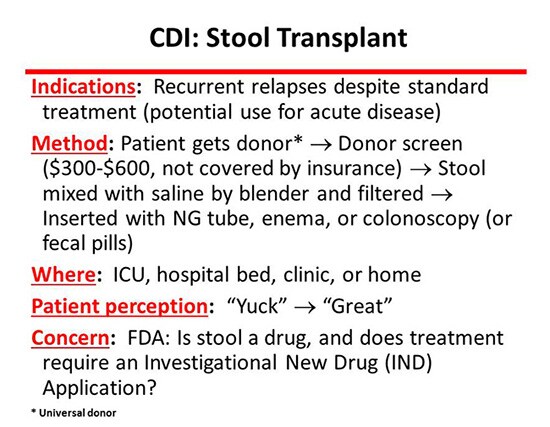 Stool transplantation is hot in the field of infectious diseases. The first one was done in 1958, but now we have a surge of papers and a surge of enthusiasm. Bottom line: Stool transplant by Infectious Diseases Society of America and US Food and Drug Administration (FDA) guidance in 2013/2014 -- indications for stool transplant are relapses times 3 or more, also for acute disease. There the data are good but limited. You can transplant the stool at a hospital, in a clinic, or at home. You can put it in by endoscopy, enema, nasogastric tube, or by feeding capsules. Who selects the donor? It is usually the patient or a "universal donor" who is screened, but there are some other sources, such as a group in Canada that is isolating components of the microbiome. OpenBiome is a group of students who offer stool from universal donors for $250. The screening tests are expensive. Donors must be screened for hepatitis, HIV, enteric pathogens, and so forth, and it is not covered by insurance. Patients need to know that.
Some of us are a little worried about putting stool from Joe into Sally because the microbiome is turning out to play a rather prominent role in health. We don't really know the long-term consequences of this. We have no red light so far, but it is something to keep in mind. Finally, the FDA has announced that stool is a drug and therefore requires a treatment Investigational New Drug Application. They say that you need patient consent. We always have it anyway. You have to do the donor screen. And they also say that either the patient or the doctor needs to know the source of the stool, which is something we don't necessarily always know.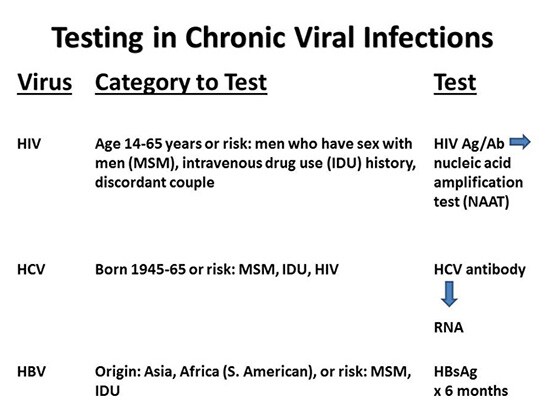 Finally, I will mention 2 chronic viral infections. The one to emphasize is the second one on the list, which is hepatitis C. Hepatitis C has undergone a revolutionary change from no treatment to very poorly tolerated treatment to miraculous treatment for cure. This will be the first chronic viral infection that is cured. The light is at the end of the tunnel and it is coming very fast with FDA approval. These drugs promise to cure more than 90% of patients with 10-16 weeks of an oral pill once daily. It is just amazing.
What is your responsibility? Most people watching this will not be doing hepatitis C treatment. It is a real specialty in medicine. What primary care needs to do is to find the cases. At risk are people who were born between 1945 and 1965 -- the the baby boomers. They account for 75% of cases and most of them don't know it.
If you have those patients, you need to test hepatitis C antibody and then reflex to hepatitis C RNA. Of course, you also screen anybody who has the standard risk factors.
I might also mention HIV, which continues to be a chronic disease that is treatable. One thing to mention is that the testing is about to change again to a test that will detect antigen as well as antibody. I just want to make the audience aware of that.
Medscape Internal Medicine © 2014  WebMD, LLC

Cite this: ID Update 2014: New and Emerging Threats - Medscape - Jun 05, 2014.