NICE, France — Stroke patients living in care homes did not show any improvement in function, depression, or quality of life after an occupational therapy program that has shown benefits in stroke patients living at home, a new study finds.
The United Kingdom (UK) study, believed to be the first such large-scale trial to include stroke patients living in care homes, was presented at the XXIII European Stroke Conference (ESC).
Presenting the data, Catherine M. Sackley, professor of physiotherapy research at University of East Anglia, Norwich, UK, concluded: "The evidence does not support the use of an occupational therapy package to increase or maintain abilities in personal activities of daily living for an older care home population with stroke-related disabilities."
She explained to Medscape Medical News that stroke patients do not normally receive occupational therapy in care homes. Some such homes do have regular activities organized, but these are generally not managed by a qualified occupational therapist with access to suitable aids and equipment to allow patients to progress to a certain goal. Further, activities vary widely between different care homes.
In contrast, stroke patients who live at home in the UK are eligible for an occupational therapy service specific for stroke that has been shown to have benefits. This approach works for patients living at home in other countries as well, Professor Sackley said.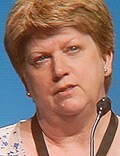 "We tested a really well-developed service that has been shown to work very well for stroke patients in their own homes," she pointed out. "In this trial, more than 1000 patients from more than 200 care homes in the UK underwent a total of 2500 hours of occupational therapy, but there was no evidence of benefit."
She suggested that the care home residents may be more severely disabled and confused to benefit from a program shown to work in people living at home.
"They are in a care home for a reason," she said. "Possibly they are too sick to benefit from this particular form of occupational therapy. We need to rethink what is needed for these patients."
They are in a care home for a reason.
She explained that the program tested is specifically designed for stroke patients. An occupational therapist assesses the quality of life of the patient and then sets specific goals in collaboration with the patient or carer. "These could be getting out of bed on their own, feeding themselves, et cetera. Any necessary equipment to help achieve the goal is supplied and carers are educated on what achievements are being aimed for. But in this study there was either too much paralysis or patients had lost the ability to plan a movement."
Professor Sackley said, "This approach of patient-centred goal setting doesn't seem to work in this setting. We've got to come up with a new set of criteria for stroke patients in a care home. New goals that are more realistic for this group who may not be able to articulate what they think."
In her presentation, Professor Sackley noted that the number of people living with acute stroke–related disabilities has increased substantially in the last decade, and 25% of patients are unable to live at home. Stroke survivors residing in care homes are more physically and cognitively impaired, with high support needs, compared with those living in the community.
3-Month Targeted Program
The study involved 1042 care-home residents with a history of stroke or transient ischemic attack living in 1 of 228 care homes in the UK. The intervention involved 3-month targeted occupational therapy with a regimen developed by using consensus professional opinion aimed at improving mobility and self-care independence. This included caregiver training, activity and mobility training, assistive devices and adaptations, and wheelchairs and seating reviews. Patients underwent goal setting.
The control group received standard care, which Professor Sackley described as "not a lot."
The primary outcome was Barthel index score at 3 months. Secondary outcomes were Barthel index score at 6 and 12 months and measures of mobility (Rivermead), depression (Geriatric Depression Scale 15 [GDS 15]), and quality of life (EQ-5D).
The baseline characteristics of the participants were representative of the UK care home population with regard to age, sex balance, and levels of frailty and support needed.
Patients in the intervention group received an average of 5.1 sessions with the occupational therapist, each session lasting a median of 30 minutes. Content of the sessions broke down as 23% assessment and planning, 49% communication, 7% activities of daily living training, 8% transfers and mobility, 7% adaptive equipment, and 6% "other."
Primary and secondary outcomes did not differ at 3 months.
Table. Primary and Secondary Outcomes at 3 Months
| | | | | |
| --- | --- | --- | --- | --- |
| Measure | Occupational Therapy | Control | Difference | P Value |
| Barthel index | 5.47 | 5.29 | 0.19 | .48 |
| Mobility (Rivermead) | 2.74 | 2.73 | 0.02 | .90 |
| Depression (GDS-15) | 6.09 | 6.30 | –0.21 | .44 |
| Quality of life (EQ-5D) | 0.24 | 0.23 | 0.01 | .65 |
During the discussion, co-chair of the session, Donald Easton, MD, professor of neurology at University of California, San Francisco, said he was not surprised that there was no improvement on the Barthel index, but he would have expected some benefit on mobility and depression.
A member of the audience suggested that the results may not have been too surprising given that much of the time was allocated to assessment and communication, with too little time left for the actual training.
But Professor Sackley pointed out that these results are similar to those from other recent clinical trials in a care-home population (Underwood et al 2013 and Kerse et al 2008), which showed a neutral or minimal effect of exercise on depression, functional activity, and quality of life.
XXIII European Stroke Conference (ESC). Presented May 9, 2014.
Medscape Medical News © 2014 WebMD, LLC

Send comments and news tips to news@medscape.net.
Cite this: Occupational Therapy Fails in Care-Home Stroke Patients - Medscape - May 27, 2014.