Young adults who have heightened alcohol stimulation and reward sensitivity are at risk for later development of alcohol use disorder (AUD), new research suggests.
A long-term study of 104 heavy social drinkers showed that those who had greater stimulatory and rewarding effects (such as "really liking" and wanting more of the substance) and less sedation after receiving an intoxicating dose of alcohol had more symptoms of AUD at the 6-year follow-up than those who did not have these initial reactions.
"We found predictors from 6 years ago that can help us understand more about the future course of people who continue on with binge drinking and who develop more severe problems," lead author Andrea C. King, PhD, professor in the Department of Psychiatry and Behavioral Neuroscience and director of the Clinical Addictions Research Laboratory at the University of Chicago, Illinois, told Medscape Medical News.
Dr. King noted that the findings run somewhat counter to existing hypotheses that innate tolerance to alcohol drives alcoholism.
"The prevailing theory focuses on 1 aspect, which is having a low response to alcohol and not feeling its effects. But in research and clinical work, I've found that a lot of people are drinking because they are really sensitive to liking the effects. Instead of having a low response, it actually could be a higher response to alcohol," she said.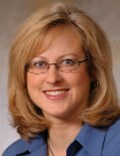 She added that early interventions may be key to helping this patient population.
"The earlier that we can find out who may be at risk, before these problems develop in a severe way, is vital. And understanding that there may be this response to alcohol that's driving this behavior is important," said Dr. King.
The study was published in the May 15 issue of Biological Psychiatry.
Evaluating Heavy Drinkers
In the initial Chicago Social Drinking Project, 190 non-alcohol-dependent social drinkers were enrolled. During 2 random-order laboratory sessions, separated by at least 48 hours, either a high dose of alcohol (0.8 g/kg) or a placebo drink that only smelled of alcohol was given.
The volunteers then gave blood samples to screen for cortisol levels, underwent performance and memory tests, and answered questionnaires. These measures included the Brief Stimulation and Sedation subscales of the Brief Biphasic Alcohol Effects Scale and the Drug Effects Questionnaire.
"Light drinkers tended to be very sedated. So when they started drinking, they felt tired and sluggish, which we think are protective factors. That's why they didn't participate in binge drinking," said Dr. King.
For this analysis, the investigators evaluated the 104 participants (mean age at baseline, 25.3 years; 59% men) who reported binge drinking behaviors, defined as 4 or more drinks for women during 1 occasion or 5 or more drink for men, as young adults.
They also reported consuming between 10 and 40 standard drinks per week for at least the past 2 years.
Follow-ups were conducted up to 6 years later with 98% of these participants (mean age, 31.4 years) and included interviews and self-report measures.
Although information from the 2-year follow-up point was released previously, most of the participants were still in their 20s at that time, and "we were not able to examine the important transitional period between this decade of life and ages 30 and older, when the prevalence of…drinking problems and AUD declines sharply for many," report the investigators.
"There's so much we don't know about development of alcohol problems and becoming an alcoholic. We really wanted to look at how one's response to alcohol may relate to these behaviors over time," said Dr. King.
"In the 30s, binge drinking is less normative and less acceptable than when someone is in their 20s. It's a little more deviant as time goes on."
Disorder Predictors
Results from the current analysis showed that heightened sensitivity to alcohol stimulation, manifested as really "liking" alcohol, really wanting alcohol, and having a lower sensitivity to sedation at baseline, were all predictors of having symptoms of AUD at the 6-year follow-up.
In addition, higher alcohol stimulation scores and lower sedation scores significantly "predicted increases in AUD symptoms over time" (P = .025 and P = .001, respectively).
At the 6-year mark, the heavy drinkers fell into 3 distinct groups for symptoms of AUD ― high, intermediate, and low.
All members of the group with high AUD symptoms met the criteria for alcohol dependence at least once during 1 of the study's follow-ups vs 26% of the intermediate group and none of the low group (P < .001).
Also, those in the highest symptom group had significantly greater "stimulation," "like," and "want more" ratings than the low or intermediate groups.
"Heavy drinkers who felt alcohol's stimulant and pleasurable effects at the highest levels in their 20s were the ones with the riskiest drinking profiles in the future and most likely to go on and have alcohol problems in their 30s," summarized Dr. King in a release.
"In comparison, participants reporting fewer positive effects of alcohol were more likely to mature out of binge drinking as they aged," she added.
She reported that the investigators are continuing to follow this patient population. In addition, they are involved with a pilot study to assess whether early intervention is effective for those who have a strongly positive response to alcohol.
"Those who drink heavily might want to pay more attention to their response to alcohol for warning signs. If you have sensitivity to the positive effects of alcohol, it might be better to moderate your use earlier than later," said Dr. King.
"I often tell these young people that the playing field is not even. This response puts you at high risk."
"Hollow Leg" Phenomenon
"This study makes complete sense both from a standpoint of previous research and from my own clinical experience," Mark Willenbring, MD, founder and CEO of Alltyr, an addiction treatment practice in St. Paul, Minnesota, told Medscape Medical News.
"We've known that relative insensitivity to intoxication, which is genetically mediated, can predict the development of [AUD]. It's the so-called 'hollow leg phenomenon,' " he said.
"Those who are destined to become dependent are often those who are still standing after partying in high school or college after their friends have been throwing up or are passed out. So it's an insensitivity to intoxication and an absence of a lot of adverse effects from drinking."
Dr. Willenbring, who was not involved with this research, is a former director of the Division of Treatment and Recovery Research at the National Institute on Alcohol Abuse and Alcoholism (NIAAA).
He added that clinicians should refer patients to the NIAAA's Rethinking Drinking program, which he helped develop. Information found on the Web site and in free booklets include the signs that alcohol could be causing harm, what constitutes a "standard drink," and why being able to hold your liquor is actually a concern.
"People who are more likely to become addicted to alcohol and other drugs, such as opiates, like it a lot and don't have adverse effects from it. It's really just common sense," said Dr. Willenbring.
"Unfortunately, we aren't getting the public information about how to drink safely and what the risks are. And I think all young adults need to know this information."
The study authors report no relevant financial relationships.
Biol Psychiatry. 2014;75:798-806. Full article
Medscape Medical News © 2014 WebMD, LLC

Send comments and news tips to news@medscape.net.
Cite this: Response to Social Alcohol Use May Predict Future Abuse - Medscape - May 23, 2014.