NEW YORK ― Young African American women rate heavier body types as more attractive, a finding that may shed light on weight management in this population.
A study conducted by investigators at Mount Sinai Beth Israel Medical Center in New York City showed that African American women preferred heavier body types compared with their white counterparts, who favored a thinner body type.
More than half of the African American participants (57.1%) were more likely to report a lifetime incidence of being overweight, yet they showed less disordered eating compared with their white counterparts.
"Psychiatrists, as well as general practitioners, should really be aware of the role culturally bound body and image ideals may play in a patient's eating behaviors, specifically, with African Americans having higher rates of binge eating disorders nationally as compared to other eating disorders," lead investigator Simone Lauderdale, MD, told Medscape Medical News.
The study was presented here at a press briefing held at the American Psychiatric Association's 2014 Annual Meeting.
Lack of Research
Previous research on disordered eating has primarily focused on white women, but little research has been conducted in African Americans, said Dr. Lauderdale.
Dr. Lauderdale said cultural differences in patients may influence their eating behaviors.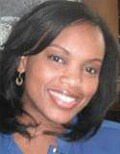 "I wanted to really see how differences in beauty ideals and body images may affect various people's eating behaviors and how ethnicity might play a role in body image and beauty ideals," said Dr. Lauderdale.
The study included 96 college-aged and college graduate–aged women ― 57 white and 21 African American.
The 2 groups were well matched by age (average age, around 30 years), height (average height, around 65"), and education.
"The education part was really important because the majority of our respondents had graduate degrees. They were very well matched socioeconomically," she said. "In this study, we were able to look at purely the ethnic implications. The socioeconomic status was not a confounder in the results," said Dr. Lauderdale.
The 81-question, 3-part survey was sent to college-aged and college graduate–aged white and African American women in the United States and was linked to SurveyMonkey.com. Two parts of the survey were validated scales.
These included the Questionnaire on Eating and Weight Patterns–Revised and the Body Shape Questionnaire. The third part, called the Beauty Ideals and Body Image Questionnaire (BIQ), was designed for this study by Dr. Lauderdale and focused on rating images of various body sizes.
How Would You Like to Look in a Bikini?
Participants were shown images of 12 famous female celebrities in various forms of dress and were asked whom they would prefer to look like in a bikini, shorts, and cocktail dress and to rate the attractiveness of each celebrity on a 7-point scale.
In another question, study participants were shown show headless, colorless figures (Figure 1) with a range of body sizes and were asked to select the heaviest figure that was still attractive and the thinnest figure that was still attractive.
The average rating for the heaviest and still attractive was the same for African American and white respondents (6.48), but the groups differed on rating the thinnest and still attractive. The average rating for white women was 3.28, and for African American women, it was 3.90 (P = .02).
The results showed that both groups were dissatisfied with their bodies but that white women, with an average score of 67.9, were slightly more dissatisfied than their African American counterparts, whose average score was 63.5 (P = .028).
White women were more likely to report bingeing behavior than African American women (52% vs 28.6%, P = .070).
Dr. Lauderdale explained that clinicians can aid patients by exploring these beauty ideals that develop from different culture backgrounds.
"Examining these patients' specific attitudes towards eating and their body ideals are important. African Americans have higher levels of hypertension, hyperlipidemia, diabetes, and other obesity-related illnesses compared with Caucasians," she added.
The study's limitations include its small sample size and the unequal sizes of the groups, because more white women responded than African American women.
Next Steps
Dr. Lauderdale added that she plans to conduct further research on this topic.
"Looking ahead, I would like to do the study again with a larger sample size of women and get more geographic information from the respondents. And in another study, it would be interesting to look at the female body image preferences of males, and the specific racial designations. See how they would correlate to the answers of the female respondents. Does it play a role in how women respond?"
Commenting on the study, Jeffrey Borenstein, MD, press conference moderator and president and CEO of the Brain and Behavior Research Foundation in New York City, said Dr. Lauderdale's study highlights the importance of this topic and the need for further information.
"Eating disorders are often overlooked. People with these disorders don't seek treatment until they are well on their way," said Dr. Borenstein. He added that it is important to examine the impact of cultural differences on eating disorders in order to optimize treatment.
Dr. Lauderdale and Dr. Borenstein report no relevant financial relationships.
American Psychiatric Association's 2014 Annual Meeting. Abstract NR5-40. Presented May 4, 2014.
Medscape Medical News © 2014 WebMD, LLC

Send comments and news tips to news@medscape.net.
Cite this: 'Ideal' Body Image Differs by Race - Medscape - May 21, 2014.