NICE, France — Medical management of patients with unruptured arteriovenous malformations (AVMs) is likely to be superior to an interventional approach over the long term, according to a new modelled analysis of the ARUBA trial.
Presenting the new analysis here at the XXIII European Stroke Conference (ESC), Michael K. Parides, PhD, director of the Mount Sinai Center for Biostatistics, Mount Sinai Hospital, New York, said the results showed that "the conclusion that medical management is preferable is unlikely to change in any clinically meaningful period."
Cochair of the clinical trial session, Donald Easton, MD, professor of neurology at University of California, San Francisco, added: "The concept is that less is more. I think it is time to suggest that this should be adopted for AVM patients."
Medical Management
Main results of the ARUBA study, presented at this meeting last year and reported by Medscape Medical News at that time, showed a much better outcome with medical treatment vs interventional treatment of patients with unruptured AVMs.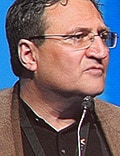 But concerns have been raised about the follow-up not being long enough. "As interventional treatment is known to have an early hazard, concerns have centered on whether the follow-up was long enough to allow for this increased initial risk to be offset by the longer-term benefits of intervention. This is a reasonable question," Professor Parides noted.
At the time the trial was stopped at 36 months, only 73 patients were still being followed. Results showed a 73% reduction in stroke/death in patients in the medical management group compared with those undergoing interventional treatment.
Professor Parides acknowledged that concerns about insufficient follow-up needed to be addressed. "With an average follow-up of only 3 years, it does appear that there could be unreasonable bias against the interventional therapy group because of the early hazard seen with the intervention."
For the long-term analysis model, the ARUBA investigators have made several assumptions. These include the presumption that no further events would occur in the intervention group (which he said was obviously favorable to the interventional group), that the experience for patients treated with medical management represents an accurate snapshot of natural history, and that future events in the medical management group would be guided by the same experience.
Curves Cross at 20 Years
With these assumptions in place, an analysis of future events showed that the outcome curves for the 2 groups would cross at around 20 years. "So we estimate that it will take 20 years for the medical management and interventional treatment to have reached similar risks. Until this time medical management will be associated with fewer events," Professor Parides reported.
He said the analysis was very conservative for the interventional group as "there would of course be some events in that arm, so really it could be as long as 30 years until the curves crossed."
Professor Parides dismissed other concerns that had been voiced about the ARUBA study concerning selection bias and differences in other treatments between the 2 groups. Regarding selection bias, he pointed out that the proportion of eligible patients randomly assigned was "quite high" at 40%, "so I see no evidence of selection bias."
And with regard to the heterogeneous treatments in the 2 groups, he pointed out that the trial did not mandate treatments other than the main randomization. "We left the treating physicians to make that decision. They know how to treat these patients."
XXIII European Stroke Conference (ESC). Presented May 9, 2014.
Medscape Medical News © 2014 WebMD, LLC

Send comments and news tips to news@medscape.net.
Cite this: ARUBA Long-Term: Medical AVM Management Still Better - Medscape - May 14, 2014.