BUENOS AIRES, ARGENTINA — An Israeli research team that has been tracking the incidence of head and neck tumors in interventional cardiologists and radiologists has now amassed 36 reports of brain and neck malignancies among physicians working with ionizing radiation in catheterization laboratories[1].
heartwire first reported on efforts by Dr Ariel Roguin (Rambam Medical Center, Haifa, Israel) and colleagues to collect data on the potential risk of these tumors back in February 2012, when the group had just nine cases. Now, as Roguin revealed here today at the SOLACI 2014 meeting, the group has identified a total of 36 cases, including 28 interventional cardiologists, two electrophysiologists, and six interventional radiologists. Tumor types included glioblastoma multiforme (50% of cases) astrocytomas (7%), and meningiomas (14%).
All of the affected physicians had worked for prolonged periods (12–32 years; mean 23 years) in active interventional practices with exposure to ionizing radiation.
"The head of the cardiologist—in contrast to the rest of the body—is unprotected" during interventional and certain electrophysiological procedures "and therefore is particularly exposed to radiation," Roguin explained. The radiation dose received annually in adult cardiology is equivalent to 20 to 30 mSv, he said. "And the left side of the head is as twice as exposed compared with the right, as the cardiologist stands during the procedure on the right of the patient with the radiation source to the left."
Strikingly, researchers were able to obtain data on tumor location in 30 of the 36 cases, and in 86% of these, the malignancy was left-sided.
"In the normal population, these tumors are distributed equally on the left and right side, Roguin noted.
Previous Publications Led to More Cases for Series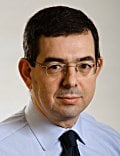 In his presentation, Roguin described the flurry of emails he started receiving after his group published their first paper and again following an update that included nine additional cases, published later that same year. He believes interventional cardiologists are aware of certain diseases related to their profession—orthopedic problems, cataracts, and malignancies—but they may not think they themselves are at risk.
"We are busy saving lives and opening blocked arteries and do not pay attention to these health issues," he said. There may also be some reluctance to learning more about the scope of the problem, he added, "because the findings might be not positive."
In his presentation, Roguin noted that, in the "interventional era," the volume of cases per operator, the volume of cases per lab, the fluoroscopy time per case, case complexity, and use of cardiac imaging have all skyrocketed. So too, as a result, has radiation exposure.
"We all have known many interventionalists who have gotten cancer," he told heartwire . "However, when you consider anecdotal reports, you have to be very careful because you don't really know what the numerator or denominator is. You have to look at it skeptically as a scientist, but you also can't ignore it as a warning either."
Interventional cardiologists have the highest radiation exposure among health professionals, Roguin pointed out. On average, he estimates, an interventional cardiologist experiences about 640 hours of radiation exposure, a number that is even higher (>800 hours) for full-time attending and EP attending physicians (700 hours). Moreover, existing radiation shield devices for physicians typically shield the trunk and thyroid but provide little in the way of protection for the head.
"Solid evidence-based medicine in this field is lacking, and the cases reported in this series could all be a simple matter of chance without any relationship to occupational exposure," Roguin cautioned. "Still, it is reasonable to assume that ionizing radiation does not improve health! The least we as a community should do is to be aware and to improve our protection against X rays."
Better Awareness, New Protection
Roguin proposes collaboration between countries and professional societies to help identify the extent of the problem and better strategies for protecting physicians in the workplace, including improved awareness. The amount of training on the topic of radiation reduction varies substantially from country to country, he told heartwire . In France, physicians must "pass a two-day meeting on this topic," but in the US, every fellow attends a four-hour course. In Israel, he and his colleagues are working with the Israel Working Group for Interventional Cardiology to organize educational programs, but neither the ministry of health nor other regulatory bodies mandate any formal training.
In the future, Roguin predicts a move to protective headgear or remote PCI consoles, but he is also advocating more studies that directly measure the radiation dose to the torso and head, both outside and inside any protective gear.
Heartwire from Medscape © 2014

Cite this: Climbing Head and Neck Tumor Count in Interventional Cardiologists Prompts Calls for More Study - Medscape - Apr 23, 2014.