CHICAGO — Even after attending a residential program to treat anxiety and obsessive-compulsive disorder, Annie Clark was unable to make eye contact or speak to strangers.
But after attending Improv for Anxiety, a unique therapeutic program developed in concert with The Second City, Chicago's famous improv-based sketch comedy troupe, she has a newfound ability to interact socially and speak in public.
"It was a gift to find my voice," Clark said.
Known as Improv for Anxiety, the joint program between The Second City and Panic/Anxiety Recovery Center on the city's North Side combines improvisation and cognitive-behavioral therapy (CBT) to combat social phobia.
Clark spoke, along with several other program graduates, to mental health providers here at the Anxiety and Depression Association of America (ADAA) Conference 2014 during a preconference session to introduce improvisation as a therapeutic tool.
Anxiety "Boot Camp"
Improv for Anxiety is thought to be the only currently operating program of its kind in the world, according to its founder, Mark Pfeffer, LMFT, a CBT therapist and director of Panic/Anxiety Recovery Center.
Billed as a social anxiety "boot camp," the program began in August 2011 to help adults with moderate social anxiety disorder, also known as social phobia. A separate program is now available for teenagers with social anxiety.
Pfeffer founded the 8-week program to help patients overcome their fear and avoidance of social situations due to what he called "exquisite sensitivity to scrutiny from others."
"This workshop stemmed from my frustration as a therapist for clients with social anxiety, who wouldn't do their [psychotherapy] homework," Pfeffer told Medscape Medical News.
"I wondered what would be accessible and affordable and would work for treating social anxiety," he said.
After taking improvisation classes at The Second City Training Center in Chicago himself, Pfeffer discovered it was a safe and fun environment that had the potential to build confidence, improve public speaking skills, and boost comfort in social settings. He began to recommend these courses to his clients with anxiety, but found they would not attend.
As a result, he designed a program to meet the specific needs of this patient population and teamed up with Second City instructors, who led groups of 8 to 12 participants at weekly sessions.
Since its introduction, approximately 200 people have attended the program, Pfeffer said.
Why Does It Work?
Although there is little scientific research demonstrating the efficacy of improvisation as therapy, Pfeffer said anecdotal evidence suggests "people are making life decisions that previously were unavailable to them, such as going on a job interview. Basically, they now have quality of life."
Improvisation is an effective therapeutic tool for managing social anxiety for several reasons, he said, including the fact that it is "ensemble based."
"This population needs acceptance from the tribe, and we become their tribe," Pfeffer said. "And, it's hard to be terrified when you're laughing."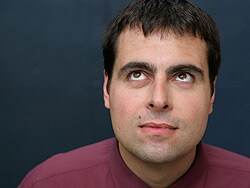 Many improvisation skills can help ease social anxiety, said Piero Procaccini, an instructor for The Second City Training Center in Chicago. He facilitated improvisational techniques for a group of ADAA preconference delegates.
"Improv involves taking risks," Procaccini said. "We start from a place of acceptance, with the ground rule that everything you say is right."
The most important principle of improvisation, according to Procaccini, is what he describes as the "Yes and..." tenet. In improv, this phrase moves the action forward and shows acceptance and collaboration, he explained.
Having learned this principle in Second City and iO Chicago improv classes, Becca Barish, MSW, said she now uses it to treat her clients at Panic/Anxiety Recovery Center.
"We can say to a client, who mentions an unhealthy behavior, 'Yes, and… when you do that, what happens? Does it take you to a place you want to be?' " Barish told the audience.
Yes, And…
Other principles of improvisation, according to Procaccini, are the following:
Reserve judgment of yourself and others.

Be in the moment.

Be others focused.

Be willing to take action.
Improv exercises slowly build confidence by encouraging patients to engage in activities that make most people uncomfortable. During the workshop, participants played a series of short games in a large group.
One game involved passing an imaginary red ball to each other while shouting out "red ball." In another game, a person voluntarily formed a live "statue" in the center of the group and could not leave until a second person joined in.
After each game, participants discussed how they felt during the exercise.
Later, ADAA workshop participants improvised giving eulogies at an imaginary funeral. They were asked to spontaneously incorporate a phrase from a film or song, which others had previously written on a slip of paper.
In Their Shoes
Procaccini said Second City instructors find that the group benefits the most when the goal of the exercise is not explained ahead of time.
Melanie Santos, PsyD, a Chicago-based clinical psychologist who attended the ADAA workshop, said that the improvisational exercises gave her "a better idea of what it feels to be in the shoes of someone with social anxiety."
She also added that she would apply some of the principles she learned to future therapy sessions.
"I hope to focus on encouraging acceptance and willingness to put yourself out there," she said.
Dr. Santos acknowledged that it is often difficult to encourage people with social anxiety to engage in exposure therapy, despite accompanying them into real-world settings.
She said she would consider doing group exposure therapy, which one Improv for Anxiety program graduate suggested would make anxious clients more comfortable.
Pfeffer said the people who attend the program are initially fearful to register for it but that "they often have tried everything else, and they want to get better."
In addition to social anxiety, there are other improvisational therapy courses to help individuals with autism spectrum disorder and, elsewhere, even Alzheimer's disease.
Joy of Being Silly
As part of their recovery, some participants choose to go on to more advanced improvisation courses through The Second City Training Center. After completing these higher-level classes, they have the opportunity to perform an improvisational show at The Second City.
Program graduates are invited to speak at new Improv for Anxiety classes as part of their recovery, and several did so at this workshop. Dr. Santos said she was impressed with their self-reported improvement.
One graduate, Maren Lovgren, not only shared the story of recovery from her fears, she did a standup comedy routine — without any apparent nervousnes — that had the audience laughing.
For Lovgren, anxiety was standing in the way of her desire to be a performer. "Before [the improv class], I thought fear was my enemy," she said. "Now I call it my numb hands and run toward it."
Currently a performer and comedy writer, Lovgren said she felt the support of her classmates, noting, "We were not competitive. We were not fighting to be on Saturday Night Live."
Clark told the audience that her experience in the program differed from past therapy sessions that were "drudgery, and everyone cried all the time."
"In improv," she said, "I found the joy of being silly."
Both Pfeffer and Barish have disclosed that they are employed by Panic/Anxiety Recovery Center, which jointly operates the Improv for Anxiety program with The Second City. Procaccini reports that he is an instructor for The Second City Training Center and facilitator for Second City Communications but does not teach the regular Improv for Anxiety program. The others interviewed for this article have disclosed no relevant financial relationships.
Anxiety and Depression Association of America (ADAA) Conference 2014. Session 116C. Improv for Anxiety: The Power of Improvisation in Practice . Presented March 27, 2014.
Medscape Medical News © 2014 WebMD, LLC

Send comments and news tips to news@medscape.net.
Cite this: Improv for Anxiety: A Stand-Up Therapeutic Tool? - Medscape - Apr 14, 2014.