Sylvia Mathews Burwell, currently director of the White House Office of Management and Budget (OMB), was nominated today by President Obama to replace US Department of Health and Human Services (HHS) Secretary Kathleen Sebelius, who is resigning.
At a Rose Garden announcement complete with hugs and kisses, the president praised Sebelius' leadership at HHS in overcoming problems in the rollout of the deeply troubled HealthCare.gov Web site. "Under Kathleen's leadership, her team at HHS turned the corner, got the job done, and the final score speaks for itself," he said.
President Obama also heaped praise on Burwell, calling her a "proven manager, and she knows how to deliver results." He said he "could choose no manager as expert, as competent."
Burwell, a veteran of the Clinton Administration, where she served in several positions including deputy chief of staff, said she honored Sebelius' accomplishments and that she was "humbled, honored, and excited by the opportunity" to succeed her.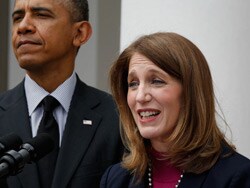 When Burwell was nominated last year as Obama's budget director, she was confirmed by the US Senate in a 96–0 vote. "I'm assuming not much has changed since that time," Obama said today, drawing some laughter from an audience made up mostly of White House staff and other cabinet members.
Although most political observers expect Burwell to be confirmed, Republicans in the Senate are likely to use the confirmation hearings as an opportunity to attack Obamacare and press Burwell on areas in which they felt Sebelius was less than forthcoming.
Burwell, 48, won the early endorsement of Senator John McCain (R-AZ), who tweeted, "Sylvia Burwell is an excellent choice to be the next HHS Secretary."
Other Republicans were not as enthusiastic, and their comments provide a preview of the tone of the confirmation hearings.
Senate Minority Leader Mitch McConnell (R-KY) told reporters, "Secretary Sebelius may be leaving, but the problems with this law and the impact it's having on our constituents aren't. Obamacare has to go, too."
Senator Chuck Grassley (R-IA) said in a statement, "It's disingenuous for the White House to distance itself from the problems and attribute them to partisan sniping at one member of the administration (Sebelius). The next secretary might have a fresh start with the public and Congress but the flawed law is still the law."
Burwell, a native of Hinton, West Virginia, is a graduate of Harvard University and Oxford University. She previously served as president of the Walmart Foundation. Before that, she was president of the Global Development Program at the Bill & Melinda Gates Foundation, where she worked for 10 years and was also the first chief operating officer, according to her official biography at the OMB Web site.
During the Clinton Administration, she served as deputy director of the OMB, deputy chief of staff to the president, chief of staff to Treasury Secretary Robert Rubin, and staff director of the National Economic Council. Before her federal service, she worked for McKinsey & Company.
She and her husband Stephen live in Washington, DC, with their 2 children.
Medscape Medical News © 2014 WebMD, LLC

Send comments and news tips to news@medscape.net.
Cite this: Sylvia Burwell Nominated to Replace Sebelius at HHS - Medscape - Apr 11, 2014.