Health and Human Services Secretary Kathleen Sebelius is resigning, ending her 5-year term that was marred by the problem-plagued rollout of the Affordable Care Act (ACA), President Obama's key domestic policy achievement, a White House official said Thursday.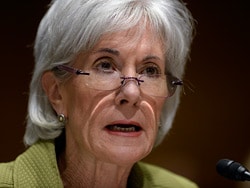 Sebelius quit her cabinet post just 1 week after the end of the first enrollment period for the ACA. She announced today that 7.5 million people had enrolled for health coverage under the new law.
Sylvia Mathews Burwell, the director of the Office of Management and Budget, will be nominated to replace Sebelius, officials said.

Sebelius had faced blistering criticism since October, when people encountered severe problems trying to enroll for health insurance on the government's HealthCare.gov Web site. Members of Congress also were critical of her when she promised that there would be no extensions of the March 31 deadline to enroll, only to reverse that position and extend the enrollment period 2 weeks later.
Sebelius, 65, was not under any pressure to resign, Denis R. McDonough, White House chief of staff, told The New York Times. She had approached the president and said that after the enrollment deadline he would be better served by someone who wasn't the target of political controversy, McDonough said.
"What was clear is that she thought that it was time to transition the leadership to somebody else," he said. "She's made clear in other comments publicly that she recognizes that she takes a lot of the incoming. She does hope — all of us hope — that we can get beyond the partisan sniping."
Burwell, 48, is a Harvard- and Oxford-educated West Virginia native with a background in economic policy. "The president wants to make sure we have a proven manager and relentless implementer in the job," McDonough said.
Burwell previously served as president of the Walmart Foundation and spent a decade with the Bill & Melinda Gates Foundation. She also served as deputy chief of staff to former President Bill Clinton.
Sebelius had served as governor of Kansas before joining the cabinet.
Medscape Medical News © 2014 WebMD, LLC

Send comments and news tips to news@medscape.net.
Cite this: HHS Secretary Kathleen Sebelius Resigns - Medscape - Apr 10, 2014.