PALM SPRINGS, California — Fluorescein angiography is better than standard digital imaging for monitoring retinopathy of prematurity in the eyes of infants treated with the vascular endothelial growth-factor (VEGF) inhibitor bevacizumab (Avastin).
"Although fluorescein angiography should not be used as a substitute for a good clinical exam, it is an important supplemental tool," said investigator Luxme Hariharan, MD, MPH, a pediatric ophthalmology fellow at the Bascom Palmer Eye Institute in Miami.
The procedure, commonly used to diagnose pediatric retinal disorders, shows vessel changes in detail. It is therefore ideal for the monitoring of regression or recurrence that is required after off-label intravitreal bevacizumab, which has gained favor in the treatment of retinopathy of prematurity.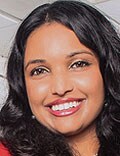 In fact, when used with the RetCam system (Clarity Medical Systems), fluorescein angiography is easy and safe to perform in neonatal intensive care units, Dr. Hariharan explained.
She presented a case series on the use of fluorescein angiography here at the American Association for Pediatric Ophthalmology and Strabismus 2014.
Dr. Hariharan's mentors for the study include Audina Berrocal, MD, principal investigator and director of pediatric retina and retinopathy of prematurity and Ditte Hess, CRA, FOPS, director of ophthalmic photography, both at the Bascom Palmer Eye Institute.
The series involved 36 eyes from 18 neonates with retinopathy of prematurity treated from 2006 to 2013 at the Bascom Palmer Eye Institute. Eleven of the infants were treated with bevacizumab and 7 were treated with bevacizumab plus laser therapy.
The angiography protocol involved the administration of an intravenous bolus of a 10% solution of sodium fluorescein dye at a dose of 7.7 mg/kg, followed by a saline flush.
At the time of injection, the investigators used the RetCam system to perform clinical fundus photography and fluorescein angiography. The photography was repeated 2 to 3 weeks after the injection.
With fluorescein angiography, advanced vascular growth could be seen in precise detail for all eyes, indicating regression of retinopathy of prematurity. However, digital fundus photography and clinical exam "were often hazy and did not show the distinct nature of the enhanced vasculature as clearly as fluorescein angiography," Dr. Hariharan said.
The technique "more clearly demonstrates subtle changes in vasculature, and these angiograms can be helpful in guiding our management of retinopathy of prematurity in the anti-VEGF era," she added.
She noted that the procedure appears to be very safe, and there were no adverse effects in any of the infants studied.
An important limitation of fluorescein angiography is that the quality of photography is highly operator-dependent, Dr. Hariharan noted. "You really need a skilled photographer who knows when to get a good early and late shot and who has a really good sense of the retinal vasculature," she said.
The learning curve is an important factor when considering fluorescein angiography, said Graham E. Quinn, MD, from the Children's Hospital of Philadelphia.
With fluorescein angiography, "good imaging is a skill that must be practiced many times and must be maintained. "The camera itself has a large hand piece that is placed almost on the child's eye; the lens 'floats' on a gel on the surface of the cornea," he explained.
"It is not an easy thing; it's a bit intimidating, initially," he told Medscape Medical News. In addition to the handling of the camera, the injection process into the vein can be a challenge.
"Both these procedures can intimidate parents and nurses caring for the babies. And the fluorescein angiography procedure itself must be carefully planned because the timing of image taking after the injection needs to be considered."
The procedure can be complex, but for infants with severe retinopathy of prematurity "it could help us document status before treatment, detect skip areas needing retreatment, and determine treatment effects, both pro and con," said Dr. Quinn.
Fluorescein angiography offers more sensitivity to vascular abnormalities than digital imaging, which could change the classification system used in the early stages of retinopathy of prematurity, he added.
"Will this technique change our understanding of the pathophysiology? I don't know, but it's an exciting time to think about it," said Dr. Quinn.
The study received funding from the National Institutes of Health Center and a Department of Defense Research to Prevent Blindness Restricted Grant. Dr. Hariharan has disclosed no relevant financial relationships. Dr. Quinn reports being involved in a large study of telemedicine in acute-phase retinopathy of prematurity that uses the RetCam and is funded by the National Eye Institute, but reports no financial relationships related to fluorescein angiography.
American Association for Pediatric Ophthalmology and Strabismus (AAPOS) 2014: Abstract 10. Presented April 3, 2014.
Medscape Medical News © 2014 WebMD, LLC

Send comments and news tips to news@medscape.net.
Cite this: Fluorescein Angiography Details Vasculature in ROP - Medscape - Apr 08, 2014.