State Lawmakers Try to Reinstate Damages Cap
In Missouri, meanwhile, lawmakers attempted to reinstate a damages cap that the state's high court ruled unconstitutional just 2 years ago, reported the St. Louis Post-Dispatch.[2] Passed by the House in early March, the cap would limit noneconomic damages in medical liability suits to $350,000.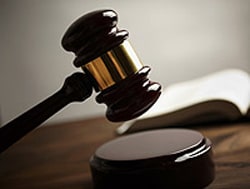 Doctors, many of them wearing red "Tort Reform Now!" stickers on their lab coats, packed the state capitol's galleries on the day of the approval.
Proponents of the measure -- including the overwhelming majority of the state's doctors -- make 2 arguments. First, they believe that the cap, if passed by the Senate and signed into law by the governor, would help to lower medical costs by reducing the practice of defensive medicine. Second, say proponents, a reinstated cap would help to retain Show-Me State doctors who might otherwise cross the border to Kansas, which limits noneconomic damages in med-mal cases to $250,000. (In 2012, the Kansas Supreme Court upheld that state's 25-year-old cap.)
But the bill's detractors aren't convinced. "The mechanics of this bill does not value human life," says Rep Jeff Grisamore (R, Lee's Summit). "It devalues it. The name of the game [for insurance companies] is to minimize liability and maximize profits and victims and doctors are caught in the middle."
The bill, which the House passed 94 to 61, now moves on to the Senate.
Medscape Business of Medicine © 2014 WebMD, LLC

Cite this: Could This Tort Reform Proposal Work?; Where Caps Stand; More - Medscape - Apr 24, 2014.