WASHINGTON, DC — A randomized trial showing better outcomes with a drug-eluting stent (DES) compared with a bare-metal stent wasn't a throwback to another era when it was presented here at the American College of Cardiology 2014 Scientific Sessions . Rather, it broke new ground by showing how DES could be the better stent choice in a particularly thorny patient group that has been deliberately left out of many DES trials: those at elevated risk for thrombosis or bleeding, many with serious comorbidities, for whom DES supported by a long course of dual-antiplatelet therapy (DAPT) could be unsafe.
Perhaps the solution, say investigators who explored their idea comparing the Medtronic zotarolimus-eluting Endeavor Sprint stent with a bare-metal stent in >1000 patients, is to let the patient's risk features guide how DAPT should be given.
The result was fewer MIs and significantly lower mortality and risk of stent thrombosis over the following year among patients who had received the DES compared with a bare-metal stent. All were assigned to a DAPT regimen personalized according to their risk features; it averaged only about one month in both stent groups, compared with six to 12 months generally recommended for patients getting DES.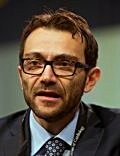 The findings from the Zotarolimus-Eluting Endeavor Sprint Stent in Uncertain DES Candidates (ZEUS) study, Dr Marco Valgimigli (Erasmus Medical Center, Rotterdam, the Netherlands) said when presenting the results, shouldn't be extrapolated to other DES without appropriate support from trials that include comparably problematic patients. He pointed out that cancer and age >80 years were not grounds for exclusion and that their one-year mortality was >10%, "extraordinarily high" and a reflection of the cohort's unusually high risk.
The trial also entered patients considered low risk for restenosis, for whom expected gains from restenosis-fighting DES conceivably might not justify their stent-thrombosis risks.
"The question is whether in such a high-risk patient population with so many comorbidities it makes sense even to think of inducing TVR [target-vessel revascularization, to treat stent restenosis] by using a DES instead of a bare-metal stent. And that was the rationale for conducting the study."
And, he said, the outcome was a surprise. The improvement in the primary end point (12-month death, MI, or TVR) with the DES was largely driven by a reduction in TVR. "Which probably is suggesting that DES, at least some specific DES, should be considered in this unique patient population."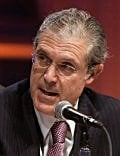 Speaking from the panel following Valgimigli's presentation, Dr Dean J Kereiakes (Christ Hospital Heart & Vascular Center/Lindner Research Center, Cincinnati, OH) pointed out that meta-analyses and randomized trials suggest that stent-thrombosis rates are lower, compared with bare-metal stents, with newer-generation everolimus-eluting stents or Medtronic's own newer-generation Resolute zotarolimus-eluting stent. "So I'm just not sure that this is a great strategy to adopt at this point: shorter-duration dual antiplatelet therapy with this [Endeavor Sprint] platform."
Valgimigli replied, "I'm not sure either that it's a great strategy, but it's the only strategy that's been tested, apart from bare-metal stent, in this specific patient population. Whether other types of DES will be able to reproduce this benefit, I think is still worth being investigated; but for the time being we have no proof."
Schema for Individualization of Dual-Antiplatelet Therapy (DAPT) in Zeus
End points
High Bleeding Risk
High Thrombotic Risk
Low Restenosis Risk
If the patient had at least one of:

Need for oral anticoagulants

Previous relevant bleeding

Age >80 y

Bleeding diathesis

Anemia (Hb<10 g/dL)

Need for NSAIDs

Aspirin intolerance

Thienopyridine intolerance

Planned surgery w/in 1 y

Cancer-life expectancy >1 y

Prothrombotic diathesis

Planned stent >3.0 mm diameter (except from left main coronary artery or saphenous vein graft intervention or for in-stent-restenosis lesions)
Then DAPT was given
For 30 d

Until surgery if planned, otherwise for >6 mo

Not at all if aspirin or thienopyridine intolerant

For 30 d in stable CAD, >6 mo in ACS
ZEUS randomized 1606 patients receiving urgent or emergent coronary stenting at 20 sites in Italy, Switzerland, Portugal, and Hungary to either the Endeavor Sprint or a bare-metal stent. Whether in the DES or bare-metal-stent group, patients were assigned to a DAPT regimen according to their individual features of high bleeding or thrombosis risk or low restenosis risk; the features were also inclusion criteria for the trial. Their assigned regimen didn't necessarily call for DAPT of any duration.
A total of 1077 patients qualified and 1027 ultimately received one month of DAPT: 512 in the bare-metal-stent arm for a median of 33 days and 515 of those who received the DES for a median of 31 days.
Rates and Hazard Ratios (95% CI), DES vs Bare-Metal Stent, for Outcomes in Zeus
| | | | | |
| --- | --- | --- | --- | --- |
| End points | Endeavor Sprint, n=802 (%) | Bare-metal stent, n=804 (%) | HR (95% CI) | p |
| MACE (primary end point) | 17.5 | 22.1 | 0.76 (0.61–0.95) | 0.011 |
| TVR | 5.9 | 10.7 | 0.53 (0.37–0.75) | <0.001 |
| MI | 2.9 | 8.1 | 0.35 (0.22–0.56) | <0.001 |
| Definite/probable stent thrombosis | 2.0 | 4.1 | 0.48 (0.27–0.88) | 0.019 |
MACE=death, MI or target-vessel revascularization (TVR) at 12 months
There were no significant bleeding events of any kind (Academic Research Consortium definitions) between the two groups by stent assignment.
Dr James B Hermiller (St Vincent Hospital, Indianapolis, IN), not connected with the research, agreed for heartwire that the findings shouldn't be extended to second-generation stents as a class effect "until it's absolutely proven."
But "it's a very important study," he said. "This group of patients is really a vexing problem for us. About 20% of the patients in the US get bare-metal stents for just the reasons these patients were enrolled: high risk for bleeding, high risk for thrombosis, or we don't think they're high risk for restenosis."
Hermiller also pointed out the quandary with the meta-analyses and randomized trials that suggest DES superiority over bare-metal stent for stent thrombosis. "Those studies have included patients typically on six to 12 months of DAPT. We've been unable to really disentangle the [effects of] DAPT from the real independent effect of DES vs bare-metal stent. And that's what this study sought to do."
Valgimigli discloses receiving honoraria for lectures/advisory boards from Merck, Correvio, Eli Lilly, AstraZeneca, the Medicines Company, and Terumo; and receiving institutional research grants from Medtronic, the Medicines Company, and Terumo. Kereiakes has previously disclosed receiving research grants from Pfizer, Conor Medsystems, Boston Scientific, Medtronic, Daiichi Sankyo, and Cordis; and consulting fees from Conor Medsystems, Cordis, Core Valve, Eli Lilly, Boston Scientific, and Abbott Bioabsorbable Vascular Solutions. Hermiller discloses receiving consulting fees or honoraria from St Jude Medical, Abbott Vascular, Boston Scientific, and Medtronic.
Heartwire from Medscape © 2014 

Cite this: Risk-Tailored DAPT Boosts DES Safety in Difficult Patient Group - Medscape - Apr 03, 2014.