WASHINGTON, DC — A selective inhibitor of lipoprotein-associated phospholipase A2 (Lp-PLA2) failed to lower the risk of cardiovascular mortality, MI, or stroke in patients with stable coronary heart disease, a new study has shown[1].
The investigational compound, known as darapladib (GlaxoSmithKline, London, UK), was tested in 15 828 patients concurrently treated with guideline-recommended therapy for secondary prevention, and the results were presented this week here at the American College of Cardiology 2014 Scientific Sessions . The trial was simultaneously published in the New England Journal of Medicine.
There was a 10% relative reduction and an absolute 1.0% reduction of borderline significance in the secondary end point, a composite of major coronary events that included death from coronary heart disease, nonfatal MI, and urgent coronary revascularization for myocardial ischemia.
During the late-breaking clinical-trials session, panel members tasked with reviewing the results considered the study, known as Stabilization of Atherosclerotic Plaque by Initiation of Darapladib Therapy (STABILITY), a "largely negative trial." They noted that 20% of patients stopped the drug because of adverse events, including side effects such as diarrhea and malodorous feces, urine, and skin. In addition, there was a significantly increased risk of investigator-reported renal failure in the darapladib-treated patients.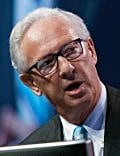 Speaking with heartwire , lead investigator Dr Harvey White (University of Auckland, New Zealand) said the secondary end point needs to be interpreted cautiously, but he does believe there is a signal of benefit, one that might become clearer when the researchers analyze population subsets.
"We have so much information about vulnerable plaque and so much information about the association with Lp-PLA2," said White. "We're waiting for an analysis of the Lp-PLA2 levels. If we find there is a 20% reduction in the highest tertile, that signal becomes stronger. But still, the results need to be interpreted cautiously."
Of the randomized patients, approximately 60% had a prior MI, 75% had previously undergone coronary revascularization, and 15% had multivessel disease. White characterized the patients as high risk, and the study set out to test darapladib in patients receiving excellent medical care. Adherence rates, based on pill counts, were 89% in the darapladib arm and 91% in the placebo group. Regarding statin therapy, 96% were still taking a statin after 3.7 years of follow-up.
"When we set out, we had a new treatment, and we wanted to know if it works on the background of older therapies," White told heartwire . "You really have to give evidence-based treatment before you start with a new one."
Given the background care, it might have been difficult to affect the primary end point with darapladib, noted White. In addition, as the trial was under way, data emerged suggesting that reducing Lp-PLA2 is not associated with stroke risk, an event that was included in the primary end point.
Despite the negative results, GlaxoSmithKline is not yet giving up on darapladib. The company said it plans to wait for data from the Stabilization of Plaques Using Darapladib—Thrombolysis in Myocardial Infarction 52 (SOLID-TIMI 52) study in acute coronary syndrome patients before deciding what to do with the drug's development. Results of SOLID-TIMI 52 are expected in the first half of 2014.
The study was supported by GlaxoSmithKline. White has no conflicts of interest. Disclosures for the coauthors are available at www.nejm.org.
Heartwire from Medscape © 2014 Medscape, LLC

Cite this: Darapladib Fails to Reduce CVD Risk in STABILITY - Medscape - Apr 02, 2014.