WASHINGTON, DC (updated) — One trial at the American College of Cardiology 2014 Scientific Sessions took heat like no other: the How Effective Are Antithrombotic Therapies in Primary PCI (HEAT-PPCI) trial.
The single-center randomized trial of unfractionated heparin vs bivalirudin (Angiomax, the Medicines Company) (with bailout GPIIb/IIIa inhibitors) in STEMI patients surprised attendees on the last day of the meeting by showing a significantly lower rate of major adverse cardiac events (MACE) in the heparin-treated patients at 28 days and no differences in bleeding complications.
For riled-up discussants in the "main tent" during the trial's formal presentation, on social media immediately afterward, and in a press conference following the formal presentation, the questions were: Was the trial ethical? Are the results true? What explains the discordance with results in other randomized studies?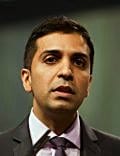 Dr Adeel Shahzad (Liverpool Heart and Chest Hospital, UK) presented the HEAT-PPCI results during the final ACC late-breaking clinical-trials session. The trial recruited 1829 patients over a 22-month period at a single UK hospital with 14 interventional cardiologists participating in the study.
In the heparin group, patients received a bolus dose of 70 units/kg preprocedure, while bivalirudin was given as a bolus of 0.75 mg/kg, followed by infusion of 1.75 mg/kg per hour for the duration of the procedure.
At four weeks, the primary efficacy end point (MACE, defined as all-cause mortality, cerebrovascular accident, reinfarction, or unplanned target lesion revascularization [TLR]) had occurred in 8.7% of bivalirudin-treated patients and in 5.7% of heparin-treated patients, an absolute increased risk of 3%.
Key drivers of this MACE increase were reinfarction and TLR, which were both significantly increased in the bivalirudin group. Definite or probable stent thrombosis was 3.4% in the bivalirudin group and 0.9% in the heparin group (RR 3.91, 95% CI 1.6–9.5; p=0.001).
Minor bleeds, as well as major/minor bleeds, were no different between groups. Bailout GP IIb/IIIa-inhibitor use was similar in both groups, at 13.5% in the bivalirudin group and 15.5% in the heparin-treated patients.
HEAT-PPCI Outcomes
| | | | | |
| --- | --- | --- | --- | --- |
| Outcome | Bivalirudin (%) | Heparin (%) | RR (95% CI) | p |
| MACE | 8.7 | 5.7 | 1.52 (1.1–2.1) | 0.01 |
| Definite or probable stent thrombosis | 3.4 | 0.9 | 3.91 (1.6–9.5) | 0.001 |
| Major bleeding | 3.5 | 3.1 | — | NS |
Shahzad concluded his presentation saying that use of heparin rather than bivalirudin was associated with reduced MACE, fewer stent thromboses and reinfarctions, no bleeding complications, and the potential for "substantial saving in drug costs."
All Fired Up
Shahzad is a cardiology fellow and, as previously reported by heartwire , the idea for HEAT-PPCI grew in part out of his PhD project. Enlivening an otherwise-sober final late-breaking trial session, the tone of the panel discussion following Shahzad's presentation was unusual: at times patronizing, at other times irate. Both the unusual trial design and the trial findings clearly incensed the panel members, several of whom had led or been coinvestigators for large multicenter, company-initiated trials that first investigated bivalirudin in this setting.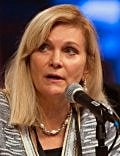 At one point in the course of the discussion, session cochair Dr Cindy Grines (Detroit Medical Center, MI) told Shahzad that there was no time for him to answer the panel's questions/statements—it being more important that panelists' comments "get out there." Later, panelist Dr William O'Neill (Henry Ford Hospital, Detroit, MI), advised Shahzad to "note .  .  .  who is on the panel for you, okay, because it will be historical for you," in terms of all the former angioplasty/AMI trialists commenting on his study. Several cardiologists who watched the discussion commented to heartwire on the unusually combative tone and noted that the panel makeup was largely one-sided. At least three of the panel members reported current or former research funding from, being on the speakers' bureau for, or advisory-board funding from the Medicines Company and are faculty members for or report research funding from the Cardiovascular Research Foundation, which lists the Medicines Company as one of its largest sources of revenue.
Dr David May (Cardiovascular Specialists, Flower Mound, TX), a member of the ACC board of trustees, told heartwire that his email inbox started lighting up while he was watching the panel discussion, with fellow audience members expressing their discomfort over the tone of the discussion. "This was bullying behavior," he said. "In my view, this kind of conduct does not have any place in a [venue] of scientific discourse. Decorum should be maintained, and if not, we're not going to have young investigators coming back to present late-breaking or other research if we resort to these kinds of ad hominem attacks on study design."
Dr David Kandzari (Piedmont Heart Institute, Atlanta, GA), one of the cochairs for the ACC 2014/i2 (interventional track) programming, confirmed to heartwire that the discussant panel makeup was determined before the final results of the study were known. He also noted that it was "appropriately" made up of some of the foremost clinical trialists in the field of primary PCI.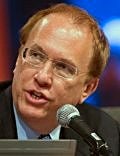 Dr Gregg Stone (Columbia University, New York, NY), who also spoke with heartwire , called the results "markedly different" from three other randomized trials conducted at 250 centers in more than 8000 patients, plus more than 2.5 million patients in registry series, "and we have to understand why."
His guess—based on the increased stent thrombosis and reinfarction rates, as well as the relatively high bailout-GPIIb/IIIa use—was that bivalirudin was underdosed. Stone pointed to activated clotting time (ACT) numbers provided by Shahzad—236 in the heparin arm and 270 in the bivalirudin arm—as backing up his theory.
Shahzad, in response, explained that HEAT-PPCI had employed the Actalyke MAX-ACT (Helena Laboratories) point-of-care ACT testing system,, which "has consistently shown that the [ACT] results are accurate and they are always 50 points less than other machines."
Senior investigator on the study, Dr Rod Stables (Liverpool Heart and Chest Hospital, UK) later confirmed that ACTs were measured five to 15 minutes after administration of the drugs and postprocedure and "rebolused" as needed, "in accordance with the specific guidelines issued by the Medicines Company." Moreover, investigators were specifically trained on the devices and the local national Medicines Company rep "investigated the issue, including our machines and has concluded [there were] no problems."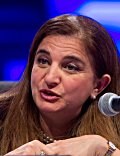 Dr Roxana Mehran (Mt Sinai Medical Center, New York, NY, another panelist, praised Shahzad for doing his "very best," but then said she was "amazed" by the trial's ability to enroll almost 2000 patients in 22 months. She then went on to say she was "most concerned" about ascertainment and adjudication of both reinfarction and bleeding events in the trial.
Stables addressed the reinfarction adjudication issue in the press conference, noting that "even if every single TLR event was not adjudicated as an MI, the primary MACE rate would be unchanged."
He also described the kind of patient who was adjudicated as having a reinfarction. "A patient presents with a STEMI, they have an entirely successful angioplasty procedure, they return to the ward in good condition, they are essentially pain free, probably eating and drinking. They then suddenly experience recurrent significant chest pain, an ECG is performed, it is unequivocally a new ST-segment change. They are returned in quick order to the laboratory where the angiographic images confirm that an artery known two or three hours ago to be widely patent and flowing is now completely blocked." He then quipped: "According to some authorities, this is not a myocardial infarction?"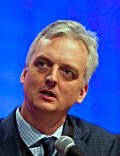 As to the lack of differences in bleeding complications in HEAT-PPCI, some, including including Kandzari, who reviewed the results for the press, posited that the high use of transradial PCI might partly explain these differences. In fact, Stables clarified, a prespecified analysis of transfemoral and transradial procedures showed no differences for the primary results and no differences in bleeds between the lone operator who performed exclusively transfemoral procedures and those performing exclusively transradial.
The more likely explanation, as both Stables and Shahzad repeatedly hammered home, is that the trial investigated bivalirudin and heparin head to head, with discretionary bailout GPIIb/IIa use in both arms. In HORIZONS , bivalirudin alone was compared with heparin plus routine GPIIb/IIIa-inhibitor use. In EuroMAX , the only large randomized trial that studied bivalirudin vs heparin (low-molecular-weight or unfractionated) with bailout GPIIb/IIIa-inhibitor use in both arms, also showed an increase in stent thrombosis in the bivalirudin group, although bleeding risk was lower. In REPLACE 2 , bleeding was lower with bivalirudin, but the comparator arm was heparin plus GPIIb/IIIa inhibitors. In ACUITY , bleeding rates were lower for the bivalirudin-monotherapy group but were equivalent in the other two trial arms where routine GPIIb/IIIa inhibitors were used on top of either heparin/enoxaparin or bivalirudin.
Stables also countered insinuations that the HEAT-PPCI had enrolled a lower-risk population than previous STEMI trials of bivalirudin, an assertion he flatly discounted.
"We included patients with cardiogenic shock; one patient actually died in the handful of minutes between randomization and [commencement of treatment]; our oldest patient was 102. It's the closest you've ever been to an all-comer population: we had home addresses on four continents and three father-and-daughter combinations who had MIs at different times over the study period."
The only point on which Stables seemed willing to concede was the possibility that a more prolonged, high-dose infusion of bivalirudin would have helped the newer drug close the gap with heparin, although that's "not yet a proven fact."
Moreover, in the UK, bivalirudin costs at least 400 times as much as heparin, yet heparin was "the winner" in this study, he noted. "Bigger doses, longer doses, prolonged infusions may offer the opportunity for bivalirudin to approximate heparin equivalency, but now the cost differential . . . could be 1500-fold."
Was Patient Consent in HEAT-PPCI Unethical?
The most contentious issue during the HEAT-PPCI presentation was the unique trial design, previously described in depth by heartwire . At issue: the trial's "delayed consent," wherein all patients were randomized and treated without first consenting to be in the study. Consent was then obtained during the recovery period and reconfirmed at 28 days. Data for patients who died before giving consent were included in the trial findings.
"There is general consensus on the panel that we hope we've not entered an era where we are experimenting on humans without their consent again," Stone warned.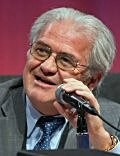 Dr William O'Neill (Henry Ford Hospital, Detroit, MI) went further, citing the "Helsinki Accord" (although he likely meant the Declaration of Helsinki, which established ethical principles governing human experimentation). "I would hold the leaders of your organization accountable to make sure that the public and the community knows what's going on. There is an absolute social contract that we make to our patients to make sure they are not subject to research without their permission. . . . I'm extremely bothered by the fact that you entered patients into the research study without getting their position."
Others disagreed (on and off the record) and suggested that the debate is distracting from the primary trial findings.
"I think the HEAT-PPCI study raises a really interesting and appropriate ethical question," Dr Peter Berger (Geisinger Health System, Danville, PA) told heartwire . "And no, I don't think that the approach the HEAT investigators used was unethical. In fact, I think it might be more ethical than the current method. Note: we are talking about two approved drugs that have been used in millions of people for which experts think that equipoise existed. It would not be ethical if those aren't all true, in my opinion."
Shahzad stressed that the trial received full ethics approval from three separate national bodies.
"We are not advocating the use of deferred or delayed consent globally or in all trials," he stressed. "For us, we were comparing two drugs that were in routine use throughout the developed world, [and] these were used for their licensed indications. In the primary-PCI setting, the patient is experiencing a heart attack, they are in pain, they may be under the influence of drugs, and approaching these patients in this setting, when the door-to-balloon times are less than 29 minutes, to get informed consent, we believe, is not possible."
Stables elaborated on this point during the press conference, noting that 75% of patients were randomized within nine minutes of arrival at the hospital, and mean door-to-balloon times were of a speed most hospitals can only dream of.
"If you think it's possible to get any form of meaningful consent in this time scale, that's a debate we could have," he said. "We also would have to debate on a society level whether it is ethical to burden patients with a discussion about which they could ultimately make no reasonable or mature decisions."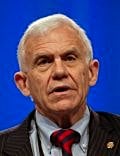 Dr David Holmes (Mayo Clinic, Rochester, MN), asked for his perspective on this point, said: "I happen to agree." Holmes then recounted his own story of consenting to be in a research trial after going to the hospital with a massive GI bleed. "At one point in time, when I surfaced in the ICU, I apparently signed a several-page, informed-consent document—my signature was a little shaky." He learned he'd done so only when a research nurse phoned him two weeks later to schedule his follow-up endoscopy. He declined to remain in the study.
-SW
The study was supported by unrestricted grants from the Medicines Company and AstraZeneca. Shahzad reports no conflicts of interest. Stables reports consulting fees/honoraria from AstraZeneca and research grants from AstraZeneca and the Medicines Company. Stone was the PI for HORIZONS-AMI, for which he disclosed consulting fees and grant support from the Medicines Company, and ACUITY, for which he disclosed both consulting and lecturing fees. He currently discloses consulting fees/honoraria from Reva, Guided Delivery Systems, Velomedix, Osprey, Inspire MD, Miracor, CSI, Eli Lilly/Daiichi Sankyo, and Boston Scientific; holding a partnership/principal in Access Closure, Biostar I and II funds, Micardia, VNT, Medfocus I, II, and Accelerati funds, Arstasis, and Caliber; and research grants from InfraReDx and TherOx. Mehran, also a coinvestigator on HORIZONS-AMI and ACUITY, for which she disclosed receiving lecture fees and being on the speakers' bureau, has received consulting fees/honoraria from Janssen/J&J, Maya Medical, Sanofi, Boston Scientific, Merck, AstraZeneca, Abbott Vascular, Covidien, CSL Behring, and research support from Bristol-Myers Squibb, Sanofi, Eli Lilly/Daiichi Sankyo, the Medicines Company, Regado Biosciences, and STENTYS. Berger has served as a consultant to AstraZeneca, Boehringer Ingelheim, and Eli Lilly/Daiichi Sankyo and has received research funding from AstraZeneca, Corgenix/Aspirinworks, Eli Lilly/Daiichi Sankyo, Haemoscope, Helena, the Medicines Company, and Thrombovision. Kandzari disclosed receiving consulting fees or honoraria from Medtronic, Micell Technologies, and Boston Scientific. Grines disclosed receiving consulting fees or honoraria from Merck, the Medicines Company, Abbott Vascular, Lilly, Bristol-Meyers Squibb, and Volcano Group.
Heartwire from Medscape © 2014 

Cite this: HEAT-PPCI: Heparin Bests Bivalirudin in STEMI, Amid Heated Debate - Medscape - Apr 01, 2014.