WASHINGTON, DC — A small head-to-head trial is offering a glimpse at an answer many physicians have been asking: What are the relative strengths and weaknesses of the two FDA-approved transcatheter aortic-valve devices?
As reported by heartwire , yesterday's late-breaking clinical-trial session here at the American College of Cardiology 2014 Scientific Sessions included pivotal trial results for the Medtronic CoreValve High-Risk Study , showing, for the first time, that a transcatheter device was superior to surgery in high-risk subjects.
Discussion of the trial inevitably circled back on PARTNER A , the parallel trial for the Edwards Sapien device in a similar cohort of patients, which showed no such mortality benefit. Beyond the trials themselves, physicians want to know which device they should be using in clinical practice.
The CHOICE randomized trial[1], presented today at ACC 2014 by Dr Mohamed Abdel-Wahab (Segeberger Kliniken, Bad Segeberg, Germany), was not looking at hard clinical outcomes but instead focused on "device success"—defined by the Valve Academic Research Consortium as successful vascular access and deployment of the device and retrieval of the delivery system, correct position of the device, and performance of the heart valve without moderate or severe regurgitation. In all, 241 patients were randomized to treatment with either the CoreValve self-expanding device or the Sapien balloon-expandable device at five German centers.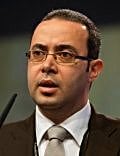 At 30 days, device success was seen in 95.9% of 121 patients treated with the balloon-expandable device, compared with 77.5% of 120 patients in the self-expanding-device group (relative risk 1.24, 95% CI 1.12–1.37).
The key driver of this difference was moderate or severe valvular regurgitation, seen in 4.1% of Sapien-treated patients compared with 18.3% of CoreValve patients (p<0.001). As a result, need for a valve-in-valve procedure to improve on initial results was also more common in the CoreValve-treated patients, at 5.8% vs 0.8% (p=0.03).
"With an accumulating body of evidence linking more than mild aortic regurgitation and consequently device failure with a worse clinical outcome after [transcatheter aortic-valve replacement] TAVR, the findings of the CHOICE trial may have important clinical implications," Abdel-Wahab et al write.
As seen in every other trial, new pacemaker use was significantly higher in the CoreValve device group, at 37.6%, vs 17.3% for Sapien.
Cardiovascular mortality at 30 days was similar between groups, at just over 4%; bleeding and vascular complications were also roughly similar.
Where significant differences emerged were in rehospitalizations for heart failure, which were more common with the self-expanding CoreValve, and in quality-of-life scores, which were slightly higher in the balloon-expandable Sapien. Stroke and coronary occlusion were numerically higher with the balloon-expandable valve, although neither was statistically significant.
"Long-term follow-up of the CHOICE population should be awaited to determine whether differences in device success will translate into a clinically relevant overall benefit for the balloon-expandable valve," the CHOICE authors conclude.
Making CHOICEs
CHOICE results have also been published simultaneously in the Journal of the American Medical Association,with Drs E Murat Tuzcu and Samir Kapadia, (Cleveland Clinic, OH) writing the accompanying editorial[2]. They observe: "The lack of a head-to-head comparison in a multicenter, randomized clinical trial has made it difficult to choose the appropriate device for a given patient." The CHOICE trial "fills this void, albeit partially."
They caution that while the results are important and clearly show "device success" favoring the Sapien, they "should not be interpreted as a surrogate for long-term outcomes such as death, stroke, and quality of life."
An open question, note Tuzcu and Kapadia, is whether the 30-day increased risk of moderate or more severe paravalvular regurgitation is associated with increased one-year mortality, something other analyses have hinted at. Unusually in this study, the CHOICE investigators used contrast aortography, whereas paravalvular leaks are more commonly diagnosed and tracked by echocardiography. The use of contrast aortography shortly after valve replacement may not have yielded accurate results in the CoreValve-treated patients, given that the device continues to expand after implantation. A subset of patients also underwent transesophageal echocardiography and MRI, which corroborated the findings, the editorialists note.
To heartwire , Tuzcu noted that multiple studies, including a meta-analysis he coauthored, hint that paravalvular regurgitation is higher after CoreValve implantation than with Sapien, "and that goes along with the CHOICE trial results."
What's more, the difference is not likely to be related to operator inexperience, he continued, noting that the five centers that participated in CHOICE all have "extensive experience with both devices, and they have made a deliberate effort to place these very appropriately. Despite that, these are the results they got, and on top of that, the pacemaker implantations are very high. I do think you have to take these [results] into account when you make your decision."
That said, level of expertise with one device over another is also very important to consider. "If a center is very experienced in one or the other device, that should also go into the equation," Tuzcu said.
Some Caveats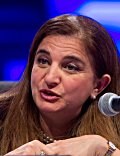 Following the formal late-breaking presentation of CHOICE, Dr Roxanna Mehran (Mount Sinai Medical Center, New York, NY) said she "couldn't help but comment" on the differences between the somewhat-sobering results today in contrast to the "incredible presentation we heard about yesterday in the definitive CoreValve study," particularly as pertains to pacemaker implantations and paravalvular leaks.
"How do you explain that?" she asked Abdel-Wahab.
In response, he noted that lower patient numbers in CHOICE might partly explain the difference, as does the fact that the CHOICE numbers excluded patients with prior pacemaker implantation.
As well, he said, "the criteria for implanting a permanent pacemaker after TAVR are not that standardized and differ from one center to another. So perhaps some participating centers had a lower threshold for implanting a pacemaker."
As for paravalvular leaks, this, as Tuzcu and Kapadia also noted, may partly reflect the use of angiography in their study; in the subset of patients who underwent echocardiography as well, the rate of paravalvular leak at 30 days was similar in the US pivotal trial and CHOICE, he noted.
Mehran, unconvinced, injected a final note of caution, reminding the audience that study was designed with the a priori hypothesis that the Sapien would demonstrate superior device success. "So to some degree there is some bias in that, in choosing the sort of patients who go into a study like this. It's very import to have these types of studies, but also more important to know that both of these valves are extremely valuable for patients, because one size does not fit all. [We should] take this as a first step toward comparative-effectiveness studies for the new valves to come."
Abdel-Wahab reports that he has received institutional grant support from Medtronic and personal fees from Edwards Lifesciences and Boston Scientific. Disclosures for the coauthors are listed in the paper. Tuzcu disclosed being the primary investigator for the SALUS trial using another transcatheter valve, Direct Flow (Direct Flow Medical) and being on the executive committee for the PARTNER trials. Kapadia reported being an unpaid member of the PARTNER trial steering committee. Mehran has previously disclosed serving as an advisor or consultant for AstraZeneca, Abbott, Boston Scientific, Merck, CSL Behring, Covidien, Sanofi, and Janssen and receiving grants for clinical research from Eli Lilly, Daiichi Sankyo, Bristol-Myers Squibb Company, Sanofi, and the Medicines Company.
Heartwire from Medscape © 2014  Medscape, LLC

Cite this: CHOICE: 'Device Success' Favors Balloon-Expanded Sapien Over Self-Expanding CoreValve - Medscape - Mar 30, 2014.