Washington, DC (updated) — Heart failure, gastrointestinal (GI) bleeding, bone fractures, hypoglycemia, and renal dysfunction: these are the serious adverse events that were the downfall of the investigational drug aleglitazar being tested in the AleCardio trial in patients with type 2 diabetes who had had an acute coronary syndrome (ACS).
The study was halted prematurely last July. "The final results were pretty much what the data safety and monitoring board saw then: there was clearly not a beneficial treatment effect of aleglitazar on CV outcomes," lead investigator A. Michael Lincoff, MD, of the Cleveland Clinic, Ohio, told Medscape Medical News.
Dr. Lincoff presented the full findings from AleCardio here today during a late-breaking session at the American College of Cardiology 2014 Scientific Sessions ; results were simultaneously published in the Journal of the American Medical Assocation.

"There was not even a trend toward reduced ischemic events, although revascularization and unstable angina were significantly reduced with aleglitazar, and there were also fewer [myocardial infarctions] MIs," he noted.
Serious side effects plagued the trial. At the extreme, this included a slight excess of mortality with aleglitazar, although not statistically significant, "and there were numerically more deaths from heart failure with aleglitazar," Dr. Lincoff noted.

"One of the possibilities is that there may have been a beneficial effect that was offset by some of the adverse effects," he observed.
In a discussion following the late-breaking-trial presentation, panel member Joseph Alpert, MD, from the University of Arizona, Tucson, said: "It's disappointing that somehow we can't find a way to get diabetics to have less cardiovascular risk." Another panelist agreed. Roxana Mehran, MD, from Mount Sinai Medical Center, New York, said: "Why do you think there was reduced hospitalization for unstable angina and revascularization? I'm intrigued by that — do you think it has anything to do with HDL? Our diabetic patients need something positive here."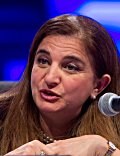 Dr. Lincoff replied: "It does raise the question, although it is purely speculative, of whether there was some treatment effect. Did some of the adverse effects outweigh or neutralize some of the potential benefit?"
Nevertheless, he believes this is very likely the end of the road for the drug class that aleglitazar belongs to, the dual peroxisome proliferator-activated receptor (PPAR) agonists. With the exception of pioglitazone, a related agent that has been on the market for many years, "I think it would be difficult for a pharma company to justify spending the money. It's hard to see how you could bring another forward," he told Medscape Medical News.
AleCardio Trial Details
AleCardio was the first large-scale CV outcomes trial of a dual PPAR agonist, agents that lower blood glucose and have favorable effects on some lipids. It set out to determine whether treatment with aleglitazar, when added to standard care of patients with type 2 diabetes, would reduce the risk for recurrent CV events following a recent ACS (MI or unstable angina).
The phase 3 trial was conducted at 720 hospitals in 26 countries. In total, 7226 patients with type 2 diabetes hospitalized for ACS between February 2010 and May 2012 were randomized in a 1:1 ratio to aleglitazar 150 µg or placebo daily, in addition to contemporary and guideline-based care for ACS, diabetes, and coronary heart disease risk factors.
Concomitant use of systemic corticosteroids for longer than 2 weeks, thiazolidinediones, or fibrates was not permitted. Patients with heart failure were excluded.
The trial was designed to exclude very early recurrent events (thought to be mostly thrombotic and thus not modifiable by metabolic therapies) by randomizing patients after a stabilization screening period of up to 12 weeks, but to include the period of greatly increased risk in the months following the acute coronary event.
The primary efficacy end point was time to CV death, nonfatal MI, or nonfatal stroke. Principal safety end points were hospitalization due to heart failure and changes in renal function.
Treatment was planned to continue until patients were followed for at least 2.5 years and 950 primary end-point events were positively adjudicated. However, the trial was terminated on July 2, 2013, after a median follow-up of 104 weeks, because of futility for efficacy and increased rates of safety end points.
"Although aleglitazar reduced glycated hemoglobin and improved serum HDL-C and triglyceride levels, it did not significantly decrease the incidence of CV death, MI, or stroke," Dr. Lincoff and colleagues observe.
HF, Hypoglycemia, Renal Issues, Fractures, and GI Bleeds
Aleglitazar also increased the risks of heart failure, renal dysfunction, bone fractures, GI hemorrhage, and hypoglycemia, Dr. Lincoff reported.
Heart failure was observed in 4.7% of patients in the aleglitazar group and 3.8% of patients in the placebo group (hazard ratio [HR], 1.24; P = .06). Hospitalization for heart failure, an adjudicated end point, was also greater among aleglitazar patients, although the difference was not statistically significant, he explained.
And in the aleglitazar group, there were higher rates of peripheral edema (14.0% vs 6.6%, P < .001) and weight gain (4.6 kg vs 0.9 kg, P < .001) vs placebo.
Deaths from heart failure were also more common with aleglitazar, he noted. Of the 112 CV deaths in the aleglitazar group, 16 were attributed to heart failure; of the 98 CV deaths in the placebo group, 7 were attributed to heart failure.
Renal dysfunction — a composite renal safety end point of end-stage renal disease, doubling of serum creatinine, or 50% increase in creatinine leading to study drug discontinuation — occurred in 7.4% of aleglitazar patients vs 2.7% of the placebo group (P < .001), although it was "transient and completely reversible" on stopping therapy, Dr. Lincoff noted. Hypoglycemia was more common with the active agent: significantly more patients in the aleglitazar group reported at least 1 hypoglycemic event vs placebo (17% vs 11%; HR, 1.60; P < .001).
There was also a significant increase in GI hemorrhages in the aleglitazar group compared with placebo, which Dr. Lincoff said the research team could find no explanation for.
Bone fractures were more frequent in the active-treatment group, which was not unexpected, Dr. Lincoff said. "The PPAR gammas do that. The effect wasn't significant, but it was starting to emerge after 1 year, which would be the pattern we would expect."
Is There a Subgroup That Benefits: Those With High Triglycerides, Low HDL?

In the discussion following the presentation, Nathan Wong, PhD, MPH, from the University of California, Irvine College of Medicine, wondered whether there was any subgroup of patients in AleCardio that might have benefited from aleglitazar therapy.
"Given the results of ACCORD Lipid, it might be interesting to see whether your subgroup with high triglycerides and low HDL may have benefited, as well as people perhaps with lesser duration of diabetes. Less severe diabetics have been shown, perhaps, to benefit more from certain therapies," he observed.
Dr. Lincoff acknowledged that this was a possibility: "There was a borderline significant interaction of .06 for HDL. And I think you bring up an important point — are we intervening too late in the disease? If we are trying to interfere in diabetes in patients who already have advanced vascular disease, ACS, or even stable cardiovascular disease, it may well be too late for these interventions."
However, "to carry out trials of the kind that would be required in very low-risk, early patients with diabetes, that's the real challenge. How do you logistically do that in an era where you can't wait a decade for a return on investment?" Dr. Lincoff said.
End of the Road for Dual PPAR-agonists? But Pioglitazone Will Survive
The dual PPAR agonists are similar to the thiazolidinediones for type 2 diabetes, such as the notorious rosiglitazone (Avandia, GlaxoSmithKline) and pioglitazone. When the AleCardio trial was stopped last year, Roche announced it was terminating all other studies with aleglitazar, which has become the latest in a line of failed agents in the drug class. These include muraglitazar (Pargluva, Bristol-Myers Squibb/Merck) and tesaglitazar (Galida, AstraZeneca), both of which were discontinued in 2006. Muraglitazar increased the risk for CV events, and tesaglitazar was associated with renal problems.

Following Dr. Lincoff's presentation, panel member Jeffrey Kuvin, MD, from Tufts Medical Center, Boston, Massachusetts, said: "Where do these data put the whole PPAR family in patients who have diabetes and an acute coronary syndrome or maybe have chronic coronary disease?"
Taking all things into consideration, Dr. Lincoff said he does not foresee much of a future for these agents, other than pioglitazone.
"It's going to be very difficult to see a new development program with PPAR [agonists]. These are very complicated drugs, and as this [trial indicates] very risky drugs, no matter how promising your phase 2 is."
However, pioglitazone is still very relevant, he noted. "Pioglitazone works just great as a glucose-lowering agent, and it's available and it will be generic soon. It also has "a very well-characterized safety profile."
"I don't know that we can justify using pioglitazone strictly on the basis of cardiovascular protection, but it certainly is an effective diabetic agent in the right patients, particularly those who don't appear to be at marked risk for heart failure," he concluded.
Efficacy and Safety End Points, Aleglitazar vs Placebo
| | | | | |
| --- | --- | --- | --- | --- |
| End Point | Aleglitazar, % (n = 3616) | Placebo, % (n = 3610) | Hazard Ratio | P Value |
| Efficacy measures |   |   |   |   |
| Primary efficacy end point: CV death, nonfatal MI or stroke | 9.5 | 10.0 | 0.96 | .57 |
| CV death, nonfatal MI or stroke, or hospitalization for unstable angina | 12.2 | 13.5 | 0.90 | .11 |
| Death from any cause, nonfatal MI or stroke | 10.3 | 10.9 | 0.95 | .51 |
| Death from any cause | 4.1 | 3.8 | 1.08 | .54 |
| Death from CV cause | 3.1 | 2.7 | 1.15 | .32 |
| Nonfatal MI | 5.9 | 6.6 | 0.89 | .22 |
| Hospitalization for unstable angina | 3.3 | 4.3 | 0.75 | .02 |
| Unplanned coronary revascularization | 11.0 | 13.8 | 0.79 | < .001 |
| Safety measures |   |   |   |   |
| Hospitalization for heart failure | 3.4 | 2.8 | 1.22 | .14 |
| GI hemorrhage | 2.4 | 1.7 | 1.44 | .03 |
| Bone fracture | 2.3 | 1.8 | 1.30 | .11 |
AleCardio was sponsored by Roche. Dr. Lincoff reports receiving research grants from AstraZeneca, CSL Laboratories, Lilly, Regado Biosciences, Roche, Takeda, and Vivus through his institution. Conflicts for other authors are listed in the manuscript.
JAMA. 2014. Published online March 30, 2014. Abstract
Medscape Medical News © 2014  WebMD, LLC

Send comments and news tips to news@medscape.net.
Cite this: All That Glitters Is Not Gold: AleCardio Dissected at ACC - Medscape - Mar 30, 2014.