Environmental factors appear to be linked to the rising incidence of autism spectrum disorders (ASDs) and intellectual disability (ID), new research shows.
Investigators at the University of Chicago in Illinois found that ASD and ID rates correlated at the county level with the incidence of genital malformations in male newborns, an indicator of possible congenital exposure to harmful environmental factors such as pesticides.
"We don't know which precise factors, but we do know for sure that some environmental factors, such as pesticides, some prescription drugs, and environmental lead all generate birth defects in children," the study's lead author, Andrey Rzhetsky, PhD, professor of genetic medicine and human genetics at the University of Chicago, told Medscape Medical News.
"The idea here was to use those birth defects as combined indicators of environmental states, and indeed we found a strong correlation, much stronger than what would be expected," Dr. Rzhetsky said.
The findings were published online March 13 in PLoS Computational Biology.
Males at Greater Risk
Dr. Rzhetsky and colleagues analyzed the special incidence patterns of ASD and ID using an insurance claims dataset covering nearly one third of the US population.
The analysis included 100 million medical records and showed that the rates of autism and intellectual disability correlated at the county level with incidence of genital malformations in newborn males, which the researchers took to be an indicator of possible congenital exposure to harmful environmental factors such as pesticides.
"Male fetuses are particularly sensitive to toxins such as environmental lead, sex hormone analogues, medications, and other synthetic molecules. Parental exposure to these toxins is thought to explain a large portion of congenital reproductive malformations such as micropenis, hypospadias, undescended testicles, and other malformations," Dr. Rzhetsky said.
From this large dataset, the researchers created a statistical baseline frequency of autism and intellectual disability across the country. They then looked at the actual rates of these disorders, county by county.
After adjusting for sex, ethnic, socioeconomic, and geopolitical factors, they found that every 1% increase in congenital malformations in a county was associated with a 283% increase in autism and a 94% increase in intellectual disability in that same county.
Additionally, almost all areas with higher rates of autism also had higher rates of intellectual disability.
Male children with autism were almost 6 times more likely to have congenital genital malformations. But among female children with autism, that link was much weaker.
Consider Geographic Origin
The analysis also showed that nonreproductive congenital malformations and viral infections in males were also associated with increases in autism and intellectual disability rates.
Slight increases in autism and intellectual disability rates were also seen in wealthier and more urban counties, Dr. Rzhetsky said.
An interesting finding was the negative effect of state regulation, Dr. Rzhetsky added.
"State-mandated diagnosis of autism by a clinician so that the child could be considered for special education was linked with a whopping 99% decrease in the rate of incidence for autism and intellectual disability. Also, certain ethnic backgrounds, such as Pacific islanders, had significantly lower risk for both diseases."
Dr. Rzhetsky said he hoped that the results of this study will prompt clinicians to consider a child's geographical origins when they see children with autism come into their offices.
"There is always this dispute about nature vs nurture. In autism, for example, it has been disputable that the genetics component is strong, as measured in identical twins, but it wasn't clear how much the environment contributes," he said.
"Essentially, our take-home message is that we should take into account the origins of children when we look for genetic aberrations, because these would be more severe in children from more toxic environmental locations, compared with children from cleaner environments," Dr. Rzhetsky said.
"My general appeal is to keep our eyes open. Clinicians are seeing children with autism every day, and our hope is that they will take environment into account. Also, if the environment is important in autism, it gives us some hope of perhaps relieving some of the symptoms of the disease by changing something in the environment," he said.
Confirming Known Link
Commenting on the findings for Medscape Medical News, Armin Alaedini, PhD, from Columbia University Medical Center in New York City, said that the results confirm and expand on findings from other population-based studies that point to a connection between birth defects and autism.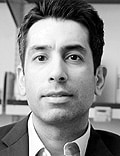 He pointed out, however, some of the limitations with using an insurance claims database.
"Because the study utilizes an insurance claims database, the criteria and diagnostic instruments used for identifying those with autism are likely to be quite variable, which may affect some of the outcomes of the analysis and the conclusions reached. In fact, the authors find that the state-mandated rigor of diagnosing autism for consideration in the special education system is predictive of a significant decrease in its incidence rates," Dr. Alaedini said.
Overall, the study does identify significant nongenetic factors associated with the observed spatial clustering pattern for autism in the United States, some of which may contribute to its etiology, he added.
"An important take-home message here is that these variables can be strong confounders, which need to be carefully taken into account in genetic analyses of autism in order to interpret the results accurately," Dr. Alaedini said.
The study was supported by the National Institute for Mental Health and the Chicago Biomedical Consortium. Dr. Rzhetsky and Dr. Alaedini report no relevant financial relationships.
PLoS Comput Biol. Published online March 13, 2014. Full article
Medscape Medical News © 2014 WebMD, LLC

Send comments and news tips to news@medscape.net.
Cite this: Autism, Intellectual Disability Linked to Environmental Factors - Medscape - Mar 28, 2014.