Everyone Wants Free Advice
There are some situations for which medical school simply doesn't prepare you. Consider Thanksgiving dinner, when Aunt Myrtle buttonholes you about a recurring rash that's been bothering her. Or the sideline consult that one of the parents at your kid's football game wants to have, right after her son lands awkwardly trying to catch a pass.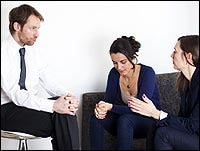 When you're a physician, informal requests for information are simply part of the conversational landscape. Sometimes those requests are a quick and easy way to help someone out with a bit of information, a simple clarification, or a reassuring affirmation. Other times they can escalate and become annoyances: A simple question can result in a follow-up phone call and more requests. And, in a worst-case scenario, they can present ethical landmines that may tempt physicians to cross professional boundaries.
How do you address or deflect such requests? Unfortunately, there are no easy answers. It depends a lot on you, your boundaries, and the situation.
The American Medical Association (AMA) Code of Medical Ethics is clear, however: "Physicians generally should not treat themselves or members of their immediate families."[1] The statement goes on to provide an extensive list of good reasons why, including personal feelings that may unduly influence medical judgment, difficulty discussing sensitive topics during a medical history, and concerns over patient autonomy.
Black-and-white though that guidance may be, queries from family and friends are often far more opaque. Friends and loved ones don't just seek treatment; often they ask for informal second opinions, help navigating the medical system, help with referrals, interpretation of medical language, or simply factual information, among other things. What's more, while the AMA may discourage doctors from treating their family members, it really doesn't help you deal with Aunt Myrtle as she doggedly pursues your opinion over pumpkin pie.
Medscape Business of Medicine © 2014 WebMD, LLC

Cite this: The Pitfalls of Giving Free Advice to Family and Friends - Medscape - Apr 10, 2014.