Is It Good to Speak Out?
When physicians speak their minds in exam rooms, committees, and the courts, they are expected to have a strong opinion and advocate forcefully on behalf of patients. But in a number of cases, doctors who speak out have met with harsh retribution that has cost them their jobs and hospital privileges, and permanently marred their reputation.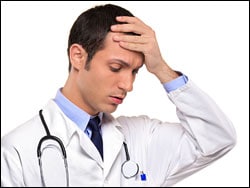 According to these doctors and the lawyers and consultants representing them, hospitals and other healthcare entities use several powerful tools against them. These include peer-review panels that have sweeping powers over disciplined physicians; nonspecific charges, such as labeling them "disruptive" physicians; and, when doctors are employed by the hospital, firing them without having to state a reason.
"Hospitals are run more and more like corporations, where earning money has become more important than human relationships," said Derek Kerr, MD, an internist in San Francisco who was fired for speaking out and sued his hospital.
Speaking Truth to Power
According to Dr. Kerr, physicians can get into trouble when they challenge people who are more powerful than they are. Nabbing a low-level employee on the take might even make you a hero, he said, "but if you go after someone in a position of a power, you'll find you're no longer welcome."
In 2009, while employed at a public hospital in San Francisco, Dr. Kerr claims he discovered that the hospital's gift fund, used to help patients, had been seriously depleted. "When this sort of thing happens to you, you go through a very painful decision," he said. "If you go ahead and look into it, you could be damaged professionally, but if don't, you'd be dodging your responsibility."
Dr. Kerr's version of the case is laid out in court decisions.[1] He and a colleague researched records and brought the matter to hospital administrators. "They got very defensive and didn't want to talk," he recalled. So he approached a local TV station, which ran a multipart series that triggered an official investigation.
When he was laid off by the hospital, Dr. Kerr sued, claiming retaliation. Gathering evidence for the case, he came across emails sent by administrators. "They were making derogatory comments about us as if we were blood enemies," he said. "You could see a lot of malice."
During more than 3 years of legal battles, Dr. Kerr said he had to deal with "upset, depression, and the anxiety of not knowing what is going to happen." It turned out the missing money had been used for a capital project and for hiring for a nonprofit with connections to the hospital. In a settlement[2] approved by the city of San Francisco in April 2013, he was awarded $750,000 and the San Francisco Department of Health publicly apologized to him.
The department's "representation" that Dr. Kerr and his colleague "intentionally made false or inaccurate statements regarding the Laguna Honda Gift Fund" were "incorrect," according to a statement[3] by Director of Health Barbara A. Garcia. A spokeswoman said the department had no further comment.
Despite the apology, Dr. Kerr said his life won't ever be the same. Challenging powerful individuals is "career suicide," he said. He says he won't return to the hospital, because he feels that many people there view him as a troublemaker. "When you turn somebody in, there is an element of perceived disloyalty, because you're not acting like you're part of the team," he said. It will also be hard to move on and find a new job, because for many potential employers, "there is the feeling that you might tell on them, too," he said. Currently, he spends his time helping other whistleblowers.
Medscape Business of Medicine © 2014 WebMD, LLC

Cite this: Can Doctors Speak Their Minds Without Getting Into Trouble? - Medscape - Apr 03, 2014.