ORLANDO, Florida ― The second-generation antipsychotic risperidone (Risperdal, Janssen Pharmaceuticals, Inc) may increase gynecomastia in older men, new research shows.
A review of national health claims data showed that older men who used risperidone or paliperidone (Invega, Janssen Pharmaceuticals, Inc), which is an active metabolite of risperidone, had a significant 69% higher risk of developing the condition than nonusers. Further analyses showed that those who used risperidone also had a higher risk of developing gynecomastia than did users of olanzapine or quetiapine (Seroquel, AstraZeneca Pharmaceuticals LP).
"This is the first and largest epidemiologic study on this question using data from 1 million men in the United States," lead author Mahyar Etminan, PharmD, a drug safety researcher in the Therapeutic Evaluation Unit at Provincial Health Services Authority of British Columbia and an assistant professor at the University of British Columbia, Vancouver, Canada, told Medscape Medical News.
The results were presented here at the American Association for Geriatric Psychiatry (AAGP) 2014 Annual Meeting.
Lawsuits Pending
According to the AboutLawsuits.com Web site, Johnson & Johnson first reached a settlement in 2012 with a 21-year-old man regarding alleged adverse events caused by taking risperidone, including breast enlargement and subsequent surgical removal. Five other lawsuits were settled shortly afterward.
Today, there are "several hundred young men now pursuing Risperdal gynecomastia lawsuits that allege the drug makers withheld information from consumers and the medical community" about the risk for unnatural breast enlargement for young boys taking the medication, according to AboutLawsuits.

"There has been a lot of interest on the risk of gynecosmastia with Risperdal, mainly in adolescent boys but also in older men. There have been reports to the FDA [US Food and Drug Administration] and case reports from academics," said Dr. Etminan.
"So we wanted to see if there was actually a risk with Risperdal that is over and beyond the other antipsychotics. We do know that these drugs in general can cause gynecomastia because of the way they change the hormones in the body. But we weren't really sure whether Risperdal does it more than the others."
The investigators examined information from the IMS LifeLink Health Plan claims database for 1 million men in the United States between the ages of 45 and 80 years who made claims between 2001 and 2011. Within this group, 8285 cases of gynecomastia were identified.
In addition, 10 men who did not have gynecomastia were matched to each man who did have the condition and were included as the control group (n = 82,850). Mean age for both the patients with gynecomastia and the control group was 65.5 years.
Males of All Ages Affected
Results showed that after adjusting for confounding variables, the rate ratio (RR) for gynecomastia was significant at 1.69 (95% confidence interval [CI], 1.05 - 2.72) for current and recent users of risperidone and at 1.69 (95% CI, 1.10 - 2.59) for users of paliperidone when compared with those who did not use either medication.
In addition, there was a trend for a higher risk for the condition for risperidone/paliperidone users when compared with users of quetiapine (RR, 1.41; 95% CI, 0.85 - 2.34) and olanzapine (RR, 1.40; 95% CI, 0.79 - 2.48).
"Statistically, this wasn't significant, which means we didn't have enough power or enough people in this study. But the trend was definitely there," said Dr. Etminan.
Although the current study examined only older men, he cautions that risperidone can also cause this type of adverse event in younger boys ― and recommends that clinicians consider prescribing quetiapine or olanzapine instead to those who need an antipsychotic.
"If everything is the same in terms of efficacy in these antipsychotics, especially for younger men who may have more problems with this psychologically, then I think it may be better to choose something other than risperidone," he said.
Dr. Etiminan admitted that overall, this condition is still pretty rare. "But because we had a million men in our population, we were able to pick it up."
"If you want to put it in perspective, there are millions of prescriptions of Risperdal prescribed. But everything else being equal, then why not prescribe something else if there is a risk for gynecomastia?"
He reported that the study is currently under review for publication in a peer-reviewed journal. In addition, the investigators are starting to collect data to also look at this condition in adolescent boys.
Confirmatory Evidence
"Overall, I didn't think there was anything that new in terms of information. But it was a larger dataset," Iqbal "Ike" Ahmed, MD, clinical professor of psychiatry and geriatric medicine at the University of Hawaii at Manoa, told Medscape Medical News.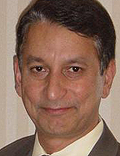 "It was fairly consistent with what we already know about Risperdal. Among antipsychotics, it's most likely to cause gynecomastia in some men, probably because of higher prolactin levels. I think it's a confirmatory poster with a larger dataset rather than just clinical experience."
Dr. Ahmed, who was not involved with this research, is also a former member of the board of directors for the AAGP and a member of the Scientific Program Committee for the American Psychiatric Association.
He noted that the information is something clinicians should keep in mind, and that they should discuss this potential downside with patients.
"On the one hand, that's a disadvantage compared with another drug. But there might be some other advantages. I think it's just a matter of matching the drug to the patient. But discussing potential risks with patients is always important," said Dr. Ahmed.
The study authors and Dr. Ahmed did not disclose any relevant financial relationships.
American Association for Geriatric Psychiatry (AAGP) 2014 Annual Meeting. Late-Breaker Abstract NR-51. Presented March 15, 2014.
Medscape Medical News © 2014 WebMD, LLC

Send comments and news tips to news@medscape.net.
Cite this: Antipsychotic May Boost Gynecomastia Risk - Medscape - Mar 17, 2014.