PHOENIX, Arizona — More than 50% of veterans who receive opioids go on to use the pain medications chronically, according to a new study of data on nearly 1 million veterans who receive opioids.
This sample is the first where half of all opioid users were chronic users, defined as use for more than 90 days per year, the researchers say.
While a higher opioid dosage is a strong risk factor for chronic use, most long-term users in this population were in fact taking lower doses, around 20 mg. Of interest, mental health issues and substance-use disorders were not associated with chronic opioid use in this population of veterans.
"This is contradictory to what we see in the civilian population," said lead author Mark Sullivan, MD, PhD, from the University of Washington in Seattle.
Their findings were presented here at the American Academy of Pain Medicine (AAPM) 30th Annual Meeting.
Chronic Use Milestone
Veterans have high rates of painful conditions and high rates of chronic opioid use, the authors note in their abstract. In this study, the researchers looked at rates of opioid use beyond 90 days in a large population of veterans, as well as factors that predicted discontinuation of opioid treatment. "Understanding rates and predictors of discontinuation will clarify the risks for opioid abuse and dependence among this population," Dr. Sullivan and colleagues note.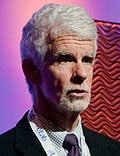 For this analysis, the researchers evaluated Veterans Healthcare Administration data on 959,226 veterans who had received an opioid prescription.
Among the veterans, 502,634 (52.4%) were identified as having used opioids for 90 days, and of those who reached that chronic use milestone, more than 70% continued use for years to come.
Whereas higher opioid dosage (>100 mg per day) is linked to a higher risk for long-term use, the chronic-use veterans had relatively low daily opioid doses of about 20 mg per day.
Other risk factors for longer-term opioid use in this population included having multiple chronic pain conditions, post-traumatic stress disorder (PTSD), and tobacco use. In addition, chronic-use veterans were more likely to be married.
Aside from PTSD, however, the veterans did not show a strong association between mental health and substance abuse issues and the risk for chronic opioid use, Dr. Sullivan said.
"Unlike other samples, it appears that mental-health disorders and substance-use disorders are associated with increased rates of discontinuation in the VA [Department of Veterans Affairs]," he said.
In a previous study from the same research team that did not involve veterans, patients who misused opioids and who consumed high daily doses were among the least likely to discontinue opioids that had been prescribed on a chronic basis.
Dr. Sullivan also noted a Cochrane review of 26 studies involving 4893 patients with long-term opioid use showing that while many discontinue opioids because of nausea and other adverse events, those who do become chronic users experience pain relief with few serious problems, including addiction.
The opioids prescribed the most in chronic use were hydrocodone products (44.7%), tramadol or tapentadol products (18.8%), and oxycodone (15.9%).
Well Managed
Despite the high rates of long-term opioid use, the finding that many chronic users were receiving low doses suggests that the patients are being relatively well managed, said pain specialist W. Michael Hooten, MD, from the Mayo Clinic in Rochester, Minnesota.
"To me, [the low doses] strongly suggest that clinicians are aware of what they're doing and it sounds like they're actively trying to minimize dosages," Dr. Hooten said.
"I don't think that was just a chance finding," he added. "I think there was some intent and I'll bet [the clinicians] have been working on that."
The study, along with Dr. Sullivan's previous research, underscores the 90-day mark as a potentially critical point of no return when it comes to chronic opioid use, said James Watson, MD, an assistant professor of neurology, also from the Mayo Clinic, who moderated the session.
"In combination [with Dr. Sullivan's previous research] with different patient cohorts and demographics, the research suggests that when prescribing opioids, physicians should recognize that continuing opioids beyond the initial 3-month window makes it likely that opioids will be continued chronically," he told Medscape Medical News.
"This should be discussed with patients when initiating an opioid trial and when approaching the end of the 90-day window."
The study received funding from the National Institute on Drug Abuse. Dr. Sullivan has received a continuing medical education grant from REMS-RPC to disseminate COPE-REMS training. Dr. Hooten and Dr. Watson have disclosed no relevant financial relationships.
American Academy of Pain Medicine (AAPM) 30th Annual Meeting. Abstract 120. Presented March 7, 2014.
Medscape Medical News © 2014 WebMD, LLC

Send comments and news tips to news@medscape.net.
Cite this: Long-Term Opioid Use Likely After 90 Days in Veterans - Medscape - Mar 13, 2014.