DOHA, Qatar — A novel approach to diabetes education, which involves showing patients a short video representing what their vision might be like in the future if they progress to ocular complications, has shown some promise in a small pilot trial.
The short 20- to 30-second video extracts were shown to patients with type 2 diabetes, so that they could see what their sight might be like under a range of different scenarios that could result from diabetic retinopathy, including cataracts, macular edema, intravitreous hemorrhage, and glaucoma.
Glycemic control and quality of life in this patient group were compared with those of a control group, which did not view the video tool but received classic diabetes education only as part of usual care.
Both groups improved their glycemic control at 3- and 6-month follow-up, and importantly, the patients who viewed the video tool did not suffer any social worry with regard to their diabetes, which had been a potential fear, explained Salwa Baki, MD, from University Hospital Mohamed VI, Marrakech, Morocco, who presented the findings in a poster at the recent Excellence in Diabetes 2014 meeting.
The results need to be maintained, however, said Dr. Baki. If the findings remain robust out to 12 months, she hopes to conduct a further multicenter trial of the tool in a number of different countries in around 300 people.
Diabetic Retinopathy Correlated with Glycemic Control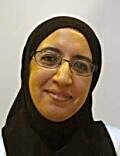 Dr. Baki, who developed the video simulation tool herself on an iPad while completing her ophthalmology residency, explained that diabetic retinopathy is the diabetes complication most correlated with glycemic control.
Diabetic retinopathy is characterized by blurred and/or double vision and can lead to permanent loss of vision. It also increases the risk of developing cataracts and glaucoma.
Good self-management of diabetes includes adherence to medication, dietary regulation, physical activity, stress control, and adequate self-monitoring of blood glucose, and this requires successful diabetes education, Dr. Baki explained.
Poor education has been identified as a risk factor for poor glycemic control, she observed, but "education is really hard in type 2 diabetes because it is multifactorial," she pointed out.
She came up with the idea of showing patients what life might be like if they develop diabetic ocular complications. The video clips she produced and called the Bassar tool are short (20 to 30 seconds long) and — demonstrating one to meeting attendees — she explained: "This is how a patient with cataracts can see. He cannot see faces; he cannot read signs."
In the study, she recruited patients from her outpatient clinic aged 20 to 80 years with type 2 diabetes, excluding anyone who already had ocular complications of diabetes, a psychotic disorder, or lack of compliance with appointments.
Those in the active group (n = 33) were shown the Bassar-tool videos in groups of 5 to 10 people, following which they had an interactive discussion with the session tutor about what life would be like with each particular complication. The control group, which also consisted of 33 patients, received usual diabetes education only and did not view the Bassar tool.
The main outcome measures in the study were glycemic control, as measured by HbA1c, and quality of life at 3 and 6 months.
Video Tool Must Be Accompanied by Discussion
Dr. Baki explained that in her hospital in Marrakech, the diabetes education is provided by physicians, but in other countries, this could easily be done by diabetes educators.
And she stressed that it is vital that the Bassar tool be used in groups and the results discussed by a qualified professional, noting that this is not the kind of thing patients should be viewing by themselves on tablets or smartphones.
In the study, HbA1c was improved in the group that viewed the Bassar tool, with a mean of 7.6% at 6 months compared with 8.9% at baseline ( P = .008). A similar improvement was seen in the control group (7.6% vs 8.7%; P < .001).
Importantly, there was no significant difference in diabetes worry, social worry, or quality of life (SF-12 health survey) between the active and control groups at 6 months and at baseline or between the active and control groups per se.
Although the study was conducted in patients with type 2 diabetes, the tool could also be used in patients with type 1 diabetes, she said.
"Some people were thinking that if you show complications to diabetic people they might develop social worry…but we didn't see that in our patients. We had an improvement in glycemic control in both groups of patients and quality of life remained stable," Dr. Baki observed.
"The addition of the Bassar tool to conventional therapeutic diabetic education may be important in improving metabolic control, self-management, and knowledge, but we need to repeat the experiment on a larger sample size and with longer follow-up," she concluded.
Dr. Baki developed the Bassar tool. She has no other relevant financial relationships.
Excellence in Diabetes 2014. Abstract PP15, presented March 1, 2014.
Medscape Medical News © 2014

Cite this: Video Simulation Tool Might Help Prevent Diabetic Retinopathy - Medscape - Mar 11, 2014.