NEW YORK CITY — If the medical industry looked more like the booming information technology industry, could cancers be managed or eradicated?
It seems like a possibility, according to 7 expert panelists discussing the need for more innovation, less regulation, more funding for cancer research, and a healthcare system more supportive of the newest innovations.
On February 27, they spoke here at the New York Academy of Sciences, where "A World Free From Cancers: Probable, Possible, or Preposterous?" was hosted by Research!America and the Pancreatic Cancer Action Network.
"We need to be able to move faster in testing our ideas in cancer science," said panelist Clifton Leaf, journalist, cancer survivor, and author of The Truth in Small Doses: Why We're Losing the War on Cancer — and How to Win It. "The most remarkable thing is when innovation is coupled with freedom — freedom of ideas, bureaucratic freedom, regulatory freedom, and freedom to test those ideas to the marketplace more fluidly."
"Using twentieth-century thinking and logic to solve twenty-first-century problems is a fundamentally flawed concept," said Robert J. Hariri, MD, PhD, chair, founder, and chief scientific officer at Celgene Cellular Therapeutics.
One twentieth-century innovation that hasn't changed much is the mammogram. According to Leaf, "it is essentially an uncomfortable test that zaps us with [ionizing radiation], one thing we do know causes cancer. Yet this is the best tool we have for diagnosing breast cancer. I wonder if we should lower the barriers to entry for innovations and come up with new technologies, similar to what we have seen in information technology."
From 2000 to 2009, the age-adjusted cancer mortality rate has declined by 14%, said Frank R. Lichtenberg, PhD, Courtney C. Brown professor of business at Columbia University in New York City. "The cancers where there has been the most innovation have seen the greatest reductions in mortality."
Getting Patients Back to Work
Innovation supports the national economy by helping a healthy, robust person get back to work," said Dr. Lichtenberg. "These therapies for cancer are actually returning people to useful, highly productive lives.
"And it is not just 1 person. It is often multiple people in a family; a person with cancer often has caregivers," said Amy P. Abernethy, MD, a hematologist/oncologist and palliative care physician and director of the Duke Center for Learning Health Care in Durham, North Carolina. "When you get 1 person back to work, you often get the family back to work."
Dr. Abernethy said she noticed this while working in Australia, where the system takes note of the downstream tax implications of patients and caregivers going back to work.
A New Clinical Trial Design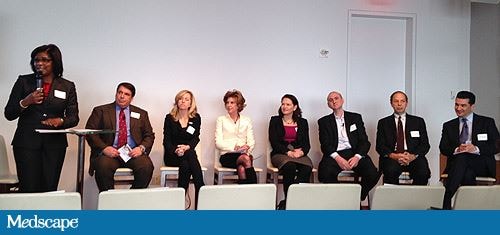 The panel also discussed the demand for clinical trials. In the United States, only 3% to 5% of adults are enrolled in clinical trials, said Julie M. Fleshman, president and CEO of the Pancreatic Cancer Action Network.
The network found that only 4.5% of pancreatic cancer patients had enrolled in a clinical trial in 2011. "With the number of trials that were open for the disease and that enrollment rate, it would take 6.7 years to enroll all of those trials, and most of them had pretty incremental progress. That is unacceptable," she said.
"We need to educate the public and make sure that patients understand the options and are having that conversation with their physicians," she explained. "In a survey that we did, only 19% of pancreatic cancer patients said that their physicians had a discussion with them about clinical trials when they were first diagnosed."
In a Research!America survey conducted last year, 72% of Americans said they would be interested in a clinical trial, but only 22% said a physician or healthcare provider ever discussed medical research with them.
If getting patients enrolled is half the battle, the other half is the design of clinical trials.
"We have a very old way of structuring clinical trials and studying drugs," said Scott Gottlieb, MD, resident fellow at the American Enterprise Institute. He said that clinical trials are currently "contrived and hard to enroll," and estimated that it costs about $100,000 to enroll 1 patient in a clinical trial for late-stage cancer.
Dr. Gottlieb noted that one pharmaceutical company conducted its late-stage cancer trial outside the United States. "Patients often drop out when their cancers progress because they are worried they are in the placebo arm. But the FDA has found that patients in Southeast Asia stay in the trials, even if their tumors progress, so it is easy to do trials there. There is something wrong with that. I think we need to think of different models, but it is difficult to get regulators to embrace them."
Certainty-Seeking Behavior
When the discussion turned to the need for regulators to be absolutely certain about their approvals, Dr. Gottlieb noted that the "single-truth standard in science" is "corrosive."
"If p doesn't equal .05, then it is untrue; if it does, then it is all true," he said. This "forces us to develop highly contrived clinical trials that are geared to trying to get a statistical result and not geared to generating the kind of practical information that will allow us to better target therapies."
"We talk about how regulators are risk averse and are worried that they will approve a drug that has a certain side effect," Dr. Gottlieb noted. However, most "side-effect profiles are usually very well established," and patients are often willing to tolerate them because of the benefits.
"The risk that is paralyzing the [FDA] is the risk that they will approve a drug on the basis of an observation of benefit that isn't 100% of certain," he explained. "What they want is to say that if this trial shows that this drug shrinks tumors by 40%, I want to be 100% certain that it shrinks them by 40%."
"That drives highly contrived clinical trials," Dr. Gottlieb said. "We need to be willing to embrace a little more uncertainty about the certainty of the observation."
Leaf agreed, noting that "the need for certainty is the most paralyzing notion in clinical trials and drug development, because we just don't have the certainty.... Aspirin never would have been approved in a clinical trial today. It has too dangerous a safety profile."
"Patients aren't looking for certainty. They are looking for survival," added Laurie MacCaskill, a 7-year survivor of pancreatic cancer.
Cancer Costs
When the discussion turned to the high cost of cancer drugs, several panelists suggested that focusing on cost can led to an underappreciation of the benefits of medical innovation.
"The costs are a lot easier to identify. We can look at the medical bill and claims data and know exactly how much people are paying for their medical care. What is harder to identity is the benefits that people are realizing.... That is why it is a challenge to tell this story," said Dr. Lichtenberg.
"In the clinical space, we don't have any clue about what the costs looks like to the patients," said Dr. Abernethy. "I think one of the issues is that physicians are scared of this space because they feel uncomfortable." Traditionally doctors have not discussed the cost of treatment with their patients, but now "we have to," she emphasized. "If the cost of a drug to a patient is going to mean their mortgage, you need to know that. The worst thing is to get a call from a patient standing at the pharmacy, saying 'This drug is $3000. How should I pay for it?' " she said.
Dr. Abernethy was coauthor of a recent report that referred to the impact the high cost of cancer care has on patients as "financial toxicity."
Oncologist's Role in Innovation
Knowing the solutions available — from diagnostics to next-generation sequencing to understanding how to get drug financing for a patient — and tailoring innovations to a patient sitting in front of us is a practical first step that oncologists can take to encourage medical innovation in cancer, explained Dr. Abernethy.
Physicians, in partnership with the advocacy community, can help frame the message in an "accessible clinician-esque" way, she said. "The advocacy community is fantastic about framing their urgency. They've got that passion and anger, but sometimes they don't know how to connect that with the rest of the healthcare environment. As physicians, we've got the responsibility to help connect those pieces together," she said.
Medscape Medical News © 2014 WebMD, LLC

Send comments and news tips to news@medscape.net.
Cite this: Pushing Innovation Into Oncology: Restructuring Clinical Trials - Medscape - Mar 03, 2014.