Clinical Presentation
A 51-year-old black woman presented for a comprehensive eye examination with a chief symptom of blurred vision at near.
Her medical history was significant for hypertension and hypothyroidism that were successfully treated with systemic medications. The patient also reported a 2-year history of migraine. No significant ocular history or family ocular history was present.
Best corrected visual acuity was 20/20 for each eye at distance and 20/20 at near, with a +2.00 add. Hertel ophthalmometry results were 19 mm for the right eye and 20 mm for the left eye, with a base of 104. Preliminary testing and slit-lamp examination were normal.
Intraocular pressures were 16 mm Hg in each eye. Blood pressure was 128/85 mm Hg. Dilated fundus examination was significant for bilateral elevated optic nerve heads with blurred disc margins (Figure). No disc hemorrhages or other abnormal fundus findings were noted.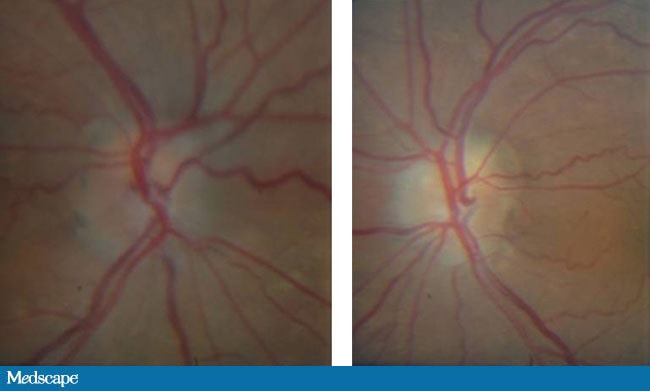 Figure. Fundus photographs of both eyes, showing elevated optic nerve heads with blurred disc margins.
Medscape Optometry © 2014  WebMD, LLC

Cite this: A 51-Year-Old Woman With Blurred Optic Disc Margins - Medscape - Mar 05, 2014.