The ubiquitous food Nutrition Facts labels are being improved to make them more relevant and easier to understand, the US Food and Drug Administration (FDA) said today.
First Lady Michelle Obama, US Health and Human Services Secretary Kathleen Sebelius, and FDA Commissioner Margaret A. Hamburg, MD, announced the changes from the White House.
"Families are working hard to make changes in their own lives, big and small, and our job is to empower consumers and help make those choices as easy as possible," Secretary Sebelius said.
The proposed changes reflect new dietary recommendations, consensus reports, and national survey data, including the 2010 Dietary Guidelines for Americans, nutrient intake recommendations from the Institute of Medicine, and intake data from the National Health and Nutrition Examination Survey. The FDA also obtained extensive input from a wide range of stakeholders, including the food industry.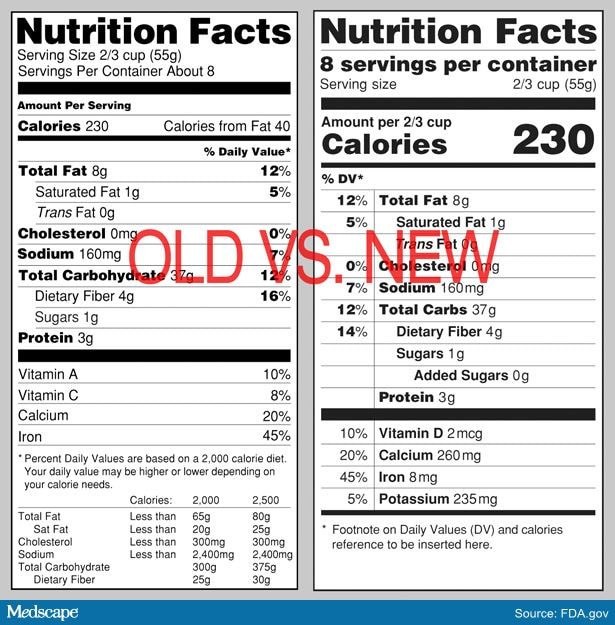 The proposed changes will be required on all packaged foods except certain meat, poultry, and processed egg products, which are regulated by the US Department of Agriculture's (USDA's) Food Safety and Inspection Service.
First Lady on Board
Obama has championed healthy eating and physical activity throughout her husband's administration and launched her "Let's Move" initiative 4 years ago.
"Today, for the first time since the nutrition label was developed 2 decades ago, we're overhauling these labels to make them easier to read and understand," Obama said.
Information on the labels can be misleading and make it hard to compare similar products, she said.
"Too often it's nearly impossible to get the most basic facts about the food we buy for our families," Obama noted. "Unless you had a thesaurus, a calculator, a microscope, or a degree in nutrition, you were out of luck."
Many consumers get discouraged and simply give up, she said. "[T]hat's a familiar scenario for far too many families and parents trying to do the right thing for their kids, and it's simply not acceptable. As consumers and as parents, we have a right to understand what's in the food we're feeding our families," Obama added.
The proposed changes will ensure that consumers have the information they need to make healthy choices.
Added Sugars Now Included
For example, information about "added sugars" will now be included on the labels. According to the USDA's 2010 Dietary Guidelines for Americans, intake of added sugar in the United States is too high and should be reduced.
"Added sugars contribute to a substantial portion of American calories but don't really provide much else in the way of nutrients.... We believe that requiring added sugars to be listed separately on the nutrition facts panel will better allow consumers to identify and compare products with added sugar and enable them to make better choices," Dr. Hamburg said.
Americans eat larger portions today than they did when serving sizes were first established in 1994. Serving size requirements will be updated to reflect amounts consumers currently eat, and not what they "should" be eating.
In addition, many products contain multiple servings in a single container that people may assume is a single serving. Calorie and nutrition information on such packages will be provided in "dual column" labels that will include both "per serving" and "per package" amounts.
"Package size effects what people eat, and...people are likely to eat or drink all of the contents of certain packaged foods all in one sitting," Dr. Hamburg explained. "For packaged foods and beverages that are typically consumed in one sitting, we propose labeling all of them as a single serving size and declaring calorie and nutrient information for the entire package."
Critical Nutrients Adjusted
Many Americans consume too little potassium and vitamin D and are at higher risk for chronic disease, so information about these will now be included on the labels. Vitamins A and C will no longer be required but could be declared voluntarily.
Daily Values will be revised for nutrients including sodium, dietary fiber, and vitamin D. Daily Values are used to determine the Percent Daily Value on labels and help consumers understand how their consumption fits in with their total daily intake.
Total Fat, Saturated Fat, and Trans Fat will remain on the label, but Calories from Fat will be removed to reflect current research that shows that the type of fat consumed is more important than the amount consumed.
The label format will now emphasize calories, serving sizes, and Percent Daily Value, which figure prominently in reducing current public health problems including obesity and heart disease.
Labels need to keep pace with science and remain relevant to consumers, Michael R. Taylor, JD, deputy commissioner for foods and veterinary medicine at the FDA, said in a joint press briefing with Jessica Leighton, PhD, MPH, senior advisor for nutrition science and policy, Office of Foods and Veterinary Medicine, FDA.
In addition to influencing consumers' food choices, the nutrition labels may influence product development as companies work to meet consumer demand for healthier products, Taylor explained. Trans fat content was changed in many foods after it was included on labels in 2006, he added.
Medscape Medical News © 2014  WebMD, LLC

Send comments and news tips to news@medscape.net.
Cite this: Food Nutrition Labels Get Major Overhaul - Medscape - Feb 27, 2014.