Introduction
Physicians have seen their incomes fall, their clout with insurers shrink, and their practices weighed down by a plethora of new requirements. As some doctors see it, this is the direct result of exploitation by payers, hospitals, policymakers, and other groups that have become more powerful than their own profession.
Some say the lower payments and new requirements are the natural result of a society trying to reduce national healthcare costs. But others, including many doctors, say that too much of the burden is being foisted onto physicians. Some reasons cited: Doctors have no way to fight back; they're not going to refuse to treat patients; some people resent doctors making "too much" money and feel that they should earn less.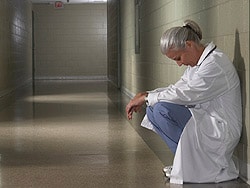 What are some of the forces making it so tough on doctors? Here, these physicians explain how they feel that medicine has been taken to the cleaners and what might be done about it.
Problems Trying to Increase Reimbursement
Payers have forced physicians into a flawed business model that is starting to really hurt, said Jerry D. Kennett, MD, a cardiologist at Missouri Heart Center in Columbia, Missouri. For practices, unlike in almost any other line of work, "there is no ability to modify what you charge, based on what your costs are," he said. Medicare and Medicaid won't allow physicians to negotiate reimbursement rates, and private payers have forced physicians to sign contracts that limit what they can charge.
Physicians have made do with this business model for many years, but in the past decade or so, costs have generally exceeded reimbursements for many practices, according to Dr. Kennett, the immediate past Chair of the American College of Cardiology Advocacy Committee. In the 2013 Medscape Physician Compensation Report,[1] slightly less than half of physicians felt that they were fairly compensated.
Jeff Goldsmith, PhD, President of Health Futures, a health policy analysis firm in Charlottesville, Virginia, has studied the divergence between physicians' practice costs and income. "Each new federal initiative seems to require more paperwork," he said, adding that reporting and billing requirements were a key factor in practices adding 165,000 new positions from 2007 to 2011, according to the Bureau of Labor Statistics.[2] On the income side, he noted that lagging reimbursements were coupled with a 0.9% decline in office visits from 2011 to 2012, according to IMS Health.[3]
One way to escape this downward spiral is "to move into the risk-taking space," said Lawrence Kosinski, MD, Chair of the Practice Management and Economics Committee at the American Gastroenterological Association. He recommended that doctors explore alternative forms of payment, such as bundled payments and shared savings in Accountable Care Organizations.
Medscape Business of Medicine © 2014 WebMD, LLC

Cite this: Are Doctors Being Exploited? - Medscape - Feb 13, 2014.