President Barack Obama's nominee for Surgeon General today told skeptical Republican senators that, if confirmed, he will not use his office as "a bully pulpit" for gun control, even though he had tweeted in favor of it recently.
In a confirmation hearing before the Senate Health, Education, Labor and Pensions (HELP) Committee, Vivek Murthy, MD, said he instead would make obesity prevention his primary focus, and function as a healthcare educator and not as a political partisan.
Sen. Lamar Alexander (R-TN) forced Dr. Murthy's statement on gun control when he referred to the physician's gun-control tweets, including one that said, "Tired of politicians playing politics w/guns b/c they're scared of NRA. Guns are a healthcare issue."
Alexander said he would be reluctant to confirm a Surgeon General nominee with a gun-control agenda.
"Americans have a First Amendment right to advocate the Second Amendment," said Alexander. "To what extent do you intend to use the Surgeon General's bully pulpit for gun control?"
"I do not intend to use the Surgeon General's office as a bully pulpit for gun control," replied Dr. Murthy. "That is not going to be my priority. My priority and focus is going to be on obesity prevention."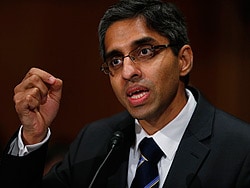 "If given the opportunity to serve as Surgeon General…I recognize that the role is not to be a legislator or a judge. The role is to be a public health educator and to bring the nation together about our most pressing healthcare challenges. At this point, obesity is the defining public health challenge of our time."
President Barack Obama announced his nomination of Dr. Murthy in November after Regina Benjamin, MD, stepped down from the Surgeon General post last summer. If confirmed by the Senate, Dr. Murthy would succeed Acting Surgeon General Rear Admiral Boris Lushniak, MD, MPH.
Although Senate Republicans once regularly delayed or blocked Obama's various nominees by virtue of having enough votes to filibuster, Dr. Murthy's confirmation seems assured. Last November, Senate Democrats, who control that chamber, eliminated the ability of a minority party to filibuster most presidential nominations unless supporters could muster 60 votes to end debate. Because Democrats resorted to this so-called nuclear option, now all it takes is a simple majority to confirm someone like Dr. Murthy.
Nominee Vows to Unite People "of All Political Stripes"
The Surgeon General nominee who appeared before the Senate HELP committee today is a Renaissance man of medicine.
On the clinical side, the 36-year-old Dr. Murthy is a hospitalist at Brigham and Women's Hospital in Boston, Massachusetts. He also wears an educator's hat as an instructor in medicine at Harvard Medical School. On the public health front, he cofounded VISIONS Worldwide, a nonprofit organization promoting HIV/AIDS education in India and the United States. He is also a member of the Prevention Advisory Group in the Surgeon General's office, a body created by the Affordable Care Act (ACA).
An entrepreneur, Dr. Murthy is cofounder and board chairman of TrialNetworks, a company that offers cloud-based software applications to streamline and improve clinical trials.
He may be best known, however, as cochair of Doctors for Obama during the 2008 presidential election campaign and cofounder of a successor group called Doctors for America, which supported passage of the ACA.
Dr. Murthy appeared to make a strong showing in his confirmation hearing. The physician received high praise from Democrats on the HELP committee, including its chair, Sen. Tom Harkin (D-IA), who called him "an exemplary candidate."
"Should he be confirmed, Dr. Murthy's calm demeanor, his excellent ability to communicate with Americans from all backgrounds, and his medical and public health expertise would be invaluable assets during a time when Americans are most concerned about their health and safety."
Republicans on the committee seemed to warm up to Dr. Murthy as well, but only after he disarmed their fears about the policies he would pursue as Surgeon General. The gun-control issue was one example. Another was Dr. Murthy's history as an Obama partisan.
"My first concern," said Alexander, "is that most of your credentials are political." In that same vein, Sen. Tim Scott (R-SC) asked Dr. Murthy if he could advocate positions that are inconsistent with the Obama administration.
Dr. Murthy replied that the Surgeon General should "strive to bring people together of all political stripes."
"I always fall back on my original inspiration and guidance," he said. "I want to focus on what will improve the health of the nation." The support that Doctors for America lent to the ACA, he added, could be construed as partisan because healthcare itself has become politicized. "In an ideal world, it wouldn't be that way," he said.
Several Republican senators questioned him about the legalization of medical marijuana, and he carefully fielded that hot line drive, too.
"I have never prescribed medical marijuana," said Dr. Murthy. "While there is anecdotal evidence about its benefits, I agree with the American Medical Association that we need more information about the proven indications for medical marijuana and safe dosages before we can safely prescribe it." He added that if he had children, he would urge them not to use this drug.
One Republican who liked some of what he heard was Sen. Mike Enzi (R-WY).
"I've had strong reservations about you as a nominee," said Enzi, "but I've been impressed with your comments today."
Debate Over Qualifications
Another bone of contention in Dr. Murthy's confirmation hearing was whether he has the necessary experience and credentials for the job.
The GOP's Lamar Alexander quoted from a letter to Obama written by Richard Carmona, MD, a Surgeon General for 4 years under President George W. Bush, on the matter of qualifications. Dr. Carmona urged Obama to nominate someone from the ranks of the US Public Health Service (USPHS) Commissioned Corps or the medical wings of the Army, Navy, or Air Force, which presidents used to do until several decades ago (in addition to other duties, the Surgeon General oversees the USPHS Commissioned Corps and its 6700 health professionals). He said Dr. Murthy appears to be a smart, motivated physician with great potential, but nevertheless is "relatively inexperienced and untested," and one with "no formal public health training or experience."
In response to this characterization, Dr. Murthy said that his multifaceted resume will be a strength if he becomes Surgeon General. "[My] foundational experiences have given me the opportunity to view health through multiple dimensions and…grounded me in science, research, medicine, and public health." He emphasized that he has not only conceived of public health projects as part of his HIV/AIDS education organization, but also executed them, benefiting tens of thousands of young people in the process.
Senate Democrats concurred with Dr. Murthy about his fitness for the job.
"He has shown the ability to mobilize and energize communities," said Sen. Elizabeth Warren (D-MA). "Dr. Murthy is well equipped to serve as a 21st century Surgeon General."
Democrats also touted letters of endorsement from major healthcare groups such as the American Academy of Pediatrics, the American College of Physicians, the American Academy of Family Physicians (AAFP), the American Hospital Association, the American Cancer Society, and the American Public Health Association (APHA).
"He spoke to our leaders about a year ago on transforming our healthcare system from sick care to one based on wellness," said Jeffrey Cain, MD, board chairman of the AAFP, in an interview with Medscape Medical News. "He inspired the room."
Dr. Cain said Dr. Murthy possesses the high-tech savvy needed to reach a younger generation via their smartphones. "He understands how we might use information technology as a public health tool," he said.
Georges Benjamin, MD, the APHA's executive director, told Medscape Medical News that cofounding Doctors for America, which numbers some 16,000 physicians and medical students, is no small achievement. "Think about how many people his age put together a group on a national scale," said Dr. Benjamin. "That shows organizational and leadership skills."
He shrugs off the charge made in politically conservative circles that Obama nominated Dr. Murthy as a reward for running Doctors for Obama and supporting the ACA.
"I don't see this as political payback," said Dr. Benjamin. "The position is non-partisan. His job will be to promote the best science. I see the president trying to find a young, energetic, good doctor to move the health of America forward."
Medscape Medical News © 2014 WebMD, LLC

Send comments and news tips to news@medscape.net.
Cite this: Surgeon General Nominee Backpedals on Gun Control - Medscape - Feb 04, 2014.