More Regulations for Doctors?
Physicians hardly need any more regulatory challenges on their plate.
But just 1 year from now, some doctors will have to start dealing with the new value-based modifier (VBM) program from the Centers for Medicare & Medicaid Services (CMS). And whether or not you're prepared for it, that VBM could increase your income by up to 2% in the first year, or lower your income by 1% in 2015 and 2% in 2016.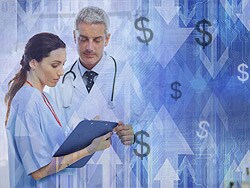 Moreover, under the bipartisan bills introduced in both houses of Congress, "value-based payments" to doctors would entail incentives or penalties of 4% in 2017, rising to 10% in 2020 and possibly to 12% in 2021 and beyond. These amounts would combine the current bonuses and penalties in the VBM, the Physician Quality Reporting System (PQRS), and the meaningful use programs.[1] These carrots and sticks would replace the loathed Sustainable Growth Rate (SGR).
A VBM is either an incentive or a penalty that will be applied to your Medicare revenue, on the basis of how CMS has judged the quality and efficiency of your patient care.
The VBM will be ascribed to you at the beginning of the year, and all of your Medicare payments will be reduced (or increased) by the amount of the VBM.
The VBM will be applied in 2015 to groups of 100 or more eligible professionals (EPs). In 2016, the VBMs will be applied to groups of 10 or more EPs. By 2017, all 600,000 physicians who participate in Medicare will be subject to the VBM.
Under the current program, the maximum VBM incentive is 2% of Medicare reimbursement, and the maximum penalty is 1% in 2015, rising to 2% in 2016.[2,3]
Most physicians are not yet aware of the VBM, but it's something they need to understand soon. Despite criticisms of this approach from the American Medical Association (AMA) and some health policy experts, it appears likely that some version of value-based payment will hit most physicians by 2017. So buckle your seat belts and get ready for a rough ride.
Medscape Business of Medicine © 2014 WebMD, LLC

Cite this: VBMs: Coming Soon to Either Increase or Lower Your Income - Medscape - Feb 06, 2014.