( UPDATED January 29, 2014 ) In his State of the Union speech tonight, President Barack Obama skipped over the shaky rollout of the health insurance exchanges under the Affordable Care Act (ACA) and instead touted some big numbers that have come about.
As in 9 million Americans who have signed up so far for a private plan or Medicaid as part of healthcare reform.
As in another 3 million Americans younger than 26 years who have coverage under a parent's plan.
The president said he doesn't want to stop there, however.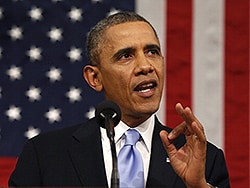 "I ask every American who knows someone without health insurance to help them get covered by March 31st," said Obama. "Moms, get on your kids to sign up. Kids, call your mom and walk her through the application."
To illustrate how the ACA has benefited America, Obama described how a woman named Amanda Shelley, a physician assistant and single mom, was able to obtain healthcare coverage on January 1 under the law, only to undergo emergency surgery 5 days later.
"Just 1 week earlier, Amanda said, that surgery would've meant bankruptcy," Obama quoted her as saying.
Obama threw down a gauntlet before Republican members of Congress whose opposition to the president centers largely on his landmark healthcare reform law. He urged them to stop trying to repeal it and to instead propose their own plans to "cut costs, cover more people, and increase choice."
"Let's not have another forty-something votes to repeal a law that's already helping millions of Americans," he said, referring specifically to legislative efforts in the Republican-controlled House. "The first forty were enough. We got it. We all owe it to the American people to say what we're for, not just what we're against."
Those strong words aside, the president focused far more tonight on dollar signs than vital signs, dwelling on economic growth, job creation, upward mobility, and the need for a higher minimum wage, in addition to touching on foreign policy hot spots such as Syria and Iran. Obama also framed topics such as immigration, energy, and education in terms of improving the economy.
Such an emphasis should come as no surprise for a president seeking to boost sagging poll numbers and his party's fortunes, because that is where to find votes. According to a Washington Post–ABC News poll published yesterday, 86% of Americans say the economy is an important issue going into the Congressional elections this November. The federal budget deficit and the way Washington, DC, works — or doesn't work — rank second as key issues (71% each), with healthcare reform not far behind (69%).
Obama vowed to do his part to help end the political gridlock that shut down the government for 16 days last year and yielded so little finished legislation. He pointed to a bipartisan budget bill passed last month as an example of progress and urged lawmakers to keep it up and "make this a year of action." However, Obama said in so many words that if Congress does not act, he still will, using his executive powers to advance a growth agenda.
"America does not stand still — and neither will I," Obama said. "So wherever and whenever I can take steps without legislation to expand opportunity for more American families, that's what I'm going to do."
Public Health Grace Notes
Scattered throughout a speech stressing economic matters were public health grace notes that presumably transcend party politics.
Early on, the president lauded First Lady Michelle Obama and her Let's Move initiative for helping "bring down childhood obesity rates for the first time in 30 years — an achievement that will improve lives and reduce healthcare costs for decades to come."
Discussing innovation that will help the United States "own the global economy," Obama shone a spotlight on the need for new vaccines to replace those that bacteria have grown impervious to. In doing so, he prodded Congress to restore funding to the National Institutes of Health, which has fallen victim to across-the-board budget cuts called sequestration.
"That's why Congress should undo the damage done by last year's cuts to basic research, so we can unleash the next great American discovery — whether it's vaccines that stay ahead of drug-resistant bacteria or paper-thin material that's stronger than steel," the president said.
Obama indirectly struck a blow for lowering the risk for asthma and cardiovascular disease when he discussed his plans to reduce carbon pollution. Although the United States has cut its total emissions more than any other nation during the last 8 years, he said, his administration intends to forge new standards for how much carbon power plants can release into the atmosphere.
"Climate change is a fact," he said. "And when our children's children look us in the eye and ask if we did all we could to leave them a safer, more stable world, with new sources of energy, I want us to be able to say yes, we did," the president said.
"This Law Is Not Working," GOP Says in Response
In a GOP response to Obama, Rep. Cathy McMorris Rodgers (R-WA) cast Obama as a champion of Big Government and Republicans as the party of individual choice and free markets. As a counterpoint to Obama's story of Amanda Shelley, McMorris Rodgers offered a case study of how the ACA has hurt instead of helped Americans. McMorris Rodgers described a woman in her state named Bette, "who hoped the president's healthcare would save her money but found out that her premiums were going up nearly $700 per month."
"No, we shouldn't go back to the way things were, but this law is not working," said McMorris Rodgers.
She also sounded her party's familiar warning against federal intrusion into medicine.
"Republicans believe healthcare choices should be yours, not the government's," said McMorris Rodgers.
Medscape Medical News © 2014

Medscape Medical News © WebMD, LLC

Heartwire © WebMD, LLC

WebMD Health News © WebMD, LLC

Reuters Health Information ©

Send comments and news tips to news@medscape.net.
Cite this: Obama Takes Offensive on ACA, Urges Sign-up - Medscape - Jan 29, 2014.