For the first time, researchers have identified which patients with cutaneous squamous cell carcinoma (cSCC) should be considered for a sentinel lymph node (SLN) biopsy. Because nodal metastases are uncommon in cSCC (found in about 4% of patients), it has not been established when this procedure should be undertaken.
However, results from a meta-analysis published in the January issue of JAMA Dermatology suggest that the patients most likely to yield positive SLN biopsy results are those with T2 lesions larger than 2 cm in diameter.
This held true whether the researchers used the seventh edition of the American Joint Committee on Cancer staging system (AJCC-7) or a recently proposed alternative staging system (JAMA Dermatol. 2013;149:402-410). However, the alternative staging system seemed to more precisely delineate high-risk (T2b) lesions worthy of consideration for SLN biopsy, they report.
"Clinicians may use this information to help identify patients with high-risk cutaneous squamous cell carcinoma for whom sentinel lymph node biopsy may be considered as a tool to help identify microscopic nodal metastases," study author Christian L. Baum, MD, from the Department of Dermatology at the Mayo Clinic in Rochester, Minnesota, told Medscape Medical News.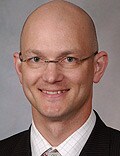 Review of Literature
Dr. Baum and colleagues reviewed the literature to determine which stage of disease was most closely associated with positive SLN biopsy findings in patients with nonanogenital cSCC.
The team used the AJCC-7 staging system to assign a tumor stage in 130 cases and the alternative staging system to assign a tumor stage in 117 cases.
Of the 12.3% of patients with a positive finding on SLN biopsy, all had lesions larger than 2 cm in diameter, the researchers note.
The AJCC-7 criteria identified positive SLNs in 0 of 9 T1 lesions (0%), 13 of 116 T2 lesions (11.2%), and 3 of 5 T4 lesions (60.0%). No T3 lesions were identified.
The alternative staging system identified positive SNLs in 0 of 9 T1 lesions (0%), 6 of 85 T2a lesions (7.1%), 5 of 17 T2b lesions (29.4%), and 3 of 6 T3 lesions (50.0%).
Although no consensus has been reached about which characteristics warrant SLN biopsy in patients with cSCC, "our findings suggest that T2 tumors that are larger than 2 cm in the AJCC-7 criteria and T2b tumors in the alternative staging system may be considered for SLNB given their associated rates of positive SLNB findings of 11.9% and 29.4%, respectively," the researchers explain.
"Although the alternative staging system appears to more precisely stratify the risk of T2 lesions, future prospective studies are necessary to validate the relationship between tumor stage and positive SLNB findings and to identify the optimal staging system," they add.
Imperfect Data
In an accompanying editorial, Pritesh Karia, MPH, and Chrysalyne Schmults, MD, from the Mohs and Dermatologic Surgery Center at Harvard Medical School and Brigham and Women's Hospital in Boston, agree. They note that the data "indicate that T2b tumors may comprise a group worthy of further study of SLNB utility. The risk of SLN positivity was nearly 30% in this group, which warrants careful consideration of SLNB if this figure holds up in larger studies with uniform inclusion criteria."
"The current variation in nodal staging practices among physicians likely stems from a lack of data on whom to stage and lack of confidence that subclinical nodal disease can be detected radiologically," they point out. In the absence of controlled clinical trial data, the question of which patients with cSCC should be offered SLNB "remains open," they say.
In the meantime, clinicians must estimate the risk for nodal metastases for individual patients with "imperfect data" because reliable prognostic estimation is not yet available for this disease, Drs. Karia and Schmults write.
"Yet timely detection of nodal metastasis in patients with high-risk cSCC may prove to be critical, since high cure rates (5-year disease-free survival of 73%) are possible when nodal disease is not extensive. Recent advances in staging are a step forward. However, prospective studies of SLNB for high-risk cSCC need to be performed," they conclude.
The authors have disclosed no relevant financial relationships. Dr. Karia and Dr. Schmults were involved in the development of the alternative staging system.
Medscape Medical News © 2014 WebMD, LLC

Send comments and news tips to news@medscape.net.
Cite this: Cutaneous Squamous Cell Carcinoma: Who Needs SLNB? - Medscape - Jan 24, 2014.