A Very Expensive Problem
An epidemic of noncompliance is gripping the country, with 75% of Americans admitting to surveyors that they don't always take prescribed medications as their physicians intend.[1] Even some patients discharged from the hospital after a life-threatening episode of acute myocardial infarction may not bother to fill their scripts immediately or at all, let alone take their prescribed drugs as directed.[2,3,4]
Not only is this creating unacceptable population-wide outcomes for patients with chronic diseases like hyperlipidemia and hypertension,[5] but patients' refusal or inability to follow their medication regimens is costing hospitals, health insurers, pharmaceutical manufacturers, retail pharmacies, and employers -- not to mention the federal government -- a bundle. Consider: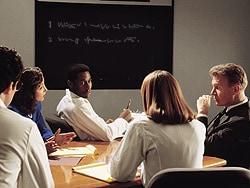 • Chronic disease affects nearly 1 in 2 Americans; $3 out of every $4 spent on medical care in the United States is spent trying to manage these patients.[6]
• 33%-69% of medication-related hospital admissions are caused by poor compliance, with the total cost as high as $100 billion per year.[7]
• Retail pharmacies lose nearly $8 billion yearly from non-refilled prescriptions.[8]
• Patients with chronic illnesses who don't fill their maintenance prescriptions or take them as intended cost the pharmaceutical industry $188 billion per year.[9]
• As corporate health insurance premiums soar by double digits annually, 20%-25% of those expenses are attributed to employees not following their regimens.[10]
Is there any way to get patients to be more compliant?
The Healthcare Industry Gets the Message
Such statistics were not widely known until 4-5 years ago. Previously, the healthcare industry lacked compelling evidence to appreciate the enormity of the problem, according to Elizabeth Oyekan, PharmD, Vice President of Operations & Quality at the Kaiser Foundation Health Plan of Colorado in Denver.
But, circa 2009, she says, several developments made the noncompliance crisis highly visible and urgent to address.
The seriousness of the problem had been masked for decades. Tons of research had been done on compliance -- over 40,000 peer-reviewed studies have been published[11] -- but small sample sizes, nonstandard measures, and heterogeneous patient populations made it difficult to draw aggregate conclusions from them.[12]
By 2009, industry leaders and policymakers in Washington had reached a critical mass of awareness "that this was a significant issue," Oyekan says.
For healthcare policy think tanks, 2009 was a banner year for white papers that analyzed the problem for legislators, backed it up with data from the clinical literature, and proposed wide-ranging solutions.[11,12] Given the pervasiveness of noncompliance, they recommended restructuring the healthcare system in ways incorporated into the Affordable Care Act (ACA), enacted the following year.
The need to address noncompliance as an urgent economic matter was underscored by a then-new estimate of the cost of noncompliance by the New England Healthcare Institute (NEHI). Previously noncompliance was thought to cost the US healthcare system approximately $100 billion per year. But even that eyebrow-arching figure turned out to be far too low. In 2009, NEHI revised it upward -- to as much as $290 billion per year.[11]
Medscape Business of Medicine © 2014 WebMD, LLC

Cite this: Can We Get Patients to Be More Compliant? - Medscape - Jan 16, 2014.