LA JOLLA, CA — The novel Zio patch (iRhythm Technologies, San Francisco, CA), worn for 14 days, outperformed a conventional Holter monitor worn for 24 hours, in a study of patients who underwent ambulatory ECG monitoring to detect suspected cardiac arrhythmia[1]. Among 146 patients who simultaneously received both devices, the patch detected 96 arrhythmias, whereas the Holter detected 61 arrhythmias (p<0.001).
The Zio patch is a Band-Aid–sized, adhesive, waterproof device with one ECG lead, worn on the chest, which was approved by the US Food and Drug Administration in 2009.
"This is the first large prospective validation that this new technology superseded the device invented by Norman Holter in 1949," senior author Dr Eric Topol (Scripps Health, La Jolla, CA) said in a statement. This paper "summarizes the superiority of having a 10- to 12-day recording of every heartbeat compared with the 24-hour [Holter monitoring]," he told heartwire .
"I think ultimately the Holter will be phased out, possibly over the next few years," he speculated. "I don't see any reason, once you have [a device that is] better for the patient, cheaper, and more informative—how could that possibly not eventually lead to the demise of the Holter?" he said.
The study was published online January 3, 2013 in the American Journal of Medicine.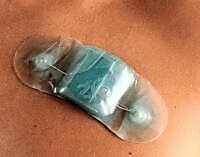 Cardiac arrhythmias such as atrial fibrillation are common, and although there are other methods to detect them, 24-hour Holter monitoring remains the most commonly used tool, the authors write.
They aimed to evaluate the diagnostic utility of the Zio patch vs Holter monitoring. They enrolled patients with a mean age of 64 years who were referred to the cardiac investigations laboratory at Scripps Green Hospital from April to July 2012. The patients were fitted with the adhesive patch and a Holter monitor and instructed to wear the patch for 14 days or as long as possible and to wear the Holter monitor for a day.
Arrhythmia events were defined as any one of six arrhythmias: supraventricular tachycardia, atrial fibrillation/flutter, pause greater than three seconds, atrioventricular block, ventricular tachycardia, or polymorphic ventricular tachycardia/ventricular fibrillation.
The patch was worn for a median of 11.1 days. After excluding less clinically meaningful supraventricular tachycardias, the patch detected 41 arrhythmias and the Holter detected 27 arrhythmias (p<0.001).
Almost all patients (93.7%) found that the patch was comfortable to wear, but only about half of the patients (51.7%) found the Holter monitor comfortable.
The patch allows patients to exercise and to shower, whereas with the Holter, patients "have all these wires and feel that they can't have a normal day," Topol noted.
The patch was also more useful to make a diagnosis. Most physicians (90%) reported achieving a definitive diagnosis from the patch, but only 64% could make a definitive diagnosis from Holter data.
The patch can be mailed to the patient, and they can apply it themselves and then mail the device—for the cost of two stamps—back to a facility that uses software to analyze the data, Topol noted. Patients do not have to travel to a center or pay a fee to get hooked up and then disconnected from a Holter monitor.
Insurance reimbursement issues might partly explain why this device has not been widely adopted so far, Topol speculated.
The group is working to improve the patch—by developing a version with three leads—and conducting a follow-up study that will enroll patients at more than 25 sites in the US and look at predicting atrial fibrillation based on data from genomics and the patch.
This study was supported in part by Clinical and Translational Science Award funding to the Scripps Translational Science Institute and iRhythm Technologies. Topol is the editor in chief of Medscape.
Heartwire from Medscape © 2014 Medscape, LLC

Cite this: Novel Patch Detects More AF Events than Holter Monitor - Medscape - Jan 06, 2014.