Editor's Note:
Although Dr. Bartlett may be retiring from some positions, he plans to stay on as an expert advisor and a regular contributor at Medscape, for which we are very grateful.
Hello. This is Dr. Paul Sax, from Brigham and Women's Hospital and Harvard Medical School.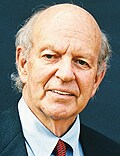 You might have heard that Dr. John Bartlett has recently stepped down from his position leading the Department of Health and Human Services Panel on Antiretroviral Guidelines for Adults and Adolescents. It's a panel that he founded back in the 1990s and has been its co-chair for all these years. He's being succeeded by Dr. Martin Hirsch and Dr. (Roy) Trip Gulick.
I just wanted to say a few words about John, because he's really an extraordinary man in our infectious disease/HIV world. It comes down to 3 major things.
First, he's extraordinarily versatile. John is a true polymath -- a Renaissance man. I don't mean to use that overused term without respect, but it really does apply to John. In addition to HIV infection, there are several other areas in which he can be considered a true expert, including Clostridium difficile, anaerobic pulmonary infections, respiratory tract infections in general, antimicrobial resistance, healthcare reform. You name it -- John is a true expert in these areas. There are very few infectious diseases (ID) doctors who can say that about such a wide range of fields.
The second is something that my friend and colleague Dr. Joel Gallant mentioned to me, which is that John is a true visionary. He is someone who has always been able to see what the next big thing was before it became the next big thing. An example -- a very notable example -- is that he started an HIV program at Johns Hopkins in the 1980s, well before most other hospitals had one. In fact, I think it was the second one in the country after San Francisco. And he did it at a time when many hospital administrators really didn't want to have an HIV program of any note because of the stigma associated with the disease at the time.
The last thing is that there is really no one else in our field who combines the scholarly and the practical in such an entertaining way, whether it's one of his terrific top 10 lists, his "hot topics" lectures, his game changers, or his wonderful competitions -- for example, the ones he has here on Medscape on the most important bacterium. John has a way of conveying his enthusiasm for the field of ID that is truly infectious -- and I mean that, of course, with all pun intended.
John will be missed on the guidelines panel. I'm glad to say that he will still be a part of the ID world, and I'm sure we'll still see him at our meetings taking careful notes in the front of the lecture hall. Thanks very much.
Medscape HIV/AIDS © 2014 WebMD, LLC

Cite this: John Bartlett's Infectious Enthusiasm for Infectious Disease - Medscape - Jan 10, 2014.