DALLAS, TX — A six-month educational campaign to boost awareness of the importance of diet, including unhealthy foods, and physical activity in preschool children led to sustained improvements in their knowledge, attitudes, and habits more than three years after the intervention was stopped, research shows.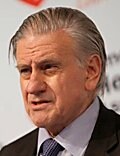 "We have a hypothesis, which is probably correct, that our behavior as adults evolves when we are between ages three to five and in contact with our environment," said senior investigator Dr Valentin Fuster (Mount Sinai School of Medicine, New York, NY). "If cardiovascular disease has to do with behavior, then what better opportunity is there than to use that window between three and five years to infuse that concept of health in children?"
Started in Bogotá, Colombia, in 2009, the research program aims to develop and evaluate effective means for changing the knowledge, attitudes, and habits of preschool children. In total, 1216 children aged three to five years were randomized to a 40-hour healthy-habits intervention designed to improve their knowledge about how the body works, nutrition, and the importance of physical activity. The plan, said Fuster, is to follow the children for 20 years.
Fuster and Dr Jamie Céspedes (Fundación Cardioinfantil Instituto de Cardiología, Bogotá, Colombia), co–principal investigator of the Bogotá initiative, presented the three-year results here at the American Heart Association (AHA) 2013 Scientific Sessions . The results were published concurrently in the American Journal of Medicine[1].
Paging Dr Ruster, Paging Dr Ruster!
In 2012, Fuster gained fame as the inspiration for a new Muppet named Dr Valentin Ruster, a physician who teaches children about healthy lifestyles on Barrio Sésamo: Monstruos Supersanos, a version of the acclaimed kids' TV show Sesame Street.
The show is produced by Sesame Workshop, a nonprofit educational organization.
Fuster, originally from Barcelona, first worked with Sesame Workshop in 2006 to promote cardiovascular health in Colombia and is an international advisor on Sesame Workshop's Global Health Initiative.
Results Durable to Three Years
Fuster said that the six-month results of the educational campaign have already shown a beneficial impact on knowledge, attitudes, and habits, and so the present study was designed to assess durability 36 months after the campaign stopped. The results at six months, said Fuster, were so good that the institutional review board felt it was unethical to withhold the intervention from the 500 children in the control arm.
At three years, the primary outcome measure—mean change in children's knowledge and attitude scores toward healthy eating and living an active lifestyle—as well as a score of healthy physical-activity habits, continued to improve over time. The group that appeared to benefit the most were the youngest kids—those aged three—because, Fuster said, they "pay attention to everything." At ages four and five, some resistance might creep in a little, whereas the three-year-olds are easiest to shape, he explained.
"What is important is that the environment is very, very positive," said Fuster.
In addition to the improvements observed in the children, researchers also saw changes in the knowledge and habits of parents. "When you get the kids as the bullets to deliver the message to the family, changes will come," said Céspedes during an AHA press conference. "We have incorporated a strategy into the school curriculum, and we also have integrated the families. When you integrate education, health, and families, you get things moving."
In addition to the improvements in knowledge, attitudes, and habits, the weight of preschoolers improved. At baseline, 62% of the children had a healthy weight, which rose to 75% at 36 months. The amount of physical exercise the kids participated in also increased over the 36-month period. Fuster said one of the most important aspects of the program is education about how the body works. By explaining this to children, they have a better understanding of why it's important to exercise and eat healthy.
The impact of the program has been to overhaul the "culture" with regard to diet and healthy behaviors in the participating communities. The program was so successful that they exported it to Spain, where over 20 000 preschoolers will participate. In Spain, they have added a fourth dimension that helps children control their emotions, particularly as they relate to peer pressure. As the kids age, they will encounter drugs, drinking, and smoking, and they need to learn to say no to unhealthy habits, said Fuster.
Interestingly, before Bogotá, Fuster and the other researchers first approached schools in New York City but were told there was no place in the curriculum for such a program. Following the success in Colombia, they have since been contacted by schools in New York City about implementing the program, which Fuster and other researchers are now doing. The program, said Fuster, has come full circle.
The Colombian Family Welfare Institute and Bogota Secretary of Education supported the preschool study.
Heartwire from Medscape © 2013 Medscape, LLC

Cite this: Campaign Sustains Healthy Behaviors Among Preschoolers - Medscape - Nov 19, 2013.