DALLAS, TX — In people suffering from symptomatic peripheral artery disease, endovascular stenting followed by a supervised exercise program produces better relief from intermittent claudication and pain-free walking than exercise therapy alone, results from the Endovascular Revascularization and Supervised Exercise (ERASE) trial show.
Dr Farzin Fakhry (Erasmus University in Rotterdam, the Netherlands) presented the ERASE results here at the American Heart Association (AHA) 2013 Scientific Sessions .
ERASE enrolled 212 patients at multiple centers, randomizing them to either combination therapy (revascularization plus exercise therapy) or exercise therapy alone.
At 12 months, patients who had received combination therapy had significantly increased improvements in their walking distance and their pain-free walking distance, doubling and tripling their distances, respectively. Quality of life was also significantly better in the revascularization-plus-exercise group.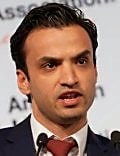 "Although guidelines recommend supervised exercise as initial therapy in patients with intermittent claudication, our data suggest that a combined therapy of the vessel-opening procedure followed by a supervised exercise program might be the best option," Fakhry commented in a press release. "Based on our study results, this combined therapy of angioplasty or stenting plus exercise therapy should be considered as an initial treatment," he said.
Dr Mary McGrae McDermott (Northwestern University Feinberg School of Medicine, Chicago, IL), the scheduled discussant for the trial, offered several caveats in interpreting the study.
First and foremost, she reminded the AHA audience, revascularization produces quite profound and immediate relief from symptoms, whereas exercise training is much more gradual. "Exercise takes time and a commitment from the patient, and the improvements are more gradual." By contrast, the beneficial effects of revascularization tend to wane with time. "So whether this significant benefit might further diminish after 12-month follow-up remains to be seen," she said.
She also faulted the form of "supervised exercise therapy" used in ERASE. Current practice guidelines recommend exercise therapy three times per week, yet in this study, the exercise arm received two to three sessions per week for the first three months, then just one session per week for months 4 to 6, and for months 7 to 12, only one session every four weeks.
This is not an ideal test of this therapy, she stressed, although it is fairly representative of the US population, where supervised exercise therapy is not typically covered by Medicare or by private insurance plans.
Fakhry had no disclosures. McGrae McDermott has previously reported grants to her institution from the National Institutes of Health; having consulted for Ironwood Pharmaceuticals; support for travel to meetings from the American Heart Association; fees for participation in review activities such as data monitoring boards, statistical analysis, and end-point committees from the University of Florida Pepper Center; and being the medical editor for peripheral artery disease for the Foundation for Informed Medical Decision Making.
Heartwire from Medscape © 2013 Medscape, LLC

Cite this: Revascularization plus Exercise Beats Exercise Alone for Walk Pain in PAD - Medscape - Nov 19, 2013.