DALLAS, TX — Patients who fail to fill prescriptions or take their meds are an enduring thorn in the side of cardiologists, who see a direct correlation between medication compliance and preventing CV events. A new randomized trial looking at a "multifaceted" intervention involving patient education, voice messaging, and a stepped-up role for the pharmacist suggests this strategy may lead to significant improvements in medication adherence[1]. The kicker, however, was that the study failed to show improvements in cholesterol or blood pressure as a result of the improved compliance.
Dr P Michael Ho (Denver VA Medical Center) presented the results of the study here today at the American Heart Association 2013 Scientific Sessions . The results were published simultaneously in JAMA Internal Medicine.
Speaking to the press, Ho noted that prior studies have shown that within one month post-ACS, one in three patients have typically stopped at least one of their medications. By one year, only three in five patients are still taking their statins.
Pill Taking, Taken Seriously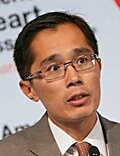 Ho and colleagues randomized 253 patients at four Veterans Administration medical centers in the US to either usual care or a strategy combining four components:
In-person or telephone discussions between pharmacists and patients seven to 10 days' post–hospital discharge for ACS.

Ongoing education via pharmacy visits and voice messaging/pharmacist phone calls.

Communication between the pharmacist and treating physician.

Medication reminder and refill telephone calls.
One year after hospital discharge, significantly more patients were adherent to four classes of secondary-prevention medications in the intervention group than in the usual-care group. When broken out by drug type, adherence to clopidogrel, statins, and ACE inhibitors/ARBs (expressed as mean proportion of days covered >0.80) was all greater in the intervention group than in the usual-care group; adherence to beta-blockers was similar between groups.
Proportion of Days Covered >0.80
| | | | |
| --- | --- | --- | --- |
| End point | Usual Care (%) | Intervention (%) | p |
| All drug adherence | 73.9 | 89.3 | 0.003 |
| Clopidogrel | 70.7 | 86.8 | 0.03 |
| Statins | 71.3 | 93.2 | <0.001 |
| ACE inhibitors/ARBs | 81.7 | 93.1 | 0.03 |
| Beta-blockers | 84.8 | 88.1 | 0.59 |
The approximate cost of the intervention, taking into account the cost of pill containers and extra pharmacist and physician time, was $360 per patient.
Strikingly, however, there were no differences between groups in terms of number of patients achieving blood-pressure lowering or LDL-cholesterol goals.
In an editor's note accompanying Ho et al's published paper[2], Dr Rita Redberg (University of California, San Francisco) points out that adherence was relatively high, even in the usual-care group studied, and that may have tempered the results. That said, "before recommending investment in this strategy, it would be prudent to know that patient outcomes will actually improve," Redberg said.
Asked by heartwire why the quite striking differences in medication adherence did not translate into clinical differences, at least in terms of lipid and blood-pressure levels, Ho commented that possibly the blood-pressure–lowering effects seen with ACE inhibitors/ARBs and beta-blockers may not have been as great as they might have been if other antihypertensive agents had been used.
For lipids, Ho pointed out that just 65% of patients in both groups had lipid tests at the end of the study, and patients who were more adherent to taking their medications were more likely to get their lipid levels measured, which would have diluted the effects in the intervention arm. "I think there were too much missing data for us to draw any conclusions."
Finally, 12 months of follow-up may not be sufficient to detect a difference, Ho acknowledged, adding that he and his colleagues intend to follow their patients for longer to gauge longer-term effects.
The study was funded by the VA Health Administration Health Service Research and Development award. The authors have no relevant financial relationships.
Heartwire from Medscape © 2013 Medscape, LLC

Cite this: Multipronged Approach Ups Pill Taking, but Not BP, Lipid Control - Medscape - Nov 18, 2013.