DALLAS, TX (updated) — "To repair or replace?" may not have been the question Hamlet once asked, but it is a worthy question for interested surgeons and patients with mitral-valve disease. In a newly published and presented National Institutes of Health (NIH)–sponsored study, investigators tested two surgical approaches in patients with functional ischemic mitral regurgitation (MR) and found that both fared equally well[1].
In the Cardiac Surgery Clinical Research Network (CTSN) trial, presented here today at the American Heart Association (AHA) 2013 Scientific Sessions by Dr Michael Acker (University of Pennsylvania Perelman School of Medicine, Philadelphia), patients who underwent mitral-valve repair had no difference in left ventricular reverse remodeling or major adverse cardiac or cerebrovascular events (MACCE) at 12 months compared with patients who underwent chordal-sparing mitral-valve–replacement surgery.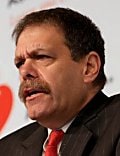 In addition, the rates of death at 30 days and 12 months were similar in the two treatment arms.
"Mitral-valve replacement provides a more durable correction of severe ischemic MR with no differences seen in reverse left-ventricular remodeling or clinical outcomes," said Acker. "Mitral-valve recurrent MR might have an important effect on long-term outcomes, but additional follow-up and subset analysis may provide some insight into predictors and the clinical impact of mitral-insufficiency recurrence, allowing the optimization of therapeutic decisions for individual patients."
The study was published online today in the New England Journal of Medicine.
No clear guidance one way or the other
Presenting the results here at an AHA press conference, Acker said that ischemic mitral insufficiency is not primary mitral-valve disease but is instead the result of MI. After an MI, there is left-ventricular remodeling, which results in dilation of the mitral annulus and displacement of the papillary muscles; all this eventually leads to mitral insufficiency. Severe ischemic MR is associated with increasing heart-failure symptoms and poor outcomes.
"The guidelines are not completely clear on what to do with this problem," said Acker. "When you have severe ischemic mitral insufficiency, guidelines from the US and Europe say something must be done, that you should address the MR that is present. In varying levels of intensity, the guidelines are either class I, if you're undergoing coronary revascularization, or class IIb, if it's a standalone procedure. But they're very unclear about whether to repair or replace. There is no conclusive evidence to do one or another."
In the US, there is a strong preference for mitral-valve repair over replacement, with 66% of valves repaired over the last few years, according to the Society of Thoracic Surgeons database. However, the treatment choice is still controversial, with repair believed to be associated with lower perioperative morbidity and mortality and an increased risk of recurrence over time. This has been observed only in retrospective, observational studies and not proven in randomized clinical trials, said Acker.
In the study, 126 patients were randomized to mitral-valve repair and 125 patients to mitral-valve replacement at 22 clinical centers. Mean left-ventricular end-systolic volume index (LVESVI) among the patients who underwent repair was 54.6 mL/m2 of body surface area at 12 months. In the replacement arm, mean LVESVI was 60.7 mL/m2 of body surface area. This translated into a mean change from baseline of –6.6 and –6.8 mL/m 2, respectively.
There were no significant between-group differences in the risk of death at 30 days or 12 months and no significant difference in the rate of a composite of major adverse cardiac or cerebrovascular events, function, or quality of life at 12 months.
Clinical outcomes at one year
| | | | |
| --- | --- | --- | --- |
| Clinical end point | Repair group, n=126 (%) | Replacement group, n=125 (%) | p |
| Death | 14.3 | 17.6 | 0.47 |
| Stroke | 4.8 | 4.0 | 0.77 |
| Worsening in NYHA class >1 | 4.8 | 4.8 | 0.99 |
| Heart-failure rehospitalization | 13.5 | 11.2 | 0.58 |
| Mitral-valve reoperation | 2.4 | 0 | 0.25 |
| Composite of death, stroke, hospitalization for heart failure, or mitral-valve reintervention | 32.5 | 33.6 | 0.86 |
Replacing the valve did provide a more durable improvement in MR than mitral-valve repair, however. The rate of moderate or severe MR at 12 months was 32.6% in the repair arm and just 2.3% in the replacement arm, a statistically significant difference.
The surgical-replacement technique involved "complete chordal sparing," said Acker, which he believes has an advantage over techniques that do not save the chordae. If physicians don't remove the posterior or anterior chordae, they will get a better outcome with less morbidity and mortality. To heartwire , he said that the results are generalizable to other physicians because it is the repair of degenerative mitral valves that is more difficult. "The repair technique for functional ischemic mitral insufficiency is not very complex," said Acker. "It involves placing a small, undersized ring and is less of the art, if you will, of mitral-valve repair, which is in degenerative disease."
The study was sponsored by the NIH and Canadian Institutes of Health Research.
Heartwire from Medscape © 2013 Medscape, LLC

Cite this: Repair and Surgery Fare Equally Well in Ischemic MR - Medscape - Nov 18, 2013.