DALLAS, TX — Nitrites may be great for curing bacon, but they probably don't protect the myocardium against reperfusion injury. A randomized trial found that a five-minute infusion of sodium nitrite given just before opening of the culprit artery in patients with ST-segment-elevation MI (STEMI) had no effect on infarct size as measured by coronary magnetic resonance (CMR) imaging six to eight days later. Nor did it affect measures of myocardial remodeling after six months.
The Nitrites in Acute Myocardial Infarction (NIAMI) trial is slated for presentation here today at the American Heart Association 2013 Scientific Sessions by its lead author Dr Nishat Siddiqi (University of Aberdeen, Scotland). It follows a long line of trials that have tested a range of agents and techniques that, like sodium nitrite, looked promising for limiting MI size in preclinical studies but crashed in randomized trials.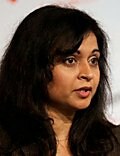 To heartwire , Siddiqi said that despite many failures in the search for an effective infarct-limiting agent, it's worth exploring every one that looks good in animal trials. In the meantime, the current study, "at this dose, and by this route, and at this point in the ischemia, has categorically stated that nitrite doesn't do anything to reduce infarct size. So we need to look again at perhaps a different dose or longer [infusion] duration."
In NIAMI, 229 patients at three centers in the UK and one in Australia undergoing primary stenting for their first MI were randomized in double-blind fashion to be infused, right before stent expansion, with either 70 µmol of sodium nitrite in 5-mL saline or a placebo. Eligibility for the study required patients to present within 12 hours of symptom onset and have no history of MI or coronary procedures.
At CMR imaging on days 6 to 8, the 118 patients who received the nitrite infusion showed a scant reduction of less than 1% (p=0.34) in infarct size as a proportion of myocardial area at risk, compared with the 111 who received placebo. Nor were there significant differences in the secondary end points of plasma troponin or creatinine kinase at 72 hours.
After six months, CMR imaging in 63 nitrite recipients and 55 controls showed no significant differences in final infarct size, LVEF, or LV end-systolic or end-diastolic volumes.
A prespecified subgroup analysis showed a 4.5% improvement in infarct size among diabetics who received the nitrites (n=14) compared with those assigned to placebo (n=19), but the difference fell short of significance.
The study was funded by the Medical Research Council of the UK. Neither Siddiqi nor her coauthors had any conflicts of interest.
Heartwire from Medscape © 2013 Medscape, LLC

Cite this: Nitrites No Cure for Reperfusion Injury From MI Stenting - Medscape - Nov 17, 2013.