SAN FRANCISCO, CA — A novel study of genotype-guided antiplatelet therapy in patients who received a stent for acute MI saw a sharp drop in ischemic events over one year among those who tested positive for a clopidogrel loss-of-function (LOF) gene pattern and had their originally prescribed antiplatelet therapy altered based on the assay results.
In the prospective GIANT trial with 1445 patients, reported here at TCT 2013 , it was discretionary whether clinicians raised the clopidogrel dosage or switched thienopyridine agents based on the assay results, which they had in hand within 48 hours after stenting. Such changes were made in 86% of the 316 who tested positive for the LOF genotype, a group known to be at increased ischemic risk on standard clopidogrel-containing antiplatelet therapy after stenting.
Among those 272 patients with assay-guided antiplatelet changes, the one-year composite risk of death, MI, or stent thrombosis closely matched that of patients lacking the high-risk genotype, according to co–principal investigator Dr Bernard R Chevalier (L'Institut CardioVasculaire Paris-Sud, Massy, France), who presented the study.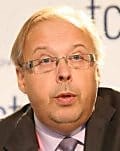 Of note, the composite end point was about five times higher for the remaining 14% of LOF-genotype patients whose antiplatelet therapy wasn't changed based the assay.
"These are really the first clinical-trial data in the genotype space compared with the phenotype space, and I think it's long overdue," according to Dr Daniel I Simon (University Hospitals Case Medical Center, Cleveland, OH), speaking from the panel charged with critiquing GIANT after its formal presentation. As did many throughout TCT 2013, Simon was weighing two different approaches to sharpening thienopyridine selection for dual-agent antiplatelet therapy after coronary interventions, specifically those focusing on genotyping for the CYP2C19 clopidogrel loss-of-function variant vs platelet-function assays like VerifyNow (Accumetrics).
Such platelet-function testing with coronary stenting has its supporters and detractors but hasn't found a consistent role in managing patients undergoing PCI, even for acute coronary syndromes, as heartwire has long reported.
One-Year Rates (%) of Primary End Point (Death, MI, or Stent Thrombosis) by Clopidogrel LOF Genotype Status
| | | | |
| --- | --- | --- | --- |
| End point | Normal, n=1118 | LOF, treatment is adjusted, n=272 | LOF, treatment is not adjusted, n=55 |
| Primary | 3.04 | 3.3* | 15.6 |
*p=0.83 vs normal; p<0.0001 for noninferiority; p=0.04 vs LOF-treatment-is-not-adjusted
"I think these are amazing results," Dr Cindy L Grines (Detroit Medical Center Cardiovascular Institute, MI) said at a press briefing on GIANT, referring to both the high event rate in LOF-genotype patients whose treatment wasn't changed and similarly lower event rates in the other two groups. "Both of those [findings] are a little bit unexpected, I'd guess?" She asked Chevalier why clinicians did not modify antiplatelet therapy in 14% of patients positive for the LOF genotype.
In GIANT, said Chevalier in his presentation, investigators were "strongly recommended" to give such patients prasugrel (Effient, Lilly/Daiichi-Sanyo) or, if they had contraindications to prasugrel, to double their clopidogrel dosage.
But prasugrel, a more potent antiplatelet than clopidogrel, had already been chosen for initial antiplatelet therapy in more than half of patients in the study. Perhaps clinicians believed such patients would benefit from it regardless of their ultimate genotype status. Indeed, some patients later found not to have the clopidogrel LOF genotype were switched from prasugrel to clopidogrel, perhaps satisfied by the assay that the latter drug would be adequate after all.
Chevalier speculated that clinicians also may not have boosted antiplatelet therapy in some LOF-genotype patients if it was considered too risky, such as for those with bleeding risk factors. The high event rate in patients with the LOF genotype whose antiplatelet therapy wasn't adjusted, therefore, may be more related to how sick the patient was, rather than any cues from genotyping. He said his group is currently looking for the answer in further analyses.
Prevalence of Thienopyridine Use and Dosages, Before and After Genotyping, by Assay Outcome
| | | | |
| --- | --- | --- | --- |
| Thienopyridine and dosage by timing | Normal, n=1118 (%) | LOF, treatment is adjusted, n=272 (%) | p |
| Clopidogrel 75 mg/d (preassay) | 35.6 | 34.7 | NS |
| Clopidogrel 75 mg/d (postassay) | 44.5 | 0 | <0.001 |
| Clopidogrel 150 mg/d (preassay) | 10 | 9.1 | NS |
| Clopidogrel 150 mg/d (postassay) | 8.9 | 16.8 | <0.05 |
| Prasugrel 10 mg/d (preassay) | 53.3 | 55.5 | NS |
| Prasugrel 10 mg/d (postassay) | 46.1 | 83.1 | <0.001 |
NS=nonsignificant
GIANT was funded by Biotronik. Chevalier discloses consulting for or receiving research grants or speaker fees from Abbott Vascular, Asahi, Astra Zeneca, AVI, Boston Scientific, Biotronik, Colibri, Cook, Cordis, Daiichi Sankyo, Eli-Lilly, Iroko, Medtronic, and Terumo and being general director of and owning equity interest in the European Cardiovascular Research Center.
Heartwire from Medscape © 2013 Medscape, LLC

Cite this: Clopidogrel Genotyping for Antiplatelet Guidance in MI Stenting: Maybe Reduced Ischemic Risk - Medscape - Nov 06, 2013.