SAN FRANCISCO, CA — A study tackling a longstanding question of when to intervene in "intermediate" coronary lesions raised eyebrows at TCT 2013 by concluding that there is no benefit to a more aggressive strategy.
Dr Hyeon-Cheol Gwon (Samsung Medical Center, Seoul, South Korea) explained that, despite the strides made by fractional flow reserve (FFR) in determining which lesions to revascularize, just 10% to 20% of operators actually use this "functional" testing. In the meantime, the clinical outcomes in patients with lesions that are 50% blocked vs 70% have never been compared head to head.
What's more, he noted, there is a lack of consensus on what types of lesions need intervening. The 2011 ACC/AHA/SCAI guidelines for PCI state that PCI may be indicated for PCI when the diameter stenosis is >50%, yet the 2010 European Society of Cardiology (ESC) guidelines give a cutoff of >70%.
Making a Case for Smarter Interventions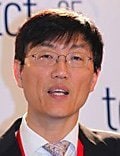 Gwon and colleagues hypothesized that a conservative revascularization strategy (intervening in lesions >70%) would be noninferior to an aggressive strategy using a cutoff of 50% for a composite end point of all-cause death, MI, or any revascularization at 12 months.
They enrolled 900 patients equally between the >50% and >70% groups, using quantitative coronary angiography (QCA) to measure the percent stenosis. Roughly two-thirds of the patients enrolled had stable ischemic heart disease, 30% had unstable angina, and roughly 6% in both groups were being treated for MI.
As Gwon showed in his presentation, the primary end point was not statistically different between the two groups, occurring in 7.3% of conservatively managed patients and 6.8% of the "aggressively" managed group (p for noninferiority=0.0055).
Rates of death or MI as well as cardiac death or MI were also no different between groups. Where a difference emerged, perhaps not surprisingly, was in revascularization of the target intermediate lesion, which was 4.1% in the conservative group vs 1.7% in the aggressive group (log-rank p=0.45).
In subgroup analyses, age younger than 65 showed a trend toward more benefit from an aggressive treatment strategy for the primary end point, a finding that reached statistical significance when only revascularizations were considered. By contrast, death/MI was more common with the aggressive strategy in patients 65 years or over, although Gwon stressed that these age groups were not appropriately powered.
"The revascularization of angiographically intermediate lesion can be deferred safely," Gwon concluded.
What About FFR?
In a morning press conference and during its formal presentation, Gwon's presentation met with some skepticism from panelists who were excited about two separate FFR studies presented during the same session.
"I have trouble reconciling these data with FAME and FAME II ," Dr Philippe Généreux (Hôpital du Sacré Coeur de Montréal, QC) commented. While using an arbitrary cutoff of 50% stenosis by angiography, he agreed, "is not a good one," there remain lesions between 50% and 70% stenosis that "will need further assessment, and it is in those lesions that we should interrogate with FFR."
Dr Bernard Gersh (Mayo Clinic, Rochester, MN) likewise stressed that this is precisely the place where FFR has proved its value. Speaking with heartwire , Gersh acknowledged that while not every lab is using FFR, the time is coming where every operator will need to do more than angiography to justify their decision-making.
"FFR is a growing trend, and it may not be FFR as we do it now—it may be iFFR or noninvasive FFR—but what we are realizing is that we really need to quantify lesion severity better than we have in the past."
Gwon, in response, told heartwire that his point was not so much that FFR doesn't yield important information, rather that it doesn't yield all the information. He gave the example of an elderly lady with a 55% stenosis. "Even with an FFR of 0.7, that lady can achieve the maximal hyperemia she needs for her life, because she is not running around. For a younger person, who exercises, who is a pilot or a soldier, a 55% stenosis can be ischemic regardless of the FFR results."
Operators need to consider anatomy and function, but also clinical, economic, and patient-related factors, Gwon argued. "I don't believe that FFR should be the gold standard for determining the indication for PCI; we also need to consider these other factors."
Gwon had no conflicts of interest.
Heartwire from Medscape © 2013

Cite this: No Upside to Aggressive PCI in Intermediate Lesions: SMART-CASE - Medscape - Oct 31, 2013.