Is It Time to Replace Fee-for-Service?
No fewer than 4 major healthcare policy reports[1,2,3,4] were released in early 2013 calling for a phase-out of fee-for-service payments to physicians.
All 4 reports linked fee-for-service, which pays physicians for each piece of work done, to healthcare inflation, unnecessary services, and fragmented care.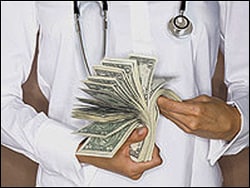 Physicians praise the simplicity of the old fee-for-service system and fear what would take its place. But they needn't worry about an imminent switch because no one plans to get rid of fee-for-service anytime soon. Even the National Commission on Physician Payment Reform, which called for "a rapid transition" to other payments, said it would take 5 years.
The healthcare policy reports, from groups like the Brookings Institution, a liberal think tank, and former senators from both parties said the system should be replaced by "value-based" payments, such as bundled payments and forms of capitation, which reward physicians for efficiency and coordinated care.
The chorus against the current system includes healthcare payment experts, planners in the Obama administration, Republicans pushing for fiscal austerity, major commercial insurers, large employers, and even many leaders in organized medicine.
In fact, it includes just about everyone except for the physicians who actually get paid by the current system. In a survey reported in JAMA in July 2013,[5] only 7% of physicians expressed enthusiasm for "eliminating fee-for-service payment models."
The Affordable Care Act, which is identified with payments like shared savings through Accountable Care Organizations (ACOs), does not call for an end to Medicare fee-for-service.
The current payment system will continue to be available to physicians for some time to come, says Robert Berenson, MD, a fellow at the Urban Institute and former Vice Chair of the Medicare Payment Advisory Commission, which advises Congress on Medicare policy. "You are not going to get cardiologists to participate in an ACO if they can make $500,000 a year in the fee-for-service system," he says.
Medicare has not issued any plan to drop fee-for-service or lower reimbursements for physicians who choose to stay with it, says Paul B. Ginsburg, PhD, President of the Center for Studying Health System Change and a proponent of the new payment methodologies.
"Certainly, I can envision a time when there would be incentives for physicians and hospitals to get involved with new payments," Ginsburg says. "You would be able to get potentially higher payments, and eventually there will be lower payments. But that is not the law now."
Medscape Business of Medicine © 2013 WebMD, LLC

Cite this: Will Fee-for-Service Really Disappear? - Medscape - Oct 29, 2013.