BALTIMORE – A single annual injection with zoledronic acid (Zometa, Novartis) is safe and effective for boosting skeletal integrity in a population of women who are most at risk for fractures and least likely to receive osteoporosis treatment — the elderly and frail in long-term care, according to a new study presented here at the American Society for Bone and Mineral Research (ASBMR) 2013 Annual Meeting.
"Among concerns with zoledronic-acid treatment has been that the drug might not even help the frail and elderly improve bone density, but our findings show that there can indeed still be a response," said lead author Susan Greenspan, MD, a professor of medicine and director of the Osteoporosis Prevention and Treatment Center at the University of Pittsburgh Medical Center, Pennsylvania.
Zoledronic acid's benefits in strengthening bones in postmenopausal women have been well documented, but the new findings are important because pivotal clinical trials have typically excluded the elderly population, despite the fact that nearly 85% of people in long-term care facilities have osteoporosis and only about 5% receive treatment.
The study was the first step in determining zoledronic acid's effects on older, frail individuals, said Dr. Greenspan. The next issue to be considered is whether the drug prevents fractures in the population.
"Before we could do a fracture study we needed to show that bone density improved and that bone turnover goes down," she said. "That is what we saw — the improvement seen in this study is similar to what has been seen with a younger population in the pivotal trial."
Once-a-Year Injection Resolves Several Concerns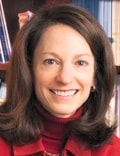 The 2-year, double-blind, randomized trial, Zoledronic Acid in Frail Elders to Strengthen Bone (ZEST), included 181 residents of a nursing home or assisted-living facility, with a mean age of 85.4 years. The women, who all had a life expectancy of at least 2 years, were not being treated with antiresorptive agents despite having osteoporosis and a vitamin-D level of 20 ng/dL or above.
They were randomized to a single dose of zoledronic acid 5 mg (n=89) or placebo (n=92), and all participants in both groups received daily calcium (1200 mg) and vitamin D (800 IU). Those in the treatment group had higher rates of diabetes, falls history, antiseizure medications, and slow gait speed.
Of the participants, 92% completed the study at 12 months and 67% continued until 24 months.
At the 12- as well as 24-month end points, the women in the treatment group showed significantly greater improvements in bone-mineral density (BMD) at the total hip, femoral neck, and spine, compared with the placebo group (all P < 0.01).
The 12-month absolute differences were 3.2 percentage points at the total hip and 1.8 at the spine.
The 2 groups showed no significant differences in terms of adverse events or deaths.
By only requiring 1 annual injection, zoledronic acid resolves several concerns in treating the elderly with bisphosphonates, including gastrointestinal and adherence issues, Dr. Greenspan told Medscape Medical News.
"With oral bisphosphonates, patients need to be sitting up and fasting for at least 30 minutes, so with long-term care patients, that can mean that they need to be watched for 30 minutes, and if they have cognitive impairment, they may not be able to tell if discomfort is from the drug or not."
But Some May Still Not Be Candidates for Drug
But Dr. Greenspan cautioned that some elderly and frail patients may still not be candidates for zoledronic acid, due to concerns about its effects on renal function.
"Renal function can go down as you get older, and you can't have poor renal function or be on dialysis to use this medication, so patients' kidney function should be checked" before prescribing, she noted.
"Furthermore, about 20% of people will get an acute-phase reaction to zoledronic acid over 1 or 2 days, with flulike symptoms including headaches and fever, so that's another concern, because it might not be clear in this population whether it's related to the medicine or...is the flu, a heart attack, or an infection," she concluded.
Dr. Greenspan has reported no relevant financial relationships.
American Society for Bone and Mineral Research 2013 Annual Meeting. Abstract 1025, presented October 5, 2013.
Medscape Medical News © 2013 WebMD, LLC

Send comments and news tips to news@medscape.net.
Cite this: Once-a-Year Zoledronic Acid Preserves Bone in Elderly, Frail - Medscape - Oct 09, 2013.