BARCELONA, Spain ― A sharper focus on cognition problems in the elderly, interventions for child and adolescent disorders, addiction, and "the future of the field" are expected to be among the most popular issues presented and discussed at the upcoming 26th European College of Neuropsychopharmacology (ECNP) Congress.
"I'm excited about the meeting this year," Joseph Zohar, MD, ECNP president and professor of psychiatry at the Sackler School of Medicine at Tel Aviv University in Israel, told Medscape Medical News.
"What's going to be somewhat different is that we're going to focus more on the future than in other meetings, including starting off with a keynote lecture that has a sort of futuristic approach to understanding better how the brain works."
This year's keynote speaker will be Henry Markram, PhD, who heads the Human Brain Project at the Ecole Polytechnique Fédérale de Lausanne, Switzerland. His talk, which is scheduled for Saturday, October 5, is entitled "Neuropsychopharmacology Through Computational Simulation: The Blue Brain Project."
"He'll speak about the future of molecular pharmacology and discovery in psychiatry ― looking at other immunoprocesses in trying to understand about future treatment for psychiatric disorders," said Dr. Zohar.
New Research
In addition, he noted that there has been a bit of a shift in this year's new research posters, from concentrating mostly on schizophrenia and depression to focusing on other disorders.
"There are some very interesting poster presentations this year regarding different types of addiction, such as behavior, as well as developmental psychiatry. Also, there are many posters coming from Eastern Europe this year that have a very interesting way of looking at and analyzing issues that are related to the brain," Dr. Zohar said.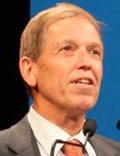 The 2013 Congress will feature 3 poster sessions, scientific symposia divided into 5 tracks, and 6 plenary sessions.
Two topics that the ECNP is especially dedicated to this year are interactivity and the advantages of having a multidisciplinary approach to medicine, explained Dr. Zohar. Instead of working in isolation, this approach allows physicians to work together so that everyone is elevated and becomes stronger.
"This exactly describes the strength and uniqueness of the ECNP meeting," he said.
"After each day's afternoon session, we'll have what we call scientific cafes, which will provide a semistructured format for talking further about the specific session subject. It's about creating interactive brainstorming sessions," he explained.
Interactive Learning
Dr. Zohar added that the ECNP does not want conference attendees to just listen passively to speakers. Instead, the idea is for them to actively participate.
"We hope that this is going to pique interest that can then become the basis for the next grant or application or experiments. Plus, each day there will be 2 educational sessions that bring up cutting-edge knowledge, but also ask for feedback and ask questions of the audience. Again, it's exercising the interactive interdisciplinary part of what ECNP is focusing on."
Last year, approximately 6000 clinicians and researchers attended the meeting.
Guy Goodwin, FMedSci, a professor of psychiatry at the University of Oxford in the United Kingdom, said in a video posted on ECNP's Web site that the congress "brings together the people who do the best neuroscience in the world with the people who treat patients with the biggest disease burdens in the world."
"What makes the ECNP Congress the biggest meeting in Europe of its kind is its multidisciplinary type of approach and presentation. You can see in the sessions this full picture ― from bench to bedside. And it'll all be happening in this great city with a perfect climate!" added Dr. Zohar.
The 26th ECNP Congress will be held in Barcelona from October 5 to October 9. More information on the meeting, including a downloadable app, can be found on the organization's Web site.
Medscape Medical News © 2013 WebMD, LLC

Send comments and news tips to news@medscape.net.
Cite this: Futuristic Approach to Psychiatric Illness at ECNP 2013 - Medscape - Oct 04, 2013.