COPENHAGEN, Denmark — Whether enough evidence supports universal supplementation with vitamin D to reduce the risk for multiple sclerosis (MS) was the subject of debate at one of the first sessions of the 29th Congress of the European Committee for Treatment and Research in Multiple Sclerosis (ECTRIMS) yesterday.
Introducing the session, the chairman, Giancarlo Comi, MD, Università Vita-Salute San Raffaele, Italy, said, "This is a real hot topic. Vitamin D is without doubt one of the environmental factors that plays an important role in the pathophysiology of MS, and it may also have a treatment role."
Taking the "protagonist" position, George Ebers, MD, University of Oxford, United Kingdom (UK), said, "When looking at the risks, costs and benefit equation, the risks seem tiny, and the benefits are yet to be established but indirect studies are supportive. The cost of vitamin D is dirt cheap but the costs of MS are staggering and are increasing."
He believes the migration data are key. "MS risk is reduced substantially in people moving from the UK to Australia. And Tasmania has a 6 times higher rate of MS than in Queensland. We were designed to be in sunshine. But the vast majority of us don't spend much time in sunshine, so we are vitamin D deficient. Supplementation therefore makes sense."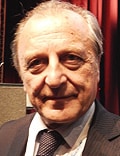 Both Sunlight and Dietary Vitamin D Important
But Professor Ebers does not believe sunlight explains all the risk. To illustrate this, he presented data from Norway showing that the risk for MS in the northern most parts of the country, where the sun doesn't even rise for some of the year, is lower than in southern parts. He noted that Tromsø has a particularly low rate of MS, which was probably related to the large amount of fish consumed, and "their vitamin D levels are much higher than those of Scotland, which is much farther south.
"These data suggest it is probably a combination of both sunlight and dietary vitamin D that is important," he added.
He noted that the Institute of Medicine had recommended vitamin D supplementation of 4000 IU per day for US adults, given that the majority are under optimum levels, a recommendation that was not specifically related to MS risk. "And the US has less of a problem than Northern Europe."
Professor Ebers suggested that mass supplementation was probably a better strategy than screening for low levels or trying to educate the public to increase their intake. "We need to do something that gives maximum benefit to most people. It's not going to be a 'one size fits all' situation, but a 'one size fits most' is doing something positive."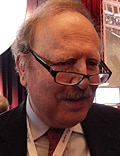 He does not believe educational campaigns work. "We have tried to educate people that they shouldn't drink beer, and they should eat a healthy diet but it doesn't have much effect."
He was dismissive of the main argument used against supplementation — that people can have robust good health without supplementation. "That's like giving the example of a 102-year-old smoker, and there aren't many of those; or equating finding a few 10-day survivors under earthquake rubble with the benign nature of earthquakes."
The margin of safety is greater than that for water.
On concerns that too much vitamin D may be toxic and supplementation may cause an epidemic of renal failure, Professor Ebers said, "It isn't and it won't." He added: "The margin of safety is greater than that for water. There is absolutely no problem with taking up to 4000 IU/day."
To Medscape Medical News, he commented: "Vitamin D is available very cheaply. I am not going to say that all MS patients should take vitamin D but there is a case to be made for this. 4000 IU a day is what is being recommended. Prevention depends on where you live and how much sunshine you are exposed to."
On the suggestion that supplementation should await findings from a randomized clinical trial, Professor Ebers said, "It's all very nice to have a randomized trial, but they are not the be all and end all. If we needed a randomized clinical trial, then we still wouldn't recognize that smoking caused lung cancer and contaminated water caused cholera."
Taking the contrary position, Alberto Ascherio, MD, DrPH, Harvard Medical School, Boston, Massachusetts, said he agreed with 90% of Professor Ebers' talk. But he put forward several reasons against universal vitamin D supplementation.
These included insufficient evidence of long-term safety and an uncertain dose response because serum levels do not correlate exactly with intake. And he made the point that fewer than 1 in 200 people will ever get MS. "So if we supplement 200 people, there is no benefit on MS risk for 199."
While he was against universal supplementation, Dr. Ascherio said intervention was justified in selected vitamin D–deficient individuals.
Feasibility of Clinical Trials
In a second debate on the feasibility of conducting trials of vitamin D supplementation, Gilles Edan, MD, Central University Hospital of Rennes, France, noted that 2 trials are already underway, both investigating whether vitamin D can reduce the progression of clinically isolated syndrome (CIS) to MS.
The D-lay trial in France is randomly assigning 316 patients with CIS to placebo or 100,000 IU cholecalciferol within 60 days of symptoms. And the PrevANZ trial in Australia is randomly assigning 240 patients with CIS within 120 days of their first demyelinating event to 3 different doses of vitamin D or placebo.
Taking the opposing position, Xavier Montalban, MD, Multiple Sclerosis Centre of Catalonia, Spain, pointed out that contamination will be a big problem for these trials because many control patients might take vitamin D outside the trial.
"There is enough evidence that vitamin D is involved in MS and if I had CIS I would take it," Dr. Montalban said. "I would say 'it is safe, it is probably effective, and I haven't got time to wait for clinical trials to be done.'" He cautioned that the studies had a high likelihood of failure because of this and the limited number of patients included.
Professor Comi agreed with this point: "Vitamin D is available everywhere and sunshine is available almost everywhere. It will be very difficult to control these studies.
"There is no doubt that vitamin D is involved in risk of MS, but the risk of false-negative results in these trials is extremely high," he added. "It is likely that the numbers of patients will not be sufficient to show a benefit. So they should be considered exploratory so they do not result in the rejection of the hypothesis."
29th Congress of the European Committee for Treatment and Research in Multiple Sclerosis (ECTRIMS). Charcot Symposium. Presented October 2, 2013.
Medscape Medical News © 2013 WebMD, LLC

Send comments and news tips to news@medscape.net.
Cite this: Vitamin D for All to Prevent MS? - Medscape - Oct 03, 2013.