AMSTERDAM ― The dramatic impact that the novel immunomodulator ipilimumab (Yervoy, Bristol-Myers Squibb Company) made on the treatment of advanced melanoma is shown in new long-term data reported here at the European Cancer Congress 2013 (ESMO-ECCO-ESTRO).
Some patients with advanced melanoma treated with this product are still alive up to 10 years later, reported Stephen Hodi, MD, assistant professor of medicine at the Dana-Farber Cancer Institute, Boston.
Dr. Hodi presented long-term data from a pooled analysis of 4846 patients, which showed a plateau in overall survival ― with 21% to 22% of patients alive at 3 years, 17% still alive after 7 years, and no deaths after that. "The longest follow-up in the database is 9.9 years," he said.
In the pre-ipilimumab era, patients with advanced metastatic melanoma were treated with chemotherapy and interferon, and survival was measured in months ― on average, 10 to 11 months, with a range of 6 to 18 months, depending on where the disease had manifested itself, he told Medscape Medical News.
"This is a huge paradigm shift in the treatment of melanoma from where we were just a few years ago," he said at a press conference held during the meeting. "It is hard to use the c-word and talk about cure," he said, explaining that in some patients the disease goes away, and they go into remission, but in others there is still tumor showing on the computed tomography scan, but it does not change. "What it means for us as clinicians is that we can start talking to our patients about the possibility of turning melanoma into a chronic disease, which we couldn't even imagine a few years ago," he said.
Ipilimumab was approved in 2011 in the European Union and the United States. It has a novel mechanism of action, interfering with the immune system instead of acting directly on the cancer. It targets cytotoxic T-lymphocyte-associated antigen 4 (CTLA-4), a protein found on the surface of T cells that acts like a brake; the drug removes this brake, allowing the T cell to go into attack mode and kill cancer cells. The product is typically given as a course of 4 injections during a period of 3 months, and some patients receive retreatment and/or maintenance therapy.
For some patients, it seems that this short treatment is enough to reset the immune system and reach a new balance, a homeostasis in which "tumor cells are still present, but are being kept in check by the immune system," Dr. Hodi explained.
"This pooled analysis clearly demonstrates that ipilimumab can lead to long-lasting control in metastatic melanoma patients," commented melanoma expert Alexander Eggermont MD, PhD, director general of the Institut Gustave Roussy Comprehensive Cancer Centre, Villejuif, France, and past president of the European CanCer Organization (ECCO).
In a statement, he noted that the response rate to ipilimumab is low, only about 10% to 15%, but in some patients, a few doses of this drug result in long-term survival: "more than 3 to 10 years' survival in 17% to 25% of patients."
These patients "apparently can keep residual tumors under control for a long time when the immune system is properly 'reset,' and the concept of clinical cures becomes a reality," he added. He predicted that these survival results will be improved further with the anti-PD1/PDl1 monoclonal antibodies that are in development.
Data From Pooled Analysis
The long-term data come from a retrospective pooled analysis of patient data collected from clinical trials during development of the drug (n = 1861), and also from use of the drug in an expanded access program in which patients were treated with the product before it was approved (n = 2985).
The analysis included both previously treated (n = 1257) and previously untreated patients (n = 604) who received ipilimumab at different doses and regimens. The majority of patients received 3 mg/kg (n = 965) or 10 mg/kg (n = 706). Yervoy was given every 3 weeks for 4 doses, and most studies included the option for eligible patients to receive either retreatment or maintenance therapy.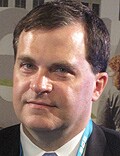 None of these variables appeared to have had an impact on survival. "The plateau, which started at 3 years and continued through to 10 years, was observed regardless of does (3 or 10 mg/kg), whether the patients had received previous treatment or not, and whether or not they had been kept on a maintenance dose of the drug," Dr. Hodi said. However, he emphasized that this was not a randomized comparison, so direct conclusions cannot be drawn.
Discussant for the paper Martin Gore, MBBS, PhD, FRCP, medical director at the Royal Marsden Hospital in London, did not altogether agree with these comments. He said that there were some differences seen ― patients who were treatment naïve had a 3-year survival rate of 26% vs 21% for those who had been pretreated, and patients who received the 3 mg/kg dose had a 3-year survival rate of 21% vs 24% for those who received the 10 mg/kg dose.
Dr. Gore also criticized the analysis for pooling together data from clinical trials and data from the expanded use program, which is more of a "real world" setting, he said.
Dr. Hodi acknowledged that the pooled analysis is a limitation. "However, these results are consistent with our findings from randomized clinical trials and confirm the durability of the plateau in overall survival, previously shown to extend to 5 years but now shown to extend up to 10 years."
This is a major improvement in survival when compared with what has been seen historically, Dr. Gore commented. "If you reach 3 years, you may be home and dry," he said and suggested that ipilimumab offers a "potential cure for some patients."
However, he also reminded the audience that this was not the first immunotherapy to be shown to work in melanoma, referring to interleukin-2, which was used some 20 years ago. A meta-analysis of data from the interleukin-2 trials showed a 3-year survival rate of 15%, he noted.
Dr. Gore also emphasized that this approach of using immunotherapy in melanoma is not competitive with targeted therapies, such as BRAF inhibitors for the 50% or so of patients whose tumors are BRAF-positive. "We have to look at how we put these 2 approaches together," he said.
Dr. Hodi reports acting as a nonpaid consultant to Bristol-Myers Squibb and also to receiving institution clinical trial support from the company. Two of the coauthors of the paper are Bristol-Myers Squibb employees.
European Cancer Congress 2013 (ESMO-ECCO-ESTRO). Abstract LBA24, presented September 28, 2013.
Medscape Medical News © 2013 WebMD, LLC

Send comments and news tips to news@medscape.net.
Cite this: Some Melanoma Patients Living for up to 10 Years After Ipilimumab - Medscape - Sep 28, 2013.