A case-control epidemiologic study from Sweden reports no association between celiac disease, an immune disorder with gastrointestinal symptoms triggered by exposure to gluten, and autism spectrum disorders (ASDs).
But the new study did find an increased risk for ASD in people with normal mucosa in their gastrointestinal tract but a positive antibody test result commonly seen with celiac disease.
"This is good news for patients with celiac disease," lead author Jonas F. Ludvigsson, MD, PhD, professor of clinical epidemiology at the Karolinska Institutet, Stockholm, Sweden, told Medscape Medical News.
"Celiac disease occurs in about 1% of the US population, and these patients were at no increased risk of autism," Dr. Ludvigsson said.
The study was published online September 25 in JAMA Psychiatry.
Response to Gluten-Free Diet
The investigators decided to do this study because previous reports indicated an association between celiac disease and autism and that some autism patients reportedly responded to a gluten- free diet.
They collected data through 28 Swedish biopsy registers on 26,995 individuals with celiac disease, 12,304 patients with inflammation of the small bowel, and 3719 individuals with normal mucosa but positive celiac disease serologic test results.
The investigators then compared these individuals with 213,208 age- and sex-matched control participants and estimated the odds ratios (ORs) for having a prior diagnosis of an ASD according to the Swedish National Patient Register. They also estimated hazard ratios (HRs) for future ASDs in individuals undergoing small intestinal biopsy.
The analysis showed that having a prior diagnosis of an ASD was not associated with celiac disease (OR, 0.93; 95% confidence interval [CI], 0.51 - 1.68) or intestinal inflammation (OR, 1.03; 95% CI, 0.40 - 2.64).
However, a prior diagnosis of ASD was associated with a markedly increased risk of having a normal mucosa but a positive celiac disease serologic test result (OR, 4.57; 95% CI, 1.58 - 13.22).
When they analyzed just those individuals without a diagnosis of an ASD at the time of biopsy, celiac disease and inflammation were both associated with moderate excess risks for later ASDs. For celiac disease, the HR was 1.39 (95% CI, 1.13 - 1.71), and for inflammation, the HR was 2.01; (95% CI, 1.29-3.13).
However, for individuals with normal mucosa but positive celiac disease serology, the HR for later ASD was 3.09 (95% CI, 1.99 - 4.80).

"The link between autism and normal mucosa and positive celiac serology could be due to 3 things," Dr. Ludvigsson said. "It could be a chance finding. Or it could be that patients with autism are more often tested for celiac disease. Or it could be a true biological cause, perhaps an increase in mucosal permeability. We speculate about this, but in our paper, we have no data on permeability, so hence, I cannot say."
Convincing Data
Commenting on this study for Medscape Medical News, Armin Alaedini, PhD, from the Department of Medicine and the Institute of Human Nutrition, Columbia University Medical Center, New York City, said that the data "convincingly rule out an association between the 2 conditions."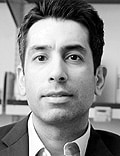 "The new study does find an association between positive celiac disease–related serology, with normal mucosa, in the absence of celiac disease, which includes antigliadin antibodies, and autism." Similar to the conclusions reached by a recent study published in PLoS One and reported by Medscape Medical News, the results of this study show a link between gluten sensitivity in a subset of patients with autism that is unrelated to celiac disease, said Dr. Alaedini.
"An unavoidable shortcoming of the current work is that the authors had to use serologic antibody data that had been generated from various laboratories across a wide time span.
"Even with careful normalization, this approach can be problematic, making it difficult to interpret such data. This is especially applicable to antigliadin antibodies, for which there is considerable variation in assay performance from one testing kit or laboratory to another," Dr. Alaedini added.
Triggered by Gluten but Not Celiac
For Daniel Coury, MD, medical director of the Autism Speaks Autism Treatment Network and professor of pediatrics and psychiatry in the College of Medicine at the Ohio State University, Columbus, the study has strengths because of its large number of participants and comprehensive data.
"This study is important because it adds to existing evidence to the finding of positive antibodies to celiac disease in many individuals with ASD, without having celiac disease itself," Dr. Coury told Medscape Medical News.
"In other words, a subset of individuals with ASD may have a condition that is triggered by gluten but is not celiac disease. This may help explain why gluten-free diets don't appear helpful for all cases of ASD but may be helpful for those who demonstrate these antibodies or gluten sensitivity. Studies examining this more closely would be useful."
Dr. Ludviggson, Dr. Alaedini, and Dr. Coury report no relevant financial relationships.
JAMA Psychiatry. Published online September 25, 2013. Abstract
Medscape Medical News © 2013 WebMD, LLC

Send comments and news tips to news@medscape.net.
Cite this: No Link Between Autism and Celiac Disease - Medscape - Sep 26, 2013.